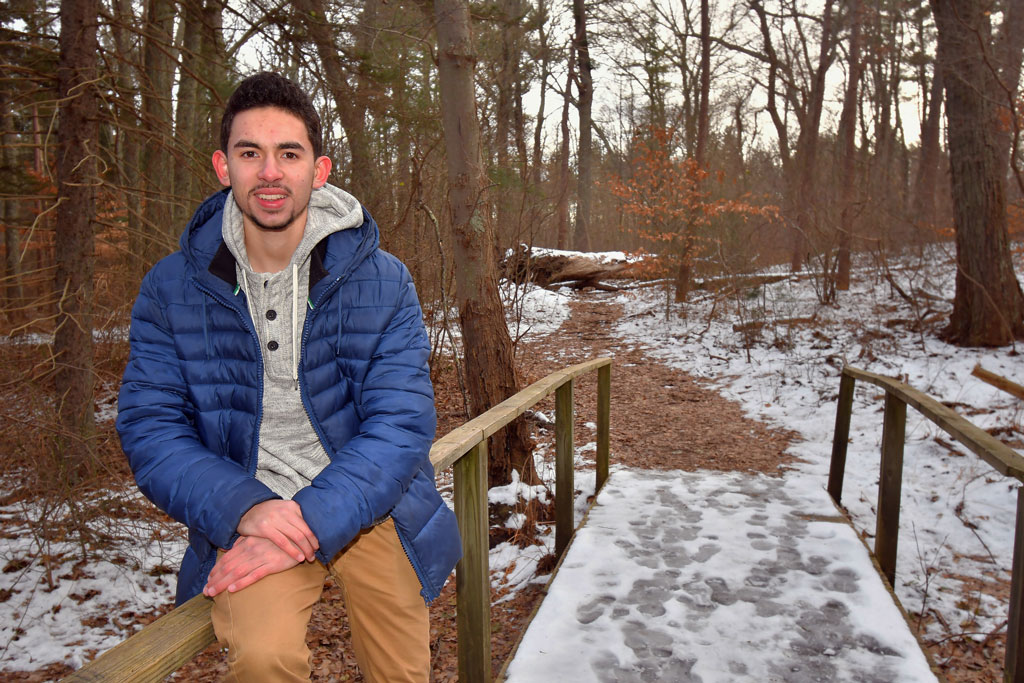 Andres Ripley '18 is helping Wheaton better know its neighbors—in particular, the creatures that inhabit Wheaton Woods.
This fall, Ripley installed nine motion-sensitive camera traps in the woods, and discovered a rich diversity of animals that co-exist with us in the college environs.
"We found a lot of bird species, deer, turkey, fisher cats, mink, a snapping turtle—and we had a really nice photo of an owl," said Ripley, a biology major who conducted the research with assistance from Assistant Professor of Biology Jessie Knowlton.
Ripley programmed GPS coordinates into each camera—which he placed at various angles, perched on trees and in a riverbed—to record the exact location of each sighting. The cameras, a brown neutral color, captured the wildlife for about four weeks.
"When something passed by, the cameras took three pictures per second," he said.
Ripley's efforts are part of a larger independent study that compared wildlife diversity in Wheaton Woods and Borderland State Park, a 1,600-acre preserve in Easton, Mass. (He previously interned at the state park in summer 2016.)
Ripley concurrently placed nine cameras in Borderland, capturing similar images of wildlife, including deer, turkeys, squirrels, mice, chipmunks, raccoons and more.
However, comparing the two, he said, "I was surprised that the cameras showed more diversity here than in Borderland," noting that he captured 10 species in Wheaton Woods and seven in Borderland.
Ripley's passion for biology began at an early age, when his father shared his love of nature and took him fishing. He has taught environmental education to children at Everwood Day Camp (in Sharon, Mass.) for the past six summers. As a Wheaton student, he spent one semester in Costa Rica, traveling to various biological stations through the Organization for Tropical Studies.
This winter break, Ripley's research will take on an international angle as he will venture to Mexico to conduct similar research with Professor Knowlton. The student-faculty team will place cameras in oil palm plantations and local preserves to assess the impact of the industry on wildlife.
"Andres is a pleasure to work with, as he always has a great attitude no matter how difficult the field conditions are," Knowlton said. "He is mature and responsible, and I would not choose just anyone to take to Mexico with me."
Ripley will analyze the results from his research trip in Mexico in the spring.