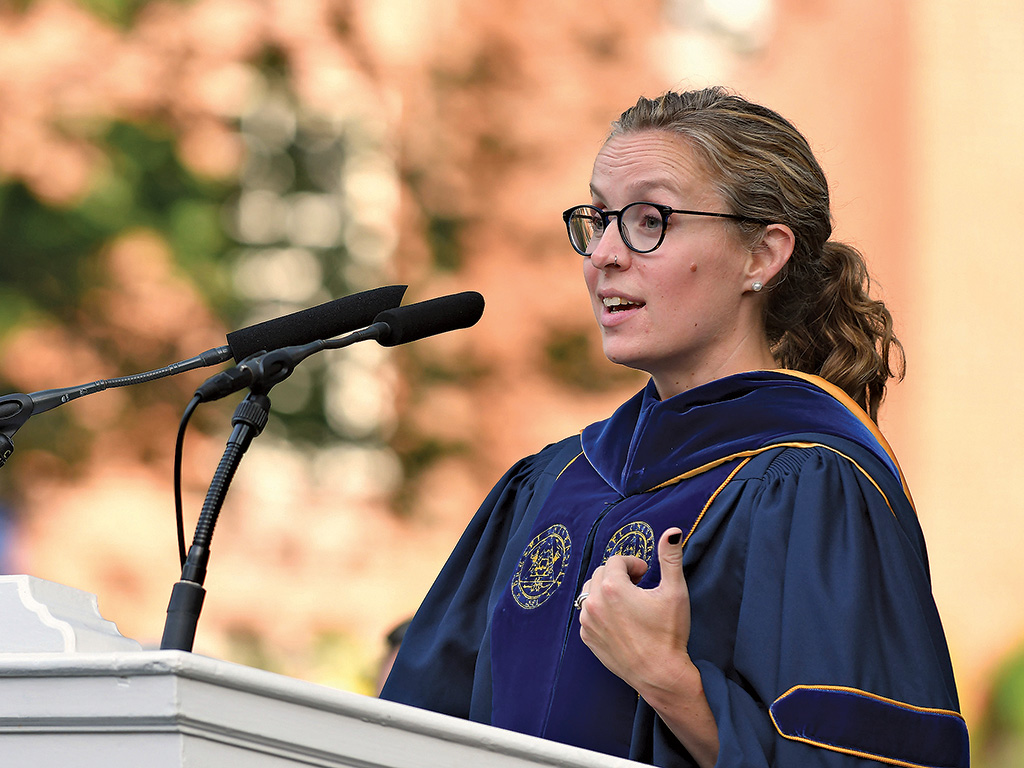 For 187 years, Wheaton has started each academic year with Opening Convocation, which by tradition takes place in Cole Memorial Chapel. Even in 2020, when the ceremony went virtual, the speakers addressed the audience from the chapel.
This year was different. Students, faculty and staff gathered in person, in the Dimple, preferring to be together outdoors (albeit masked), rather than resorting to Zoom once more. It was a great choice—an incredibly beautiful spot, plenty of fresh air, blue skies and late summer sun. More importantly, it was good to gather as a campus community.
As I reflect on what to say in my final column as president, I find my thoughts returning to that event not simply because the setting was memorable (and unique for Opening Convocation), but because of the keynote address "The Things We Can," delivered by Associate Professor of Psychology Christina Riggs Romaine.
"What would it mean for us to pay attention to the things we can—do, or control or influence—in all the complexity of real life?" she asked. It's an important question. Among the answers that Professor Riggs Romaine offered was something I consider essential: showing up for each other. She talked about the positive impact of being together, particularly during tough times. The excitement of returning more fully to in-person learning, even with the concerns that it brings, underscores the point. We are social beings.
For me, showing up also means pitching in and doing what you can. I believe deeply in the idea that each of us has a capacity to improve the lives of others. It's what has motivated me during my three-plus decades in higher education. The
opportunity to help young adults find their passion and develop their unique voice and talents has been a driving force in my professional pursuits. Seeing the effect of being engaged with students also has been the greatest reward of my career.
I am far from alone. The Wheaton community is filled with people who share this ideal. In fact, it's central to the college's mission. During the challenges presented by the pandemic, I have seen many students, faculty, staff, alumni and parents put this principle into practice, to offer support to those who are struggling, to sustain our sense of community, and to improve the college.
A recent example from campus: Invasive water chestnuts began spreading quickly through Peacock Pond, harming the pond's ecosystem and water quality. Sophomore Abigail Tinkham, a resident advisor who returned to campus in August, noticed the non-native plants during lunch breaks when sitting on a bench near the pond. She asked Instructor of Biology Deb Cato, "What can I do to address this problem?" Her final answer came in the form of more than 70 students whom she organized to wade into the pond on two separate days to uproot the plants.
Everything that Wheaton has achieved during the eight years that I've been honored to serve as president—from new courses of interdisciplinary study and the new Compass curriculum to a growing and increasingly diverse and talented student body—reflects contributions from the many dedicated individuals who are part of our extended learning community. The college's growing strength is the result of talented people taking action to provide an outstanding liberal arts education for young students. In the process, we strengthen Wheaton's ability to continue making a difference for students in the future.
Attending to the things we can do is what matters most. I'm grateful that Professor Riggs Romaine reminded us of this at the start of the academic year. And I am deeply appreciative of the generous support and advocacy that the college has enjoyed during my years here. It means so much to me, and does so much good for Wheaton and our students.