Building leadership skills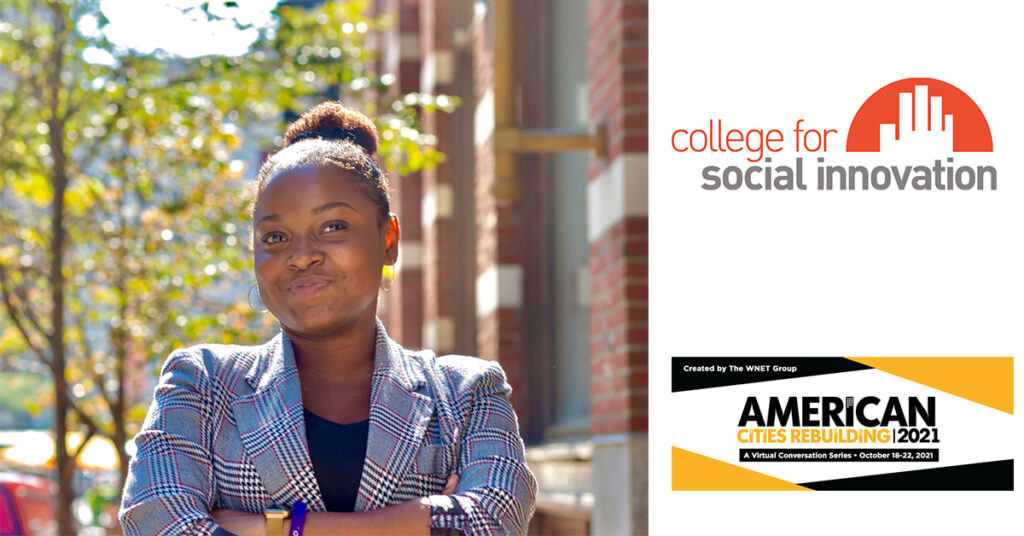 Sophomore Zoe Selman participates in panel at national conference
Zoe Selman '24—who is spending this fall semester in Boston working for the nonprofit Leading Cities—gained the ultimate leadership opportunity: serving as a panelist at a major national conference alongside "PBS NewsHour" broadcast journalist Hari Sreenivasan.
The opportunity arose during Semester in the City, a 15-week immersive program in Boston offered through the College for Social Innovation. Selman is among a cohort of 52 students from multiple colleges and universities getting a taste of real-world experience at cutting-edge nonprofits in the social sector.
Selman, a political science major, presented during the five-day virtual conference American Cities Rebuilding. The event—organized by The WNET Group—examined the future of cities and featured prominent speakers, including U.S. mayors; former President George W. Bush, Senator Cory Booker and other political leaders; and renowned journalists Christiane Amanpour and Walter Isaacson.
In addition to moderator Sreenivasan, Selman also was joined on the panel by College for Social Innovation Co-founder and CEO Eric Schwarz and another student in the program, Alexandra Vergera from the University of New Hampshire. The topics: why Selman (and her co-panelist, Alexandra) chose to pursue experiential opportunities in an urban environment and how their on-the-job experiences prepare them for professional careers with organizations working for social change.
Selman, whose passion is exploring ways to solve global poverty through innovative solutions, shared her work as a city resilience fellow at Leading Cities, a nonprofit that connects startups with government agencies. She works at the nonprofit four days per week, and devotes Wednesday evenings and Friday mornings to academic courses, including "Social Innovator's Toolbox" and "Becoming a Problem Solver."
"My special project is focused on developing their newest project, a virtual startup incubator. Every day I'm working on coming up with networking opportunities for our startups," she said, adding that many of these startups are focusing their efforts on helping cities that are impoverished.
"I've learned about the entire world of nonprofit organizations as well as city resiliency and community outreach. For me, I'm being appreciative of every opportunity given to me. I'm lucky to be developing my professional career and making connections," she said.
Reflecting on the panel experience, Selman said the conversation was productive.
"It was great. I didn't expect to do as much talking. Hari Sreenivasan was asking everyone the same amount of questions and it gave me a chance to talk about my work," she said.
Schwarz said conference organizers reached out to him about their desire to include more youth voices. He approached Selman, who already demonstrated excellence when she co-authored a paper with Leading Cities Executive Director Michael Lake, to participate in the event.
Schwarz said the feedback after the panel was very positive.
"The chat was buzzing with positive feedback. What came through loud and clear to me—and a lot of people watching the panel—was that these young women showed a lot of composure and insight. Zoe represented both Wheaton College and Semester in the City very well," Schwarz said.
This fall, 16 Wheaton students participated in the Semester in the City program, which is its largest cohort yet, according to Associate Professor of History Dolita Cathcart, who serves as Wheaton's Semester in the City coordinator.
Schwarz said Selman and other students in the Semester in the City program benefit from learning with a dynamic peer group, their mentors at their internships, and from the city itself, which serves as a classroom without walls.
"Having an experience built around an internship and living in Boston affords multiple chances for leadership opportunities. They are part of a learning community that shares a commitment to making the world a better place," he said.