Building bridges to jobs, dignity
Every day you can find her at 6 a.m. in a 7–Eleven parking lot in Portland, Maine.
She stands in a circle with dozens of job-seeking recovering substance abusers, new immigrants, returning veterans and others with previous nonviolent felony convictions.
Margo Walsh '86 is no ordinary executive, and MaineWorks is no ordinary staffing company. Walsh—founder and owner—is not there just to connect these individuals with jobs. She is there to help them rebuild their lives.

"There is always a circle of people, with Margo at the center. She talks to us like we mean something. She always has something inspiring to say, even that early in the morning," said Cecil Solaguren, a former heroin addict who found work through MaineWorks, and eventually joined the company as its field operations manager.
Each morning, Walsh offers a new motivational speech, story or thoughtful message to the workers as they head off to their respective jobs.
"That circle in the morning is the staple of MaineWorks," Solaguren said.
Recovery
Walsh understands the struggles of picking up the pieces and putting one's life back together.
After graduating from Wheaton, she was on the fast track—thriving in her career.
She recruited for the Investment Banking Division within Goldman Sachs in New York City—a position she gained after an internship at Bankers Trust (which she received thanks to Wheaton alumna Maeve Walsh Hill '82).
At Goldman Sachs, she worked to develop a roundtable to provide mentorship and support for employees with diverse backgrounds. She also worked in college and M.B.A. recruiting, and recruited for the international human resources consulting firm Hewitt Associates.
But it all came at a cost.
Over the years, she developed an alcohol addiction that led to destructive behavior and ruined relationships. A turning point came about 20 years ago, when her sister demanded that she stop drinking, or cut communications.
Walsh made a decision right then and there to change.
She subsequently spent Christmas in rehab, beginning the long road to recovery. By then, she already had left New York City to return to her home state of Maine to take care of sick parents. She also had two children, and later went through a divorce.
"Out of that broken, hopeless place came the opportunity of a lifetime. It's rewarding to be able to say that," she said.
Walsh set things right, one person at a time. "In recovery, you go back and make amends to people you disappointed; an apology tour," she said.
One person she reconnected with was David Wulff, professor of psychology, emeritus, who served as her academic advisor at Wheaton. (She earned her bachelor's degree in psychology.)
"He was my favorite professor, who introduced me to Carl Jung and analytical psychology. I also was intrigued by his development of the personality types that informed the Myers-Briggs personality inventory," Walsh said.
When she reached out to Wulff during her recovery, he responded with compassion, she said. "He was very sweet and he was always so optimistic about humanity."
Other Wheaton professors who influenced Walsh include Kathleen Vogt, who inspired her love of poet W.B. Yeats and playwright John Synge, and Sidney Forsythe, a criminology professor who cultivated her interest in people and the social reasons behind their criminal behavior.
The latter experience influenced her decision to give back as a volunteer, working with inmates who were recovering from alcohol abuse at the Cumberland County Jail in Portland, Maine.
"Volunteering was a milestone for me. When you get up and give back, magic starts to happen," she said.
All of this fed into her decision to launch MaineWorks, a temporary staffing company that helps marginalized people access the job market.
With her experience in recruitment and deeper understanding of psychology, "matching people with jobs is second nature to me," she said. It was a perfect fit.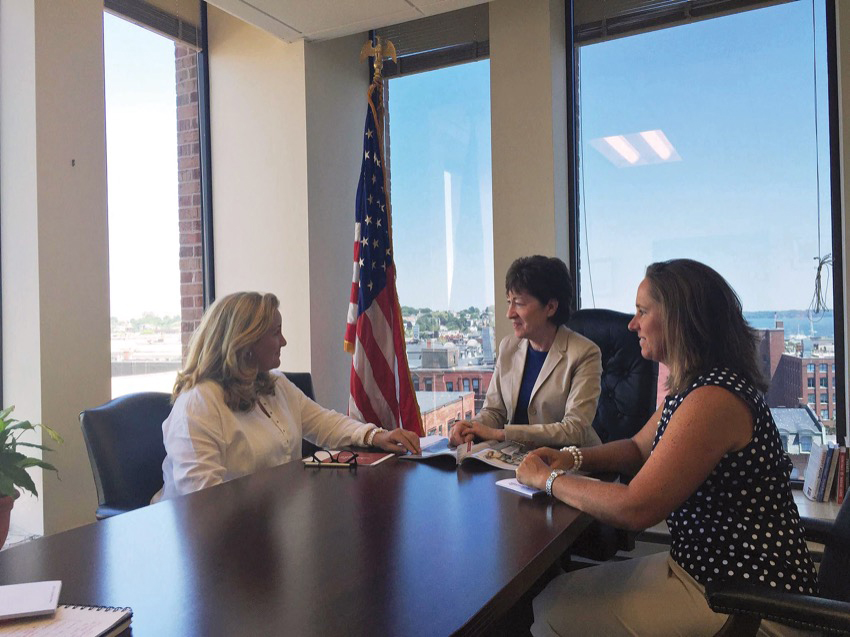 MaineWorks
She chose the MaineWorks logo as a bridge, which not only represents the type of construction projects MaineWorks employees engage in but also is a metaphor of workers crossing a bridge to recovery.
"We are able to offer a comprehensive program to help our employees move from being stuck in a temporary employment cycle to a full, actualized employee," she said. "All of our employees get hired full time by our clients. It's a great outcome."
At any given time, the company manages about 100 workers—the majority of whom stay on for at least six months. About 40 or 50 of them show up early in the morning in the 7–Eleven parking lot, according to Solaguren.
MaineWorks assigns these workers primarily to construction projects, in particular road and bridge projects. Walsh said her company has strong relationships with a small group of businesses that embrace the mission of MaineWorks. These companies include Cianbro, PC Construction and other Associated General Contractors of America members.
Walsh stresses that MaineWorks is not a nonprofit but an innovative staff company that provides a market-based solution to an overwhelming social problem.
There is a strong demand from construction companies and their subcontractors for workers. MaineWorks meets that need and generates a profit—thus requiring no outside assistance to remain self-sustaining.
The company has shepherded enormous growth during the past five years. In 2011, annual revenue was $250,000; in 2016, it reached nearly $2 million.
As a social enterprise, MaineWorks reinvests the majority of its gross revenue to achieve sustainability and grow its reach, Walsh said.
MaineWorks is striving to eliminate the stigma related to recovering from substance abuse, she said, noting that MaineWorks employees often have a greater appreciation for the opportunity to support themselves and their families given the setbacks they face.
Solaguren, who recruits workers directly from rehabilitation programs, says the company gives individuals multiple chances to be prompt and productive workers and connects them to social services to help them succeed in their recovery and overcome other struggles.
Aaron Lovejoy, who worked for some time through MaineWorks, said that the company treated him foremost like a human.
"MaineWorks has helped me tremendously in early recovery by giving me a chance and not giving up on me. They saw something in me I couldn't see in myself when I first started working for them," Lovejoy said. "I've never worked anywhere for anyone who's been very supportive and genuinely cares about how I'm doing personally and how I'm doing in recovery. MaineWorks has given me more than a second chance."
What's the secret of Walsh's success? Showing up.
Walsh is there, every day, holding workers accountable while also encouraging them not to give up. She drives around in a pickup truck all day, checking in on workers at their job sites.
"The fact that the owner gets up at 5:30 a.m., shows up every morning and is around all day, means something," Solaguren said. "She doesn't just sit back and collect a paycheck. She helps out constantly."
Accolades
With Walsh at the helm, MaineWorks has garnered many accolades and has created buzz in Maine and beyond.
The independent nonprofit B Lab certified MaineWorks as a B Corporation in both 2013 and 2016 for creating an overall positive community impact. B Corps are for-profit companies that meet strict standards of social and environmental performance, accountability and transparency. MaineWorks is the first company in the state that has achieved this certification, and now is considered within the top 10 percent for social impact.
Last year, B Lab honored MaineWorks as "Best for Customers" at its 2016 Best for the World Awards Ceremony at the University of California, Berkeley.
"It's a big achievement. The certification shows that we are working with purpose and using business as a force for good," Walsh said.
Also, in 2014, SCORE—a division of the U.S. Small Business Administration (SBA), a nonprofit that provides technical and financial assistance to small businesses— recognized MaineWorks as the most successful innovative business in the state of Maine. Walsh received assistance from the Portland Chapter of SCORE when first getting MaineWorks off the ground.
Also that year, Mainebiz, a publication geared toward business professionals, selected Walsh as one of five "Women to Watch."
Walsh's biggest recognition came last year.
The SBA recognized her during National Small Business Week in May 2016. She was named Small Businesswoman of the Year for the state of Maine.
"Passion and commitment are what make successful small businesses, and Margo has shown both with MaineWorks," said Marilyn Geroux, (now former) SBA district director for Maine. "The growth of MaineWorks over the past few years is truly remarkable, and we could not be happier for Margo."
Walsh's mission has attracted national media attention, with publications and radio shows, including TheNew York Times, Bangor Daily News, Huffington Post and NPR, all featuring stories on MaineWorks.
For Walsh, she had a feeling that MaineWorks would achieve success.
However, "I had no idea it would get so much national attention," she said.
The mission of the company resonates, she says, as it helps people move from being a tax burden to a tax generator, and helps individuals gain the traction they need to support themselves and their families.
Walsh currently is consulting with other companies to scale and replicate this model in other communities. She also has other ideas for targeting recruiting, such as connecting mothers with part-time and flexible professional positions at companies.
But for now her focus is on helping her MaineWorks employees, she said. Her most recent move: forming a nonprofit, the Maine Recovery Fund, in March 2017. She started this nonprofit due to the incredible need for support services. It provides wraparound services for people to have sustainable employment.
For Solaguren, MaineWorks provided him with a job just as he began to take steps to recovery. "I was out of rehab for one day, and to work the day after that," he said.
During the past six months, he has stayed sober, begun running a 12-step recovery program and has helped others like him find employment. For him, it's a new lease on life.
"Margo has completely turned my life around. She is a huge part of the reason I'm not using heroin," Solaguren said.