Building a better tomorrow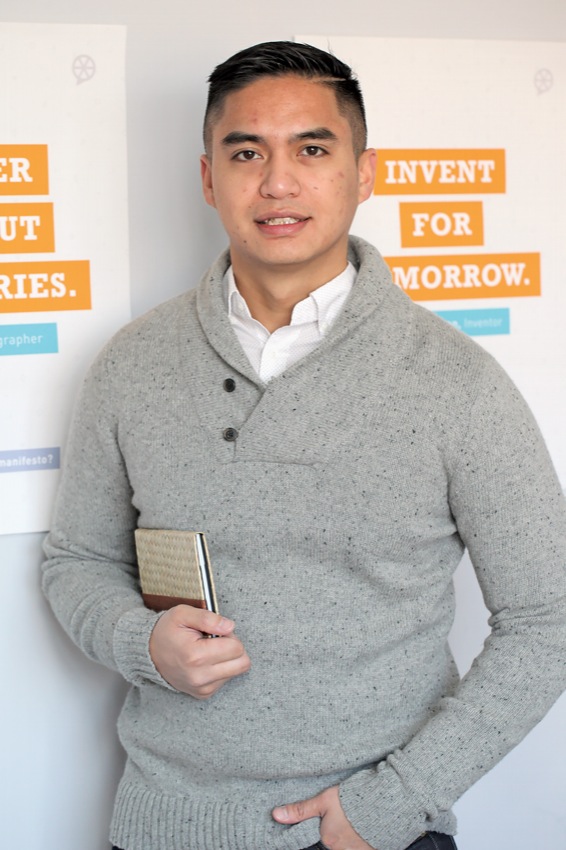 Ryan Letada '08 works to transform communities
Born in Kuwait to impoverished parents who dreamed their son would one day become a doctor or lawyer, Ryan Letada '08 discovered something priceless at Wheaton College: the fire to ignite the entrepreneurial spirit of traditionally marginalized communities.
"Wheaton makes you ask the bigger questions about your purpose in life," says Letada, who in 2013 co-founded Next Day Better, a New York-based company that, chiefly through its lecture series, showcases the accomplishments—or "tells the stories"—of people who have transformed their communities. The business, for now, focuses on the efforts of social entrepreneurs in the Philippines and the Filipino diaspora. There are plans to ultimately branch out and highlight other ethnicities.
In a series of six lecture engagements around the globe last year (which were also available online), Next Day Better highlighted people such as Illac Diaz, an inventor who created solar light bulbs using recycled plastic bottles. Thousands of poor Filipinos have benefited from his creation.
"World-changing individuals exist in every community," says Letada, himself of Philippine descent. "They're not rare at all; we're just not giving them the platform to shine. That is why Next Day Better exists. That next big idea can come from unexpected communities like the Philippines. Their stories need to be told. Our events celebrate the stories of change makers from untapped communities as a call to action."
Next Day Better also has highlighted the lives of Geena Rocero, a transgender model and founder of Gender Proud, an advocacy group for transgender people around the globe, and of Ray Sison, lead designer of the Nike+ FuelBand, a "smart" wristband that tracks a user's physical activities.
The for-profit business has nine employees who, thanks to the digital age, can work from "virtual" offices that amount to smartphones and laptops in Los Angeles, London and Toronto.
Letada, Next Day Better's CEO, and an economics and sociology major while at Wheaton, says he came up with the company's name "as a declaration that anyone can make the next day better today. It's a call to action for anyone to use their talents, passions and skill sets to solve today's most pressing challenges. It's also a belief that anyone, regardless of where they come from, can create meaningful and widespread change."
The business generates its revenues through speaker series ticket sales, advertising and sponsorships.
Letada's work has drawn kudos from supporters who include Jose Antonio Vargas, a Pulitzer Prize-winning reporter—and an undocumented Filipino immigrant—who shared his own journey at a Next Day Better event.
"I am really happy and proud of Ryan," Vargas says. "This is only going to push him to do bigger, better and bolder things."
Letada got his first taste of social entrepreneurship at Wheaton, where he helped start a program that sent recycled computers to needy Filipino communities.
"It was from my Wheaton education that I came to believe that people can create and implement solutions to pressing problems in their own community," he says. "It's always been odd to me that great ideas are often top down, and not bottom up and community based."
In 2008, the power of community-based problem solving was reinforced for Letada as he watched an inspiring videotaped TED talk (from the nonprofit organization that promotes "ideas worth spreading") featuring William Kamkwamba, a destitute teen from the African nation of Malawi. At 14, Kamkwamba built a windmill from scrap metal that created electricity for his family's home.
Giving of himself is a trait that Letada says he honed at Wheaton. He even went on to give his own TED talk in New York in 2010. (youtu.be/1DmsdCy2_oE ) The title was "Failing to Change the World."
Letada credits much of his success to the Posse Foundation, which for 25 years has been identifying "overlooked" high school students—often those from disadvantaged backgrounds—and awards them four-year college scholarships.
Each year at Wheaton, a cohort of 10 promising students, each from diverse inner-city communities, offer fellow Posse members support as they navigate their college careers. The students also work closely with faculty mentors and they are taught leadership skills.
Former Posse scholar Kepler Jeudy '07 was immediately drawn to Letada, and the pair struck up an enduring friendship built on putting others first.
"Ryan is a like-minded soul," says Jeudy, program specialist for Next Step, a Cambridge, Mass.-based organization that works with teens and young adults impacted by cancer and life-threatening blood diseases. "We both want to help people be a part of a community, and help those communities identify resources to give people their best shot."
Entering college was far from a seamless transition for Letada.
"There were challenging times, both intellectually and personally," he recalls. "But the Posse Foundation remains a family to me to this day. My peers and I have grown through the Wheaton experience. If it wasn't for the Posse Foundation and my Wheaton mentors, I don't know if I'd be doing what I'm doing today."
It wouldn't take long before Letada made his mark at the college. He co-founded the Wheaton Investment Association, which gave students a chance to learn about the financial market and, as a senior, he won a Fulbright Scholarship to travel to the Philippines to research methods to reduce homelessness.
In August 2014, Letada was granted the Ainslie Alumni Achievement Award from the Posse Foundation. The award is made annually to the one Posse alum "who has demonstrated incredible leadership and success while giving back to the world."
"The moment I found out that I had won, I cried," he says. "It was a validation from a community that had already changed my life. This was another declaration that they would continue to support me beyond Wheaton.
"But it also comes with a responsibility—meaning to continue the kind of work that I'm doing," Letada adds. "It's like a massive call to action. My Wheaton experience made me understand that my purpose in life is to make others better as a result of my presence. I feel like I know how to make a dent in the universe and change the world for the better."
Adds Deborah Bial, founder and president of the Posse Foundation: "Ryan is a role model not just for the Posse Scholars, but for all of us in America and for all of us who believe that change is possible. We believe that he will continue to change the world."
One of Letada's Wheaton mentors was former president Ronald A. Crutcher. Crutcher imparted important moral support to Posse members, says Letada. ("He really helped us position ourselves for success at Wheaton.") Crutcher made his mark in other ways, too.
"This man taught me how to tie a bow tie," Letada says with a chuckle. "That's the kind of personal touch I got from President Crutcher and the college."
For the time being, one of Letada's biggest challenges is batting down perceptions that great ideas can't come from countries that are too poor or are considered too inconsequential to make a difference.
"Storytelling allows us to celebrate the achievements and groundbreaking ideas that emerge from diverse communities," he says. "It reminds us that there are no limitations and we are capable of greatness."
Photos by Rossa Cole