Budding scholar in military history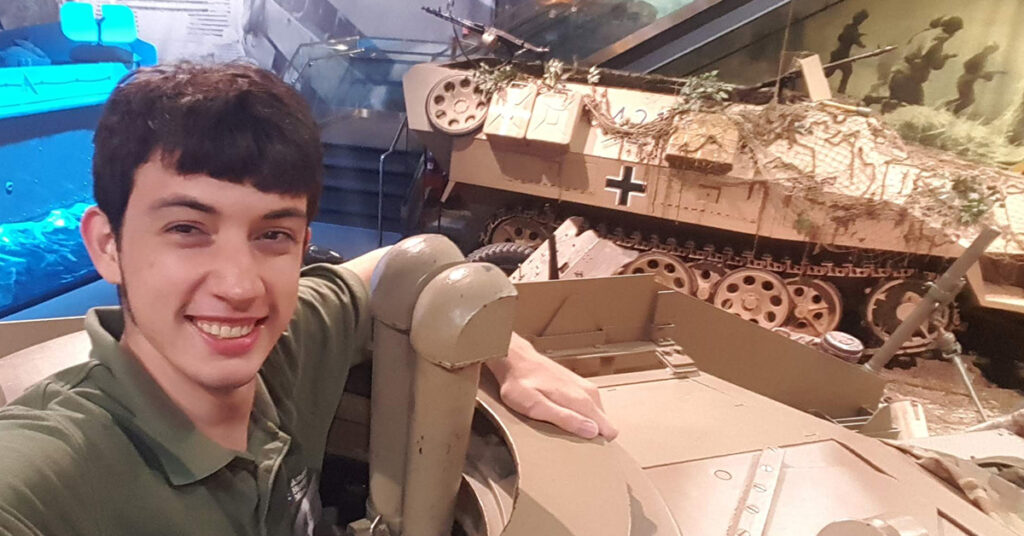 Junior discovers new career options at American Heritage Museum
Junior Ryan Ouellette's passion for military history stemmed from a desire to learn more about the experiences of his grandfather, who fought in World War II. The history major deepened his knowledge of U.S. conflicts—including the Revolutionary War, the World Wars and beyond—during a summer internship at the American Heritage Museum, which is based in Stow, Mass.
"I learned about the American Heritage Museum from my dad, and our first visit was on the Tank Demo Day in May. It was love at first sight, and I knew I needed to intern there," Ouellette said.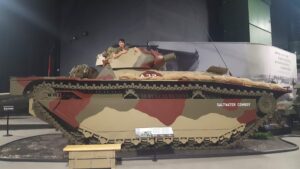 In his role, he educated visitors about the various military vehicles and artifacts in the museum, while ensuring the safety of guests and the collection. He also stepped in for whatever needed to be done—from helping out with admission and the gift shop to parking cars during events.
"A standout moment for me was the book signing we had for Andrew Biggio's The Rifle. The author had traveled around the country documenting the stories of the few remaining WWII veterans, and for the book signing we had 50 World War II veterans in attendance. It was a truly incredible experience to meet all these men, whose service ranged from paratroopers in Normandy, to marines on Iwo Jima, to Tuskegee Airmen and more. A number of them who had served in France received the Legion d'Honneur from the French government at the event, and the turnout to thank these veterans was enormous; more than 1,000 people came," Ouellette said.
Another favorite moment occurred when he got to role play during a Father's Day event centered on the theme "American Elegance."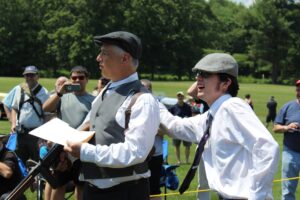 "A bunch of our old luxury cars from the '20s and '30s were out on parade on the property, and I rode in the trunk of Al Capone's very car. The car got stopped by 'Elliot Ness,' and I popped out of the trunk with the tax papers to convict Capone of tax evasion. It was so much fun and absolutely hilarious," he said.
Ouellette said he is thankful that Wheaton offers military history courses, which helped prepare him for the role. Now he is considering a career working in museums, where history truly is brought to life.
"Working at the museum has been absolutely eye-opening in terms of what I thought a career in history could look like. Previously, I had thought working in a museum might be boring, but this summer was one of the single greatest times in my life, and I would absolutely love to work at a museum, maybe even this one," he said. "I love to teach people about history, but I feel that doing so in a museum, showing people artifacts like military vehicles in person, is far better a fit for me than teaching in a classroom."