Bringing together global leaders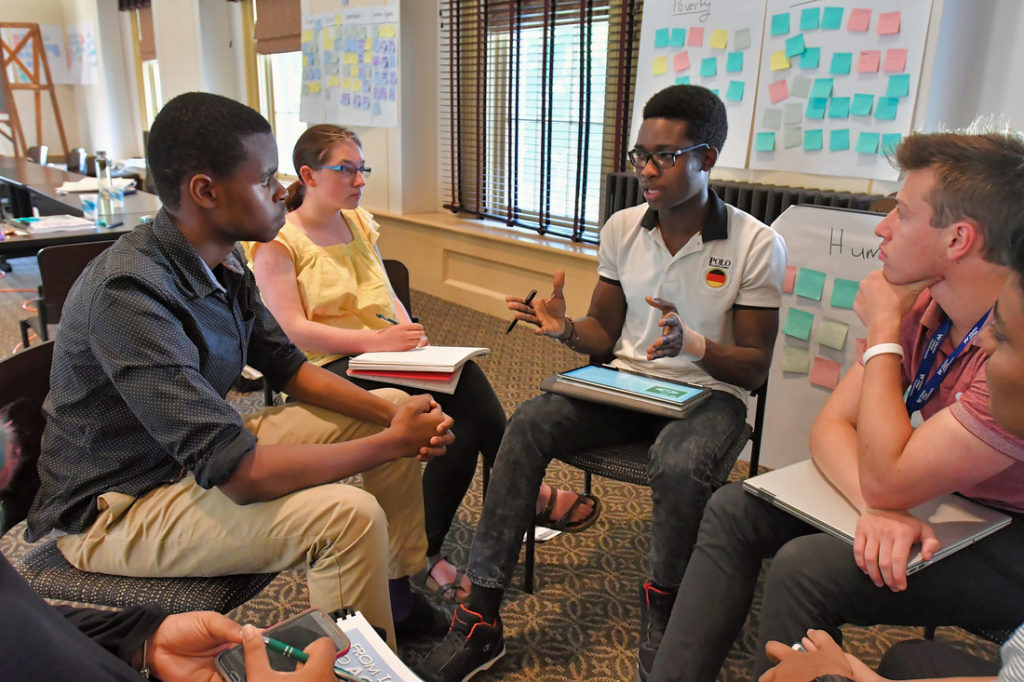 Inaugural social innovation program draws high school youth from around the world
This summer, 39 high school students from 14 countries around the world converged at Wheaton College to discover how the liberal arts can be a catalyst for social change, and to develop their unique ideas for making a difference in their communities.
Led by Wheaton President Dennis M. Hanno, the inaugural Global Leaders Program drew students from places such as China, India, Jordan, Kenya, Mexico and Tunisia, as well as from right here in Norton, Mass., and from across the United States. Participants lived on campus and were mentored by seven Wheaton students and recent graduates, who were selected for their campus leadership.
See photos of the Global Leaders in action
"Wheaton is one of the leading liberal arts institutions for helping young people to see how they can create change in their communities," President Hanno said. "This program provides us an opportunity to have a bigger impact on the world, and on many other communities, by bringing together very talented students who are real change-makers already, and inspiring them and giving them the tools to actually start doing things now."
Students began the first week by taking a course titled "Innovation and Social Change," similar to programs President Hanno has taught here on campus and in Rwanda and Ghana. Participants were split into seven groups, each centered on a different United Nations Sustainable Development Goal, such as poverty, quality education and gender equality. Together, they created solutions to these issues that they could bring back to their communities.
Additionally, each student worked on a social innovation project, based on their passions and goals, developing these entrepreneurial endeavors throughout the week with the support of their groups, and then delivering a final presentation during a business pitch competition.
Lobna Jbeniani, a student from Tunisia, who is studying at the African Leadership Academy in South Africa, spent the week developing a project she started in her home country, Books for All. The program creates a network in which Tunisian students who can afford to buy books can donate the books to those who can't, helping to make an education attainable to everyone. Jbeniani was selected for the best presentation at the pitch competition.
"One of the main reasons I wanted to participate in the Global Leaders Program is because I truly believe in the change that youth can make around the world," Jbeniani said. "Many times we think change can happen through politics only, but the potential we have as youth to change the world around us is truly amazing."
More than a dozen Wheaton faculty and staff, as well as alumni and area business professionals, shared their expertise during the program, in classes, lunch talks, panel sessions and off-site visits. Jbeniani said she valued the opportunity to learn from so many other experiences, as well as from her fellow students.
"It's interesting to see how problems differ in different places in the world, and what we can do about them—because a solution that works in one part of the world may not work in the other," she said. "It's interesting to explore those paths around which we can navigate our way to change making."