Makers conquer creative challenges in Fab Academy course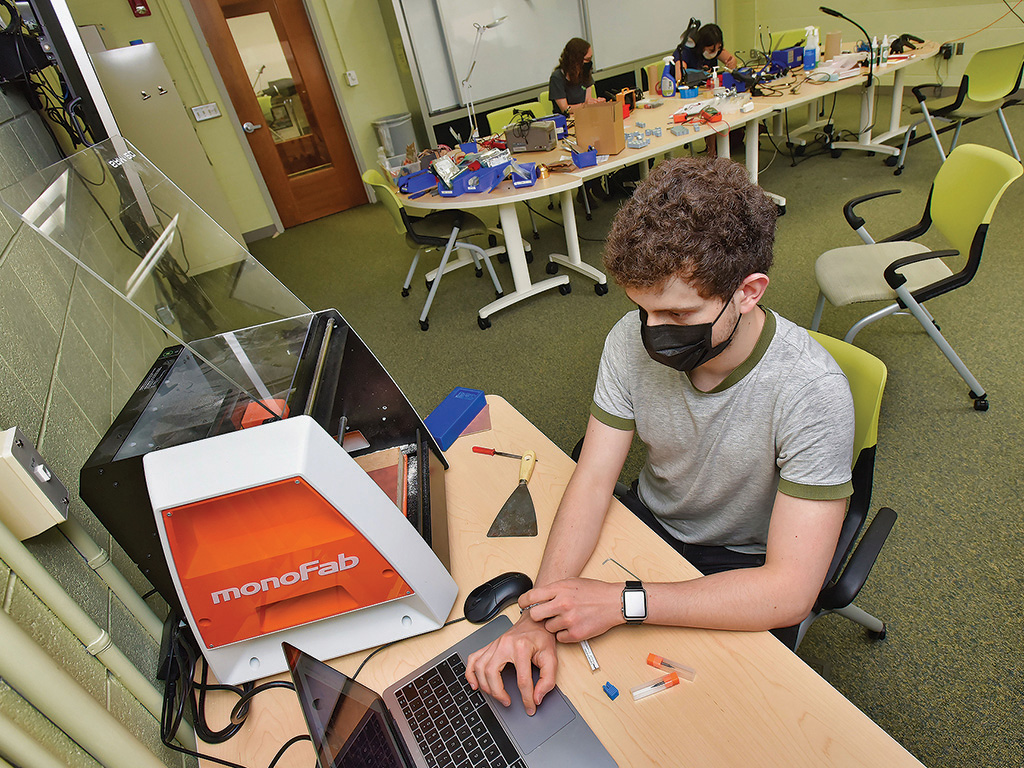 Since childhood, Ozgur "Tuna" Ozturk '24 has been in love with inventions.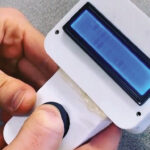 That love lured him into Wheaton's Innovation Spaces, where he has gone from hanging out and experimenting in the Fab Lab to becoming a Fab Lab assistant and then, last spring, taking on one of the most creatively challenging classes he has faced so far—Wheaton's new Fab Academy course.
Fab Academy is an intensive, six-month interdisciplinary course in digital fabrication. In the fast-paced experience, students learn to envision, design and prototype projects using digital fabrication tools and machines in Wheaton's Innovation Spaces.
The course underscores the critical thinking and problem-solving skills that are integral to Wheaton's liberal arts education, and equips students with professional training to take ideas and turn them into real prototypes and products.
"I always wondered how everything worked—from the combustion engine to microcontrollers. Moreover, almost everyone in my family works in the manufacturing field," said Ozturk, an international student from Turkey. "So, I've always had this interest in 'how to make almost anything,' which is the motto of Fab Academy."
Ozturk, who is double majoring in computer science and physics and wants to be an engineer, is one of 11 students and one alum who took Wheaton's first Fab Academy course during the spring semester.
He and the other students who enrolled possess the kind of curiosity, passion and willingness to work through tough challenges required to succeed in the rigorous course, noted Madison Dunaway, who is coordinator of Innovation Spaces and Programs at Wheaton.
"The class is 20 to 30 hours of work each week. It's important that students possess grit and the ability to stick with it," said Dunaway, who is a 2020 Fab Academy graduate, having gone through the program at Dassault Systèmes in Waltham, Mass.
She led the effort to establish Wheaton's Fab Academy course, which began January 27 and continued through mid-July. She also is the co-lead instructor for the course, working with faculty co-lead Associate Professor of Physics Jason Goodman.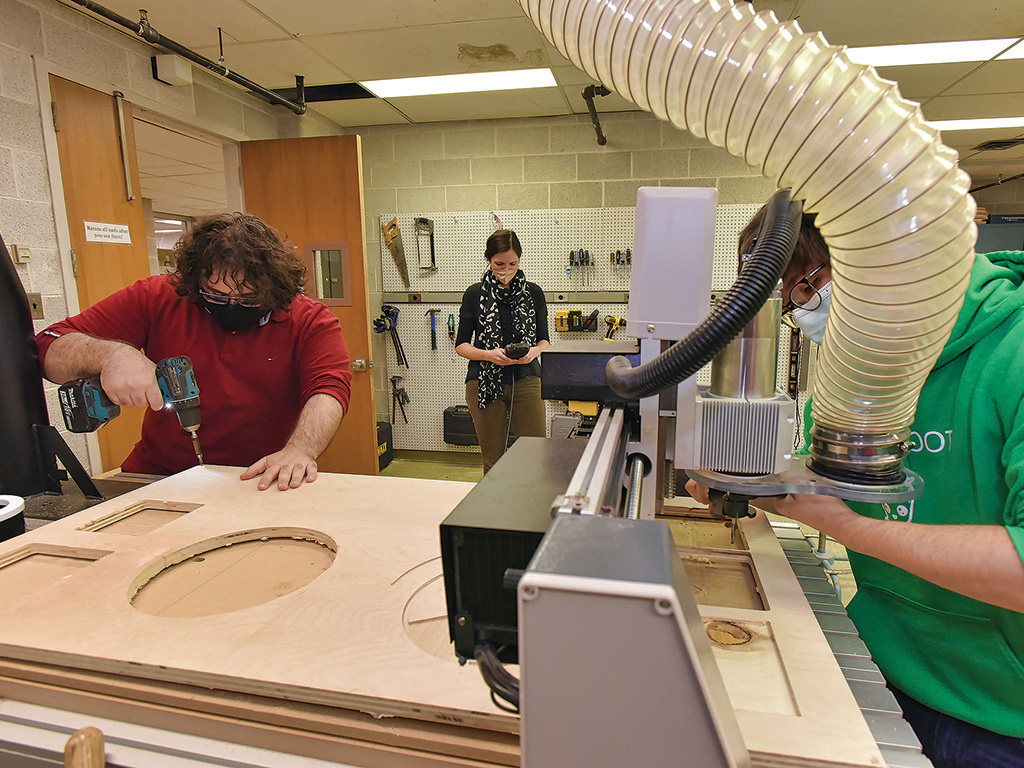 Wheaton is the first liberal arts college in the United States to offer the Fab Academy course, said Dunaway. The two-credit, 300-level course increases and elevates the opportunities for students to learn to make things and navigate challenges through hands-on experience in Wheaton's Innovation Spaces.
"Wheaton is uniquely positioned to provide curated student experiences centered on their interests," Dunaway said. "Fab Academy is an opportunity for students to participate in a globally networked program that fully harnesses the inherent potential of digital fabrication. This technology facilitates iterative design that can ultimately become a driving force for innovation."
The Fab Academy program connects a global community of students, educators, makers and researchers through a network of 70 Fab Labs in 30 countries. Each Fab Lab goes through an approval process that ensures the infrastructure and the tools necessary to participate in the program and to offer a Fab Academy course are in place.
Dunaway and Goodman collaborate with Fab Academy program director and global instructor Neil Gershenfeld of MIT's Center for Bits and Atoms. Gershenfeld originally taught "How to Make Almost Anything" as an MIT course, which grew into the Fab Academy program in 2009.
"Neil delivers the online lectures that give students a whirlwind tour of new technologies and techniques on a different topic each week," said Goodman. "Madison and I work together on the hands-on, in-person side; we run a weekly lab where we show students how to turn Neil's fire hose of ideas into workable practical projects."
"We also do troubleshooting, training, give design help and grade students on their work. Usually, Madison takes the lead on the more mechanical activities—3D printing, laser cutting, mold making—and I focus on electronics, circuit board design and programming," Goodman said.
The Fab Academy class is structured so that students learn in local work groups and then connect globally in an online campus through weekly lectures, content sharing, critiques and interactive video classes with students around the world, said Dunaway.
Students create websites to document their work in images and written reflection that provides the technical details about software and tools used as well as lessons learned from successes and failures.
At the end of the course, participants receive a diploma from the Fab Academy program at a special graduation. This year, the ceremony took place in August virtually as well as in person at Dassault Systèmes in Waltham, Mass.
"Careerwise, the Fab Academy course is a unique experience, a huge resume-builder and a chance to network and make connections on a global scale," said Goodman. "Students will be able to use these skills to develop new products, create new works of art, develop scientific instruments—the sky's the limit."
Professor Goodman was one of the coordinators of the InterMedia Arts Group Innovation Network (IMAGINE) that set up the college's original makerspace, Fiberspace and digital learning labs, thanks to a $500,000 grant from the Sherman Fairchild Foundation in 2014.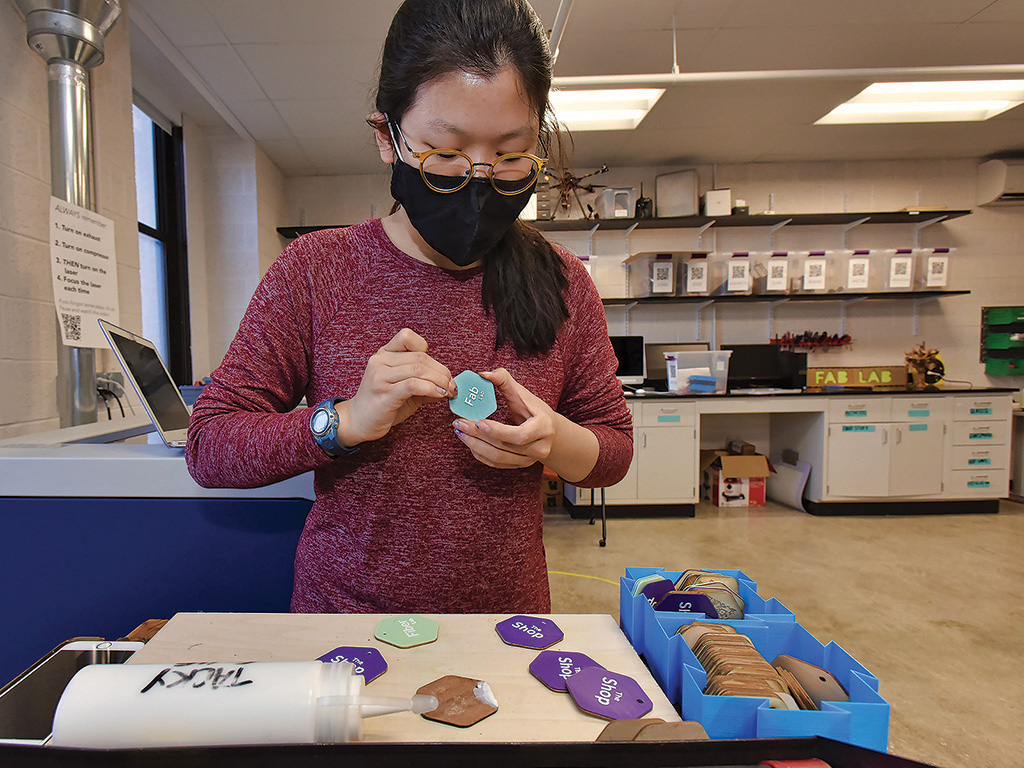 The participants in Wheaton's inaugural Fab Academy course had to apply and have completed prerequisite courses in physics, computer science and industrial design to ensure they were prepared for the demands of the class. A variety of majors, including computer science, physics, chemistry, neuroscience and visual art, were drawn to the class.
Several students who took the class said they were seeking to expand the knowledge they gained from making things in Innovation Spaces and from previously taking "Introduction to Digital Fabrication" taught by Dunaway.
They also expressed their common struggles—managing the time commitment, pushing themselves to quickly master new skills to keep pace, and developing a growth mindset to continually face and overcome failures when assignments didn't work out as planned.
"The biggest lesson I have learned from this class is to never underestimate anything," said Ozturk, who made a handheld game console during the first few weeks of the course and then refined it for his final project. "After I made that, I was so sure that everything would be smooth sailing. Unfortunately, the more research I did, the more complex it got."
The challenging nature of the course is exactly what enticed Professor Goodman to get involved.
"Fab Academy is a really unique opportunity for students to engage in engineering and design at a serious, near-professional level. It expects far more from our students than we've been able to ask for in the past, and I wanted to be a part of that, and I wanted to help students navigate the challenge," the professor said.
Practicing patience and perseverance
The biggest lesson that Emma Yount '22 said she learned during Fab Academy was patience.
"There were so many instances where I had spent days on a project and I had to completely restart or have no idea why something was not working," said Yount.
Before this year, she had no previous experience with coding and electrical circuit building.
"Trying to successfully complete each week's class assignment in the limited time frame was very challenging. I have learned so much about digital engineering and design. As a visual arts major, I am excited to see how these skills will influence my creative career," she said.
For her final project, Yount used a 3D printer, vinyl cutter as well as hand stitching to make a shadow box lantern of the mountain that leads to Tiger's Nest Monastery in Bhutan. Her study abroad trip there was canceled due to the pandemic, but she wanted to create something for her dorm room to keep the country in mind.
On the website she created for class, Yount detailed the project: "This lantern contains multiple cut paper layers that depict a [three-dimensional] replica of the Tiger's Nest mountain trail. The lantern has a rotating base. When you turn the base, the neopixels inside the lantern will travel up the shade following the shape of the mountain to mimic how you would be climbing up the actual Tiger's Nest trail."
Gaining interdisciplinary skills
Because students were required to reflect on their assignments each week in writing, they had opportunities to hone communication skills that are important in every field of study.
"Being a neuroscience major, many of my professors often stress how interdisciplinary the field is, and how vital competency in other fields of STEM is. I took Fab Academy because I wanted to gain skills that would be beneficial in my future career. Also, the ability to create cool stuff didn't hurt," said Elizabeth Shelto '23.
Fab Academy not only helped Shelto gain skills, such as programming and using 3D design software, but it also taught her how to effectively navigate resources to create anything she wants, she said.
"I'm not leaving the course with a set of information that I've memorized, rather I am leaving with a new set of skills and the knowledge of how to build upon them and tailor them to my own projects and interests," she said.
For her final project, Shelto created a remote-controlled essential oil diffuser to help with the dry air of New England winters, which she noted from experience can cause nosebleeds.
Her diffuser requires less effort on the consumer's part, according to her online description. She included a Graphical User Interface to allow the user to turn the diffuser on and off from a computer.
For Shelto, the most challenging part of Fab Academy was the fast pace.
"We were presented with a new skill at the beginning of each week and had to be able to demonstrate what we had learned by the end," she said. "Luckily, I had amazing professors and classmates that were always willing to point me toward good resources, answer my questions and offer help."
Opening up creative possibilities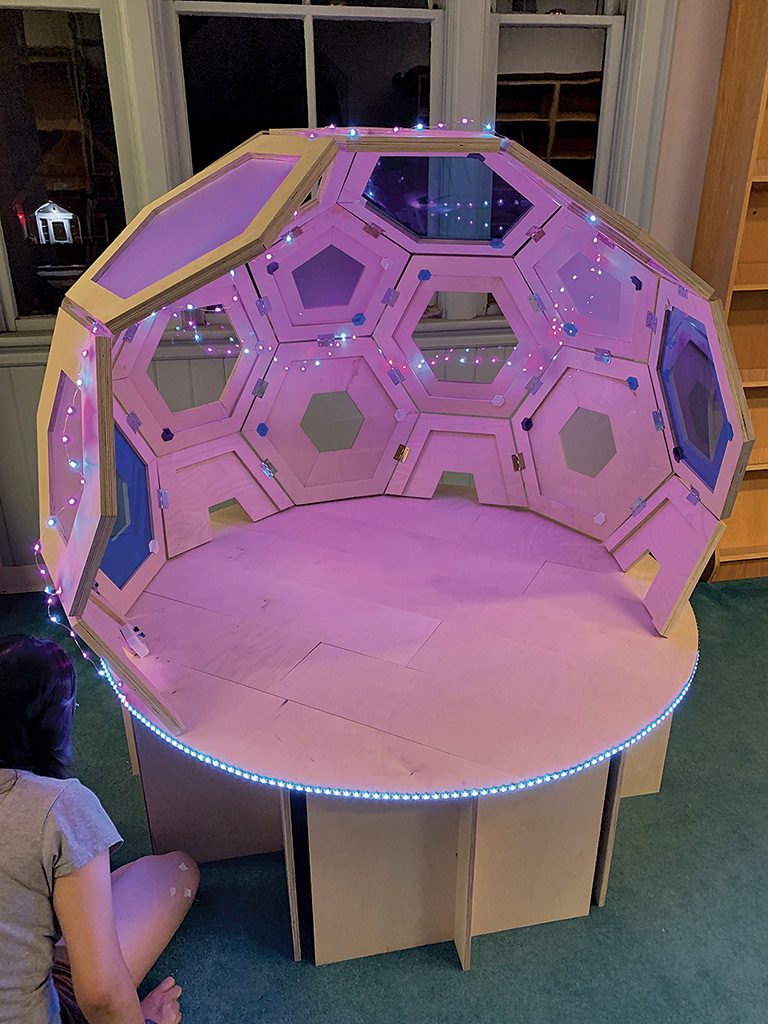 Whitney O'Reardon '22, a visual arts and art history double major, enrolled in Fab Academy to become more familiar with electronics design and programming after taking "Introduction to Digital Fabrication," taught by Dunaway during the fall 2020 semester.
"I have three favorite projects. One of the early assignments was to use our laser cutter to make cardboard building blocks that I could assemble in any way. We learned how to use the laser cutter to make joint connections and how to use 2D CAD software. I made mine into the shape of a tree," O'Reardon said.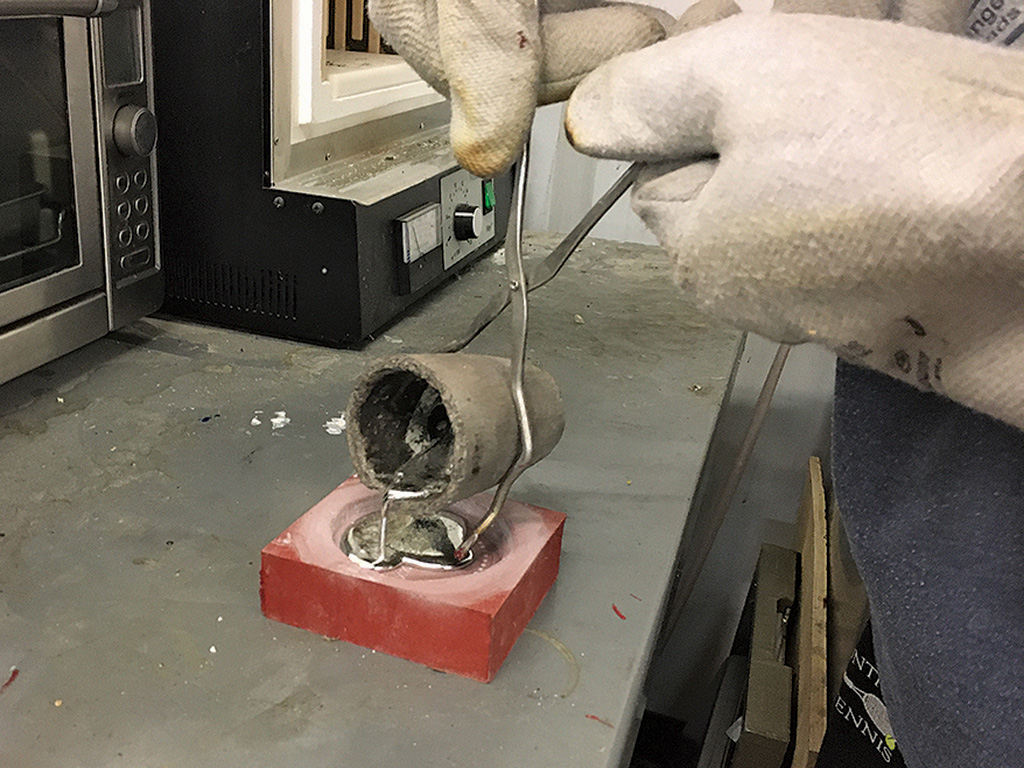 She also used metal casting equipment to make a coin.
"I modeled this coin in software called Fusion 360 and I made a 3D scan of my face to put on the coin design. Then, I used mold-making equipment to create a heat-resistant rubber mold and I melted and casted pewter inside of it," she said.
For her final project, she worked with Amanda Hodgkins '24 to make a hexapod, a geometric seating pod with adjustable lighting and a programmed board that controls the sound from speakers. She employed a laser cutter, 3D printer and a CNC router to make it. The hexapod is meant to be a reading nook for the Fab Lab.
"This class was very rigorous," O'Reardon said. "There was so much hands-on activity and a lot of my learning came through making mistakes, so my projects required a lot of commitment," she said.
All the work was worth it. "Fab Academy has shown me the potential of digital fabrication tools. As a visual arts major this is very exciting because it opens up so many creative possibilities."
Expecting the unexpected
Hodgkins made multiple circuit boards with different functions and molds that she used to create jewelry, including a metal casted pewter ring. She also 3D-printed various items and collaborated with O'Reardon on the hexapod seating pod for her final project.
"The biggest lesson I learned was that not everything will work out the way that you want, and that's OK," Hodgkins said. "Throughout the course I encountered all sorts of challenges in completing my projects, whether it be issues with my code, incorrect measurements or just human error. It was definitely discouraging at times, but overcoming these issues was always extremely fulfilling and made me feel incredibly proud. Mistakes and their eventual corrections allow you to grow as a student."
"Another large part of the course was having work critiqued at both the local and global level, which allowed me to gain valuable insight from different sources to integrate into my work and make it better," she said. "I definitely gained experience with deadlines and presentation of my work, which will be helpful both for other classes and possible job situations in the future."
Putting making to work
Brandon Witter '20, who majored in computer science at Wheaton and was president of the Social Entrepreneurship Club, returned to take Fab Academy.
"I am so glad I decided to come back a year after graduating to spend five months learning digital fabrication," Witter said. "Before graduating, I had really only used the 3D printer and laser cutter. Fab Academy showed me that Wheaton has so many more amazing machines on campus."
Witter enrolled with virtually no background in digital fabrication, so every week brought a new challenge.
"I absolutely loved every minute of it. The projects were always difficult, but never unachievable. I found that immersing myself to create something each week that I could personally enjoy really made it easier," he said.
His final project in the class was The MakerBar, designed to make the perfect rum and cola at the push of a button.
"I truly believe that anyone has the capability to learn how to use these machines to make something they can be proud of," he said. "This is where the inspiration for my career came from."
Witter landed a job this fall teaching "Intro to Computer Science, Digital Fabrication, Robotics and Entrepreneurship" at Catholic Memorial School in West Roxbury, Mass., for which he credits Wheaton.
"My unique background as a computer science major with digital fabrication skills and almost three years of social entrepreneurship knowledge really stood out among the other applicants," Witter said.
"That is all because of Wheaton and Fab Academy. I really want to thank Madison Dunaway and Jason Goodman for mentoring me through my time both at Wheaton and Fab Academy. Their guidance is a major reason why I chose the teaching route. I am so blessed to have the opportunity to help teach the future generation of makers."