Bringing big ideas to the page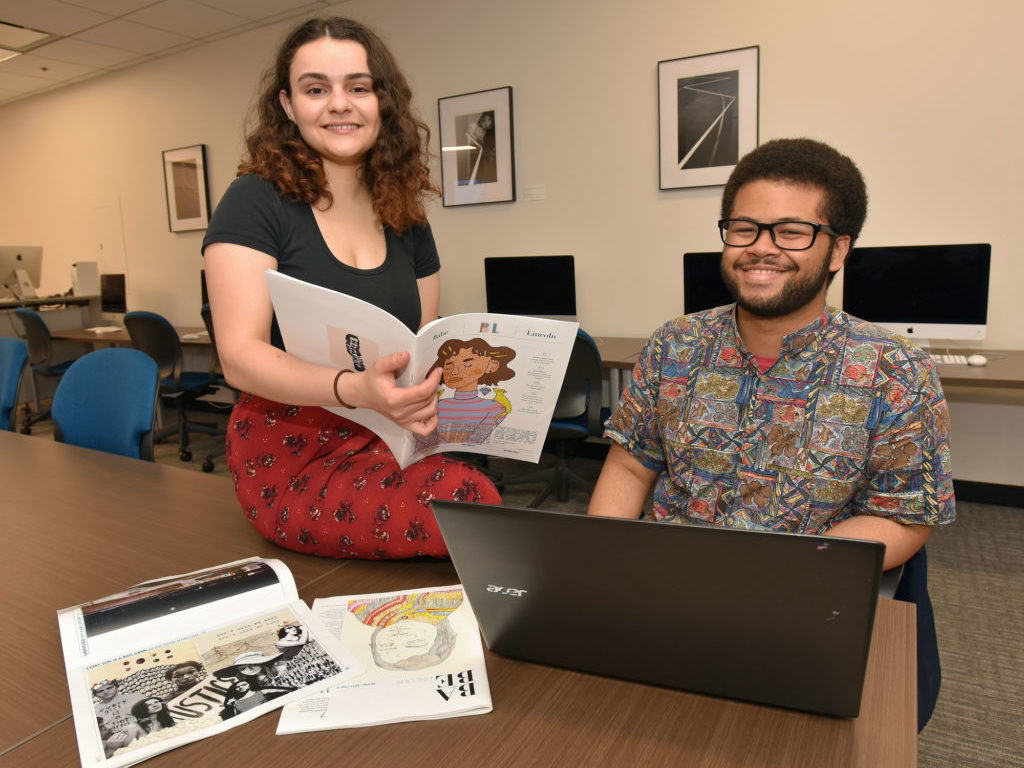 Student-run magazine Babe Lincoln showcases intellectual discourse
It's Thursday, the second-to-last day of spring semester finals, and a dozen Wheaton students are gathered around a plain brown box in the New Yellow Parlor in Balfour-Hood.
"Do we all have a good angle?" Senior Faheem Dyer '19 asks, as a few around the table hold up their phones to capture the moment. Using a borrowed set of keys, he breaks the tape on the box and lifts the flaps, revealing the contents. A round of "oohs," and the scent of freshly printed ink fills the room.
The third issue of Babe Lincoln has arrived.
Magazine founder and layout editor Pia Parisi-Marcoux '19 takes the first copy off the top and smiles broadly, as enthusiasm takes over her voice. "Guys!" she says. "It's done. This is awesome! Look at this."
In an increasingly digital world, it may seem unusual for students to get so excited about paper, but Parisi-Marcoux says there's something special about seeing the result of months of hard work and creative effort in print.
"I think I wanted people to actually read it," she says, of why she didn't put Babe Lincoln online. "I wanted to do print because it's physical. It's something that you can hold in your hands, and you can see it in the library, and you can pick it up and read it when you're just sitting around. I wanted something tangible."
The entirely student-written and produced magazine features 38 pages of student essays divided into four sections: U.S., World, Science and Tech, and Culture. A sampling of article titles from the 2019 issue: "Looking Towards the End of Neoliberalism," "The American Dusklands: What We Can Learn About Empire from JM Coetzee," "What Putin Really Wants," "Exploring Chinese Identity at the Movies" and "The Myth of the Apolitical Text."
Launched in fall 2015, the magazine was created to give space to intellectual discussion and debate. Parisi-Marcoux, a double major in Hispanic studies and political science, had started writing opinion pieces for the student newspaper, The Wheaton Wire, and found the size of that section "wasn't conducive to the sort of debate and discourse that I had in the classroom."
She applied for funding through Wheaton's chapter of the Roosevelt Institute to create a publication that would showcase the kind of thoughtful writing she wanted to do, and fit right in with the campus think tank's mission.
The name Babe Lincoln came from Parisi-Marcoux's desire to be both intellectual and disarming.
"I think there were voices on the staff that thought maybe it was too casual, too funny, but we've grown into the name. It does balance informality and approachability with loftiness," said Dyer, a double major in American studies and English, who was involved from the start and served as editor-in-chief this past year.
Publishing Babe Lincoln is a year-long process that begins in the fall, as magazine leadership puts together the staff for the year—an editor for each section, plus designers and copy editors. They field submissions from around campus, reaching out to academic departments and also finding writers through word-of-mouth. The magazine goes into layout and production in early spring, with the final product released at the end of the semester, distributed for free around campus. (Technically, the magazine has been around for four years, but it didn't publish in 2018 because much of its leadership was studying abroad.)
Like many of the staff, copy editor Christopher Orndoff '21, heard about Babe Lincoln from Parisi-Marcoux. A double major in philosophy and political science, he appreciated the level of discourse the magazine offered.
"I think it's really cool to be able to explore different avenues of opinion. Here, you can actually delve into a deep issue and see what people think about it," he said.
Caroline Chaffiotte '22 was initially interested in contributing to the magazine's art section, but it was pulled this year to avoid submission conflicts with the student literary journal, Rushlight. Instead she took on the job of layout designer, also creating graphic art for the magazine.
"Working on Babe Lincoln has provided me the opportunity to invest myself within an intellectual community," said Chaffiotte, a double major in English and film and new media studies. "I was able to explore a completely different medium of art than I was used to and, in turn, have found a new love for layout and graphic design. Most likely, in a traditional art class, I would have never been exposed to the digital arts, but now I have a new skill set and a beautiful, tactile portfolio to show off."
Parisi-Marcoux, who recently won a Watson Fellowship to study music subcultures around the world, said that from the beginning the goal of Babe Lincoln was to integrate learning and doing.
"Starting Babe Lincoln was never just about catalyzing political action—it was about reframing what political action looks like, about subjecting our most natural ideas and practices to critical inquiry, about making change by first encouraging us to think," she said. "We go to school because learning makes us better—better informed, kinder, more empathetic and critical actors in the world. Political action without rigorous critical inquiry is destined to produce pain rather than fix it. I want Babe Lincoln to always be a space that asks, 'So what? What does this mean? Why do we do this? Should we do this?'"
Dyer echoes these sentiments in his 2019 letter to the editor, which he read aloud to the staff at the box opening.
"We seek to collect not just writing, but ideas that can ignite minds and shatter the cognitive dissonance that pervades modern life," Dyer wrote in his intro. "So read. Read and think and reckon with the world as it truly is, because right now it is begging to be challenged."
Though several senior staff members graduated this spring, including Parisi-Marcoux and Dyer, they hope the remaining staff will continue moving the magazine forward, attracting new talent—and new ideas—for its fourth issue next year. They're also working on a web presence, to provide a way to share Babe Lincoln with a larger audience, as well as give space to submissions that don't get published in print.