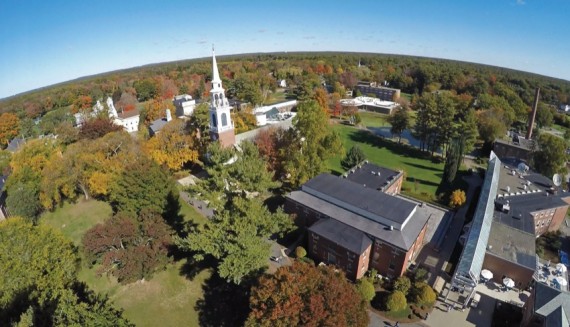 Wheaton named hidden gem
Wheaton has been named a "hidden gem" for employers looking to hire business majors, according to College Recruiter.
The company, which helps connect recent graduates and current college students to jobs and internships, ranked Wheaton as No. 1 on its list of Top 12 Hidden Gem Colleges for Employers Hiring Business Majors.
The Hidden Gem rankings acknowledge colleges and universities that offer a high-quality education but that may get overlooked by traditional lists.
"The modeling for this hidden-gem school project was to identify the schools [that] featured high SAT/ACT scores for entering students, high average starting salaries for the regions in which the schools were located, a high percentage of graduates working in their chosen field of study and a majority of the graduating class available for recruitment by employers," according to College Recruiter. The lists, created with the help of data scientists, are designed to help employers know which institutions to target when seeking highly-qualified individuals.
In addition to Wheaton, the top five institutions featured on the Hidden Gem for Business Majors list include Lehigh University, Brigham Young University-Provo, University of Miami and Bentley University.
College noted as great place to work
Wheaton has been selected as one of the best colleges in the nation to work for, according to a new survey by The Chronicle of Higher Education.
The results, released July 20 in the Chronicle's eighth annual report on The Academic Workplace, are based on a survey of 281 colleges and universities.
In all, only 86 of the 281 institutions achieved "Great College to Work For" recognition for specific best practices and policies. Results are reported for small, medium and large institutions, with Wheaton included among the institutions with 2,999 students or fewer.
"It's gratifying to be included on this list of outstanding institutions," said President Dennis M. Hanno. "A good measure of Wheaton's strength as a liberal arts college comes directly from the energy and dedication of faculty and staff. They make this a great place to work, live and learn, and it's important that, as an institution, we continue to show that we value their many contributions."
Participating in the Chronicle's review process for the first time this year, Wheaton won honors in two categories: tenure clarity and process and teaching environment, which reflect important aspects of the campus climate affecting faculty members.
The Chronicle, which is based in Washington, D.C., covers the nation's colleges and universities.
"The institutions that the Great Colleges program recognizes provide innovative educational experiences—while also offering their employees outstanding workplace experiences—and we are eager to help readers learn more about them," said Liz McMillen, the Chronicle's editor.
The survey results are based on a two-part assessment process: an institutional audit that captured demographics and workplace policies from each institution, and a survey administered to faculty, administrators and professional support staff. The primary factor in deciding whether an institution received recognition was the employee feedback.
To administer the survey and analyze the results, the Chronicle worked with ModernThink LLC, a strategic human-capital consulting firm that has conducted numerous "Best Places to Work" programs, surveying hundreds of thousands of employees nationwide.
Great Colleges to Work For is one of the largest and most respected workplace-recognition programs in the country. For more information and to view all the results of the survey, visit the Chronicle's website at http://chronicle.com/AW15.
Photo by Zevi Rubin '16