Boston Globe shines spotlight on Adara Meyers's play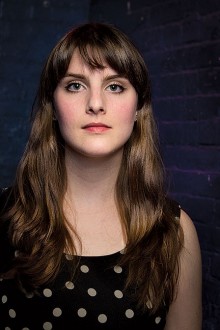 Adara Meyers '08 has been featured in the Boston Globe for her play Talk To At Me, which the paper described as a "tour de force," praising her "zany, satirical script."
The play is a humorous, socially poignant look at a large number of contemporary issues and their subsequent coverage in the media. "I began writing Talk To At Me as an absurdist response to the media's rapid-fire coverage of the global recession, the Deepwater Horizon [BP] oil spill and protests throughout Arab countries, to name just a few," she said.
Meyers is the managing director of Sleeping Weazel, the Boston-based experimental multimedia theater company that presented the play. She is also a playwright and producer for the company, which was founded in 1998.
Meyers grew up with a proclivity toward theater and live performance, but did not consider writing plays until taking Playwright-in-Residence and Professor of English Charlotte Meehan's "Playwriting: Form and Craft" course during her sophomore year at Wheaton. She also took "Advanced Playwriting" with Meehan, writing a play called Snapped Cables.
"At the end of college, I decided I had no choice but to keep writing plays," Meyers said.
She continues to write for Sleeping Weazel, along with the company's artistic director and founder. The director's name? Charlotte Meehan, of course.
"I've happily discovered that it's the kind of work that starts out in a very personal space and grows into a collaborative process that reveals many surprising and intimate perspectives," Meyers said.
Sleeping Weazel puts on a variety of different productions, including multimedia theater, interdisciplinary installations, and performance, music, poetry and video/audio-related events.
Meyers considers her Wheaton education invaluable. "That kind of education—one that honors scholarly inquiry as much as it does transformative social justice—is truly special and never stops deepening my empathy and drive to dream big," she said.