Biochemistry major working in health care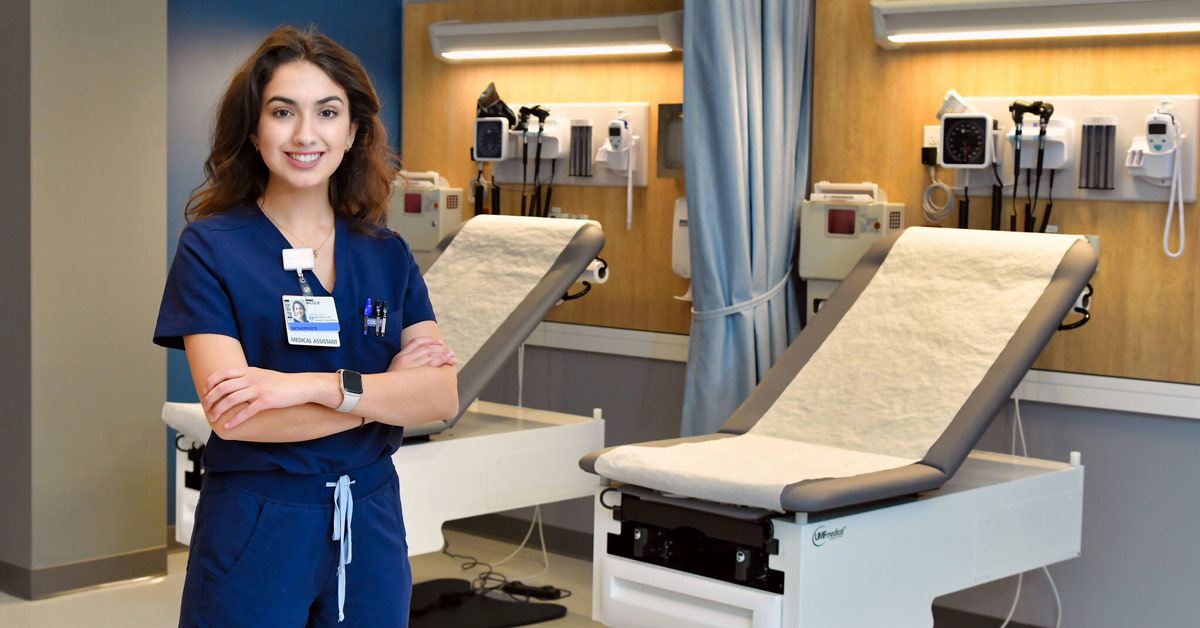 Nicole Toppses '23 gains practical experience as medical assistant in orthopedics and physiatry
Nicole Toppses, a pre-med senior majoring in biochemistry, has a passion for clinical practice as well as research. Each step of her journey through Wheaton College has led her closer to a professional career that will encompass both.
That path—in addition to her coursework—includes experiential learning in the classroom as a teaching assistant for "Anatomy and Physiology II"; extracurricular involvement on campus as the social media manager for the student-run Pre Health Society; and, most recently, working in a per diem job off campus while balancing her classes.
Toppses is a medical/practice assistant in orthopedics and physiatry at Brigham and Women's/Mass General Health Care Center in Foxborough, Mass. And, on top of that, she already has secured a full-time paid position that begins in July after she graduates as a research associate for the Cardiovascular Disease Initiative at the Broad Institute of MIT and Harvard.
As a medical/practice assistant, she prepares patient charts and obtains vitals for pediatric and adult orthopedics patients. She also works closely with medical providers and performs clinical tasks, including removing splints, sutures and staples, changing dressings, ordering X-rays and preparing the examination room for minor operative procedures.
"When I'm in the room with patients, I go over medications, obtain their medical and surgical history, and write a little bit for the provider about their chief complaint," said Toppses, who generally works two to three days per week from 8 a.m. to 5 p.m., as her classes allow.
"There is something so rewarding about working with patients in a clinical setting. Each person you come across has the potential to impact your life just as how your interaction with them can impact their lives in ways you may not see," she said.
"The unique opportunity to simultaneously work as a medical/practice assistant while also conducting experiments for my honors thesis at Wheaton reinforced my career desire for research alongside working in patient care," she said.
Toppses's honors thesis examines human-induced pluripotent stem cell-derived (hiPSC) cardiomyocytes and wound healing. During her time at Wheaton, she also studied cilia and heart regeneration in zebrafish in Professor of Biology Robert Morris's lab, and published two studies in Wheaton's Journal of Neurobiology Research and Journal of Developmental Biology Research for courses.
"Going down this career path allows me to continue in the best of both worlds. Both disciplines complement each other, and my career would not be as fulfilling without both," she said.
Toppses said she is thankful for the help she received from Audrey Spina '17, career advisor in the Filene Center for Academic Advising and Career Services.
"She helped me strengthen my resume. We also discussed the importance of cover letters, and she directed me to some tools for writing them. The Brigham and Women's/Mass General position was one of at least 20-plus applications I put in for various jobs after meeting with Career Services," said Toppses, who was thrilled when she got a call for the job.
"Working for Brigham and Women's/Mass General has been a wonderful experience for me. There are a few ways Wheaton has impacted my work experience. Many topics in my public health classes made me aware of ways health care can improve to provide equitable care to patients from various socioeconomic backgrounds," Toppses said.
"These classes also gave me a better appreciation of how Brigham and Women's/Mass General approaches patient care and strives to create a safe, caring and inclusive environment. My biology and medical terminology classes provided background medical knowledge that helped me transition smoothly into this position," she said.
A few months from graduating, Toppses is looking forward to her upcoming role at the Broad Institute.
"I am fortunate to continue with research that complements my research here at Wheaton," she said. "Now, I get to continue with biomedical research at the Broad Institute to understand the mechanisms behind cardiovascular disease and identify new drug targets."