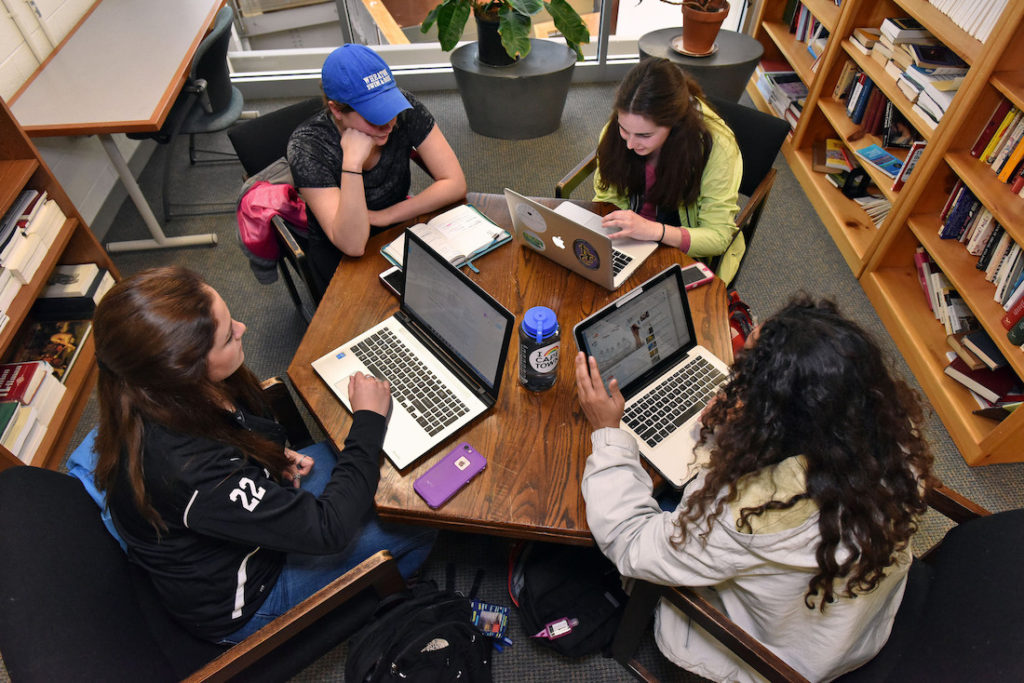 Transforming classes to be textbook-free
A growing number of Wheaton College courses are leaving traditional textbooks behind for more customized materials that also happen to be less expensive for students.
Over the past three years, a small group of faculty and staff have transformed a variety of courses to use open educational resources (OER) rather than relying on commercial textbooks.
To date, nearly 20 faculty members have transformed at least one course—many of them introductory courses—to use open educational resources, including classes in mathematics, physics, chemistry, French, biology and economics.
The financial impact of that work has been substantial. Wheaton students have saved an estimated $100,000 in textbook costs thanks to the efforts, according to an analysis conducted by Lauren Slingluff, interim dean of library services.
A recent College Board study cited the average cost of a new textbook at $80, which might appear low to some as it includes the small books and novels used in many humanities courses. By contrast, OER materials are documents, books, articles and other media that are in the public domain, and freely available.
The college's Library, Technology and Learning Committee (LTLC), working in cooperation with staff from the Madeleine Clark Wallace Library, has encouraged faculty to consider transitioning to OER course materials, providing both research support and small stipends to fund faculty members' work.
The committee recently announced a new round of funding opportunities for faculty interested in taking the plunge.
"The cost of textbooks are continually increasing, and OER offers a way to ensure that all students have access to required course materials," said Phoebe Chan, professor of economics and the chair of LTLC.
The no-cost nature of OER materials not only saves students money but also can make a big difference in their learning. One recent study conducted at the University of Georgia found that students from disadvantaged financial backgrounds earned better grades in courses that used freely available course materials
Assistant Professor of Psychology Matthew Gingo revised his Psychology 101 course to use OER materials.  He said students have responded favorably to no longer needing to purchase a $200 textbook.
"The price tag levels the playing field in terms of access to the materials," Gingo said. "Where some students were able to afford the luxury suite of resources in the past, others waited in line to read the copy on reserve in the library. The open format means that everyone has equal access to the materials."
Students are interested in these efforts, too. The Student Government Association has discussed advocating for more faculty to convert courses to OER.
The process can be challenging. Library staff help professors identify potential textbooks and other resources, but the slow, hard work of evaluating the quality of the OER materials and reimagining how they organize and teach a subject must be done by the faculty member.
Several years ago, Professor Chan spent a summer planning the switch to OER for her microeconomics course.
"There were some hiccoughs that first semester, but I stuck with the adoption, and every semester it gets better," she said. "Some of it is just getting used to a new textbook."
Slingluff said that faculty members who take on the project find that it does offer rewards.
"We focus a lot on the impact for students, but OER also allows faculty members to mix and match materials and customize their courses to a greater degree," she said. "It allows faculty more control over their pedagogy."
Professor Gingo said that flexibility has allowed him to use the best materials for each part of his introductory class.
"In the current iteration of the course, I am drawing chapters from five different OER texts. For example, the main textbook that I use doesn't do a very good job discussing persuasion and social influence, so I inserted a chapter from an OER social psychology textbook that covers these important concepts in great detail."
Gingo said those text choices also have changed the material he shares during class lectures. "The graphics and videos that I show in class tend to be the very same sorts of material that were in the fancier textbook packages," he said. "The big difference is that I played a much more deliberate role in curating that sort of content in the OER version of the course."