Gerry-Lynn Darcy '95 creates connections through real estate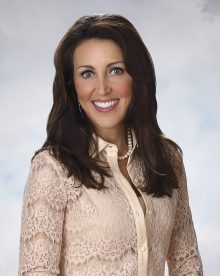 These are busy days for property development executive Gerry-Lynn Laudani Darcy '95, and they're about to become busier still. The vice president of real estate for Lawrence, Mass.-based Lupoli Companies, which invests in Massachusetts cities facing particularly stubborn economic challenges, has been tapped by Governor Charlie Baker to serve on the prestigious University of Massachusetts Building Authority (UMBA).
As part of the 10-member volunteer board, she will help steer decisions about the infrastructure at the state school's five campuses, lending her considerable background and experience to influence choices about capital expenditures around new construction, renovations, acquisitions and deferred maintenance.
Baker says he welcomes the skills she brings to the table.
"The University of Massachusetts Building Authority plays an important role in ensuring the success and advancement of the entire UMass system and its students. I am proud to have a consensus builder like Gerry-Lynn Darcy, with extensive expertise in real estate management, to serve the UMBA with dedication and passion," he says. 
Real estate, you could say, is in Darcy's blood. Her father, a successful real estate developer, started taking her to work with him when she was in first grade.
"I was on job sites all the time," she says, "securing permits by my early 20s. My father explained so many aspects of the business to me at a young age. When you have that exposure to fundamental aspects of a business,  you feel empowered to forge ahead."
She has spent her career moving up the real estate development ladder, working for her father's company after graduating from Wheaton and then operating at the senior manager level for various construction businesses before becoming a vice president at Lupoli Companies.
As a project manager for Lennar Urban from 2008 to 2011, for instance, she used a skill set honed over the years to get a high-end, multi-unit residential community off the ground in Hingham Shipyard on Boston's South Shore, bringing new vitality to acres of waterfront land that had not seen much action since warships were built there during World War II. Wearing a number of different hats and saving her company money by using her construction supervisor's license and broker license, she helped sell more than $24 million in real estate over a 16-month period that was part of one of the worst economic cycles the country has known.
No wonder Sal Lupoli, president and CEO of Lupoli Companies, ended up tapping her to be his vice president of real estate, a newly created position within the organization and one that fit her skill set and expertise perfectly.
In her role, she is not only involved in construction but also in managing properties and attracting tenants to various developments within her company's extensive portfolio. She has a dozen direct reports, including a marketing director, a senior staff accountant, a tenant relations specialist, leasing representatives and a director of facilities and maintenance.
"My day is generally focused on working with new tenants and brokers, community leaders, engineers and architects," she says.
Recently, she secured agreements with National Grid for the installation of solar arrays on one of the company's properties, which will help reduce the firm's ecological footprint.
Lupoli is thrilled with all she has accomplished in the four years she has been working for his business.
"Gerry-Lynn has been instrumental in shaping the real estate division of Lupoli Companies," he says. "Since arriving, revenues have increased by 35 percent at Riverwalk [the organization's flagship property in Lawrence, Mass.], and more than 30 new tenants have signed leases at the property. She also has a natural ability to work alongside government agencies, which is an important part of our business model."
In other words, Darcy has helped spearhead a private-public collaboration that optimizes Lawrence's economic revitalization.
Lawrence is one of the Commonwealth's Gateway Cities, meaning it is a once-thriving but now struggling urban center where median incomes fall below the state average, as do the number of residents with bachelor's degrees. The belief among legislators and economic think tanks is that with some outside help from organizations like Lupoli Companies, Gateway Cities can become thriving communities once more.
Lupoli Companies is also involved in shoring up the Gateway Cities of Lowell and Haverhill through construction investments, and it is that kind of involvement that has driven Darcy to really hit her stride, to act on the fact that along with real estate, giving back, lending a hand, is in her blood, too.
"We pride ourselves on being social impact entrepreneurs," Darcy says of Lupoli Companies. "We believe that providing resources to local residents, many of whom are living below the poverty line, is one of our responsibilities."
How does it all work? Broadly, she uses the consensus-building skills that the governor praises, to bring to the table people from all different spheres—not just those in the construction industry and community leaders but also legislators and volunteer organizations—to get projects off the ground, shed light on a community's homegrown efforts, and in that way attract money to the area.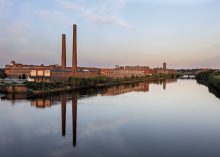 "Riverwalk is the largest taxpayer in Lawrence," she says by way of example, "and its commercial tax base is what allows the city to expand programs and services."
In addition, Darcy explains that Lupoli Companies has added thousands of new jobs to the city, with hundreds of businesses located within Riverwalk.
Riverwalk was once a series of retrofitted mills that had fallen into disrepair but now boasts contemporary industrial design with brick-walled offices and high, timbered ceilings. Darcy's own corner office features many of those hip, repurposed mill elements.
There is an irony in the glamour and location of her spacious professional digs that is not lost on her. Her immigrant ancestors settled into meager circumstance in the Gateway Cities of Lowell, Haverhill and Lawrence when they first came to the United States.
Improving the economic status of financially and socially marginalized cities and towns is personal for Darcy. Discrepancies in opportunities have concerned her since her college days at Wheaton, where she majored in economics.
Economics professor John Miller remembers her as "quite passionate about economic policy issues, including anti-poverty issues."
Darcy still taps into the dollars-and-cents lessons she learned in her classes at Wheaton.
"Economics is the backbone of a business model," she says, explaining that her economics courses "taught me that everything is cyclical—including the real estate market—and that you have to anticipate the downturns and use them to your advantage."
That instruction no doubt informed her savvy sales dealings at Hingham Shipyard when she was working for Lennar Urban.
But as Professor Miller suggests, her economics classes also taught her to think harder about economics around the issues of parity and equal opportunity.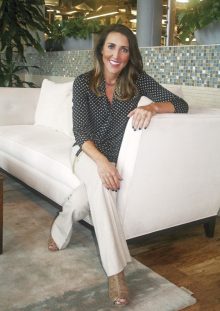 "When I studied economics at Wheaton I became very interested in the economics of work and family," she says, "the division of labor and labor inequality."
Part of what came into focus during her undergraduate studies is that women figure prominently in that division.
"Women earn 75 cents for every dollar a man earns," she says. "Women also carry most of the responsibilities for maintaining the home and caring for the children. I believe that women and children living in poverty is a particularly serious social issue, and I feel strongly about helping women who struggle with poverty."
She applies that ethic to her work in very specific ways. "We recently welcomed HealthQuarters as a tenant at Riverwalk," she says. "HealthQuarters is a nonprofit that provides affordable reproductive care and sexual health services and education for women.  It's important to make a difference in young women's lives by improving access to services and health care within our region."
It's all part of building community partnerships that Darcy sees as central to her role in the real estate industry, and the benefits of which flow in a number of different directions.
As chair of fundraising for Groundwork Lawrence, for instance, she promotes community gardens throughout the city, increasing green space and playground areas for families and children and helping to develop educational programs that teach parents about healthful cooking and family wellness.
But, she says, she also works hard to support her company's tenants, without whom the revitalization of a Gateway city cannot occur.
"We thrive on our tenants' success," she says. "We develop marketing plans and schedule community events to celebrate their achievements."
She also brings the tenant-community relationship full circle in a variety of ways.
One is their annual Thanksgiving event, where the company donates a turkey to Lawrence's Lazarus House for homeless families for each tenant who attends. Such outreach efforts remind everyone involved of their interconnectedness.
Darcy's roommate during her freshman and sophomore years at Wheaton, Melissa Greenwood, isn't surprised by the energy Darcy brings to her position, and the myriad responsibilities in which she involves herself to achieve the best possible results.
Even back then, Greenwood says, "she set the bar very high for herself. There wasn't any lounging."
There still isn't. "I'm usually up between 4:30 and 5," Darcy says. "I prefer to work out before I begin my day. It starts me off crisply." She usually works straight through lunch and then tunnels through long, productive afternoons. But she does not burn the candle at both ends.
"I'm a big advocate of getting sleep," she says. "It's so important. I make a concerted effort to be in bed by 10 o'clock every night. It allows me to think more clearly, be more effective."
Darcy also practices meditation—"I sit in silence for 30 minutes" every morning, she says—and has gone through yoga certification. "I try to cultivate mindfulness," she explains. "I try to be present and to be in touch with my own voice."
She strives to separate the workday from her private life as well. "When I'm working, it's full throttle," she says. "But when I'm done, it's full downtime. I had to teach myself that. It's more of a challenge for us today," because of the technology that brings communication constantly to our fingertips. The separation is critical. It allows her to recharge every day so that she can always do her best work, for which she has to constantly be on her toes because that work occurs in so many different silos—the construction site, the leasing office, community organizers' headquarters and politicians' anterooms.
That knack for combining her real estate acumen with her ability to deal with influencers at all levels to better a community's progress positions Darcy as a kind of iconoclastic Jill-of-all-trades. That said, much of her involvement has been in an industry that is traditionally male-centered. And it hasn't always been easy.
Even today, as a senior executive, Darcy sometimes encounters men who challenge what she brings to the table and initially don't take her seriously as a knowledgeable player. Those situations, says Darcy, make her more aware of her leadership role in encouraging young women to reach their full potential—no matter what.
"I didn't have the benefit of having a strong female role model as I made my way in what is perceived as a 'male' career," she says. "I wish I had more women to lean on as I evolved professionally."
The approach she developed over the years is not to deal with people's presuppositions about gender defensively. Rather, she just gets in there and does her job. When she starts talking, she says, everyone can see that she knows her stuff, and then everyone can get down to business.
Doing what she wants—leaving other people's assumptions out of her mental notes and her career decisions—is a life lesson in which she actively engages her two teenage daughters.
"One of the things I've always tried to instill in both of my daughters is to fulfill their passion, their dreams, to try to understand what they naturally migrate toward," Darcy says. "They have to feel free to explore their own interests. If you have other voices telling you where to go, you don't hear the voice inside you."
Clearly, Darcy's inner voice has served her—and others—well.
Photos by Lupoli Companies