First-year student wins undergraduate writing competition
Eliza Browning '22  was selected recently as the winner of a national writing contest for undergraduates run by the F. Scott Fitzgerald and Zelda Fitzgerald Museum in Montgomery, AL.
Browning, who intends to pursue a double major in English and art history, won the contest for her poem, "What Floats Between Us," which she completed at the end of the fall semester. The poem, which will be published by the museum, was inspired by the wildfires that ravaged northern California in fall 2018, she said.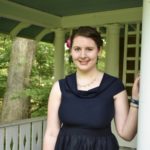 "I was thinking about the time I'd spent with older cousins in California when I was younger and specifically about the Camp Fire that ravaged Northern California in November," she said. "Luckily my family was safe, although many of them had to evacuate their homes and parts of their neighborhoods were destroyed."
While the poem is a recent composition, Browning has been working seriously at her craft as a writer for some time. "I've been writing seriously off and on for the past three years, sometimes longer forms like fiction and scripts but mainly short stories and poetry," she said. In fact, the Tolland, CT, resident learned about the museum's contest last summer while participating in an online writing mentorship program run by The Adroit Journal literary magazine.
"I mainly wrote short fiction until my high school creative writing teacher encouraged me to write more poetry, and during last summer's mentorship program, I concentrated on poetry with my mentor, the poet Matt W. Miller," she said. "I not only had to consistently produce work (a poem a week) and receive feedback on it, I had to complete assigned reading, critique my peers' work, and communicate directly with my mentor."
The museum's award is not the only recognition Browning has won for her work. She recently was named a finalist in Hollins University's annual Lex Allen Literary Festival for college students, and in November she was recognized as a 2019 YoungArts Foundation winner in writing, which included an invitation to attend the YoungArts regional festival that held in New York last week.