Aspiring English teacher accepted into JET program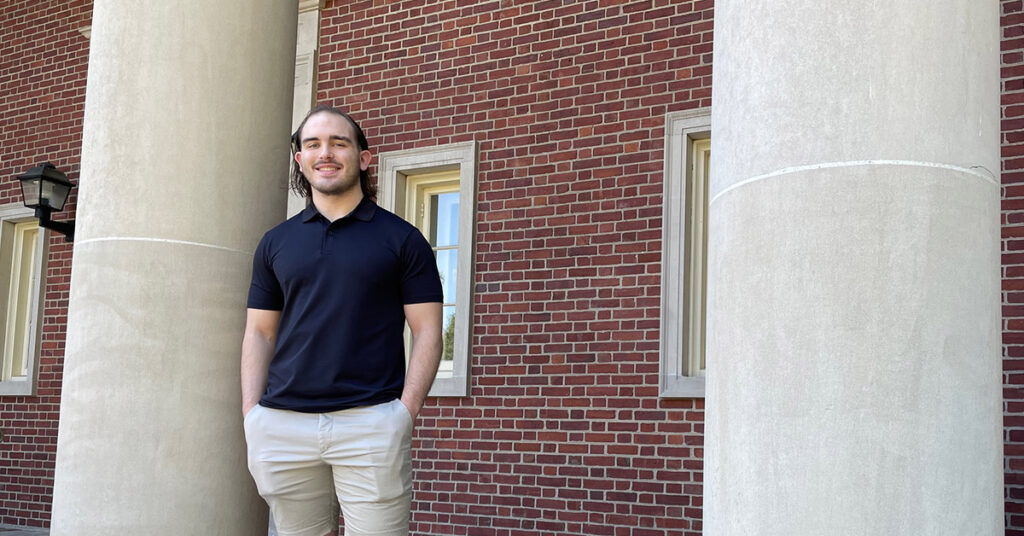 Cody Mills '22 to serve as educator in Japanese elementary school
Cody Mills '22 is gearing up to immerse himself in the northeastern city of Tome, Japan, for a yearlong teaching position through the Japanese Exchange and Teaching (JET) program. Mills, a double major in English and secondary education, will serve as an assistant language teacher in one of the city's elementary schools.
Founded in 1987, the JET program is a competitive teaching exchange program managed by the government of Japan that has placed more than 35,800 Americans to work in schools, on boards of education and in government offices. The JET program also is a chance to represent the United States as cultural ambassadors to Japan, according to the program.
For Mills, the JET opportunity combines his many passions and interests, including teaching, education and Japanese culture.
As a child, the Japanese animated film Spirited Away sparked Mills's interest in the country's art, folklore and mythology, and led him to study everything he could about Japan. During late afternoons at his high school library, where he stayed while his parents—both teachers—wrapped up their day, he'd research everything he could about Japan. Since then, he has become an avid consumer of all things Japanese.
At Wheaton, he decided to major in education and English with the goal of becoming an English teacher. As a student, he served as a writing tutor for three years and worked in the Admission Office, where he said he developed skills both in public speaking and hospitality services.
As part of his practicum his senior year, he taught English as an assistant at Norton High School. When the teacher had an unexpected absence, he served as the long-term substitute for the remainder of the academic year. In that role, he said he enjoyed helping students discover their passions and think critically about the world around them.
"When I discovered the JET program, it all just clicked. I knew that as an assistant language teacher for the program I would be able to not only live my passion teaching, but do so in an environment where I could simultaneously teach and learn about a rich and unique culture," he said.
Mills, who himself is originally from the small town of Dinwiddie, Va., said he looks forward to living and working in a more rural area of Japan.
"Coming from a rural area of the U.S. myself I understand the scarcity of quality education. My goal is to provide these areas of Japan with valuable language skills that they can then use to uplift the community around them or be able to seek opportunities that would not be afforded to them otherwise," he said.
Mills said he hopes to gain a better understanding of Japan as well as teaching in a foreign environment. His long-term goals are to receive his master's degree in literature and earn his Teaching English as a Foreign Language or Teaching English as a Second Language certification.
"Even after my time with the program has concluded, I still wish to reside and teach in Japan, continuing my service and education in less developed areas," he said.