Ashoka U and Wheaton partner on webinars

Two-part series aims to help higher ed leaders and educators drive change and innovation
The global pandemic and national protests for social justice have presented both challenges as well as opportunities for college and university officials and educators. To help them identify and enhance the skills needed for innovative leadership through these tough times and beyond, Wheaton College is partnering with Ashoka U to sponsor a webinar series focused on approaches to bring about positive change.
Ashoka U will present "Leading for Resilience and Relevance in Higher Ed: A virtual series for harnessing changemaking in the classroom and across campus" on October 7, from noon to 2 p.m., and October 28, from noon to 2 p.m. Faculty, staff and administrators worldwide are invited to register to participate.
Check out the details, list of speakers and registration information.
The two-part webinar series will feature interactive sessions for educators and higher education leaders. In the October 7 session, "Leading Change in Higher Ed Amidst Uncertainty," participants will learn key mindsets and skills to embed changemaking across the campus, equipping the institution to be more adaptive, resilient and impactful. The October 28 session, "Educating with an Innovator Lens," aims to help educators create experiences that prepare students to lead in an increasingly complex and changing world.
Guest speakers will share their success stories and creative thought process, and small group interaction will enable participants to learn with and through peer experiences.
Wheaton College Provost Renée T. White will present opening remarks for the first webinar and Wheaton President Dennis M. Hanno will present opening remarks for the second. Ashoka U Director of Changemaker Campus Angie Fuessel will facilitate both webinars.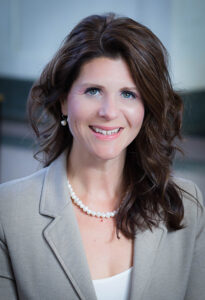 Ashoka U is the higher education initiative of Ashoka, an international nonprofit founded in 1981 by Bill Drayton. As a key leader in the field of social entrepreneurship, for decades Ashoka has identified and collaborated with talented innovators who seek to address social problems by developing systems-altering solutions. Ashoka works with individuals and institutions, such as colleges and universities, to foster changemaking for the good of all.
Fuessel has been collaborating on the webinar with Wheaton College Associate Professor of Business and Management Imran Chowdhury, who is the Diana Davis Spencer Chair of Social Entrepreneurship.
"There is no doubt that today's world, with its increasingly complex and interconnected global challenges, needs everyone to be equipped and engaged as changemakers. Higher education plays an especially critical role in preparing students for lifelong learning and impact. In doing so, higher education indirectly shapes future sectors and systems of society," Fuessel said.
"And while it is important to invest in the educational design, programming and student experience, we cannot underestimate how important it is to equip our educators and leaders to be changemakers themselves. Our current times have only put a spotlight on how important it is for faculty, staff and administrators to be empathetic, adaptive, collaborative, innovative and solutions-oriented," Fuessel said. "This moment of need also brings to light great opportunity for individual and institutional transformation, so that we can better live with purpose and equip students, colleagues, partners and communities for even greater impact."
The effort perfectly aligns with Wheaton's mission of preparing students to create innovative solutions to big challenges—and to act on them, Professor Chowdhury noted.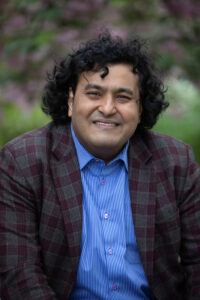 "The webinar series is important for several reasons. Wheaton has been doing great work in the social entrepreneurship and innovation area, in particular in the way that this field intersects with the liberal arts education, which is at the heart of the Wheaton experience," Chowdhury said. "This series with Ashoka U highlights the ways in which becoming a changemaker in higher education can benefit from a broader view of the events taking place around us."
Collaborating on the webinar series also aligns with Chowdhury's work at Wheaton.
 "In my role as Diana Davis Spencer Chair of Social Entrepreneurship, I am constantly thinking of ways to strengthen Wheaton's position as a leader in integrating social entrepreneurship and innovation into the study of the liberal arts and sciences," he said. "This collaboration with Ashoka U, in this sense, is part of a broader effort to educate students to develop action-oriented solutions to social problems and issues of social justice, and to prepare students for the greater uncertainty of the COVID-19 era and beyond."
Chowdhury has known the co-founder and executive director of Ashoka U, Marina Kim, for more than a decade; they first met at a conference on scaling social innovations. This summer he had an opportunity to have an in-depth conversation with her and the idea for the series was born. President Hanno has been involved with Ashoka U for many years through his social entrepreneurship work.
"President Hanno and Provost White were both very supportive of this collaboration and venture, and I have worked with the folks at Ashoka for the past few months to help make it happen," Chowdhury said.
The webinar series focuses on two core groups: faculty, staff or administrators seeking to advance changemaking across their institution as well as those seeking to embody changemaking as educators to foster the next generation of empathetic and creative problem-solvers. Participants will be able to connect with educators and higher education leaders from around the world, share experiences and learn together.
"These interactive seminars will create a unique space and opportunity for educators and leaders in higher ed to step back from their daily duties and challenges," Fuessel said. "Participants will be invited to reflect on the kind of educational experiences and institutions needed in the face of our dynamic times."