Maia Hay '20 and crew rebuild sculpture on campus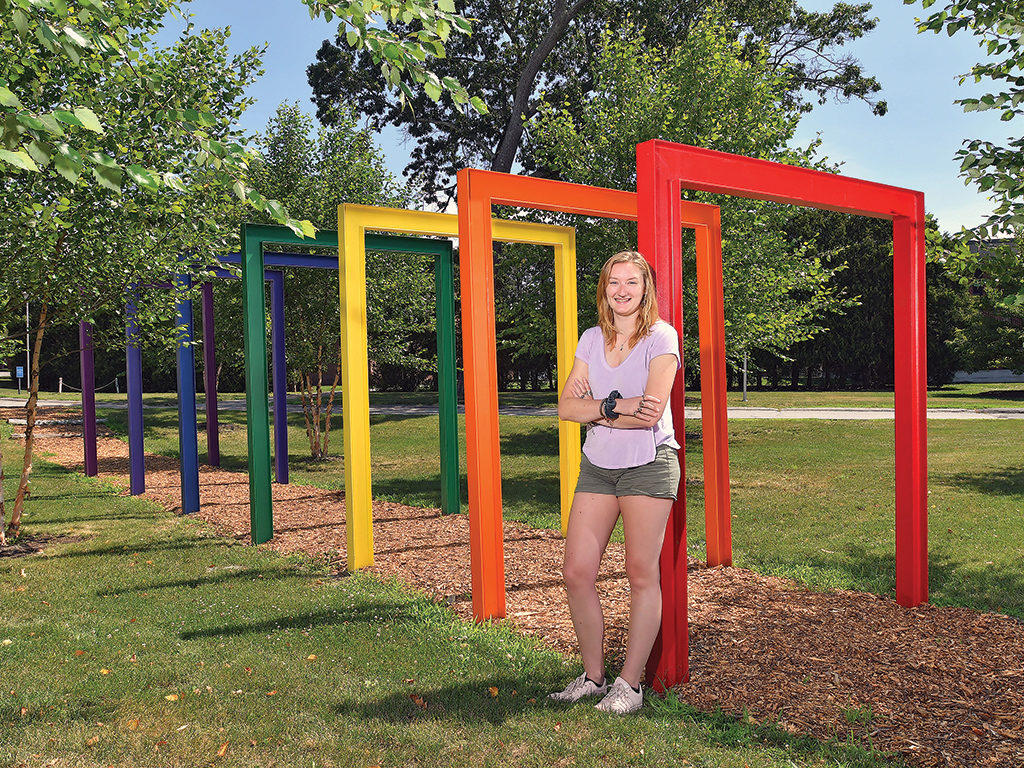 "Beyond the Rain," a public sculpture that Maia Hay '20 created during the 2017–18 academic year as an assignment in her "Public Art" course, was a big hit on campus. It was temporarily installed near Gebbie Hall while awaiting its originally intended location in the Franklin (Mass.) sculpture park. The wait allowed the Wheaton community to enjoy and grow fond of the colorful piece.
After the sculpture was relocated, it was dearly missed. So, after returning from studying abroad at the University of Edinburgh in the parliamentary program, Hay went to work rebuilding it on campus starting May 6. She got a lot of help from her art professor, Kelly Goff, and his wife, Tracy; classmates (Taylor Bisson '19, Gaby Baumgart '20, Anesu Makufa '20 and Kaitlyn Megathlin '20) and friends, including Katie Lawson, who attends Simmons University. The Wheaton grounds staff also helped shore up the sculpture and landscape around it.
"Sometimes as an artist, you can get so wrapped up in the idea of the finished product but for me, the biggest impact of this piece was the process of building it," Hay said. "To have people from my family, friends from my childhood and the supportive network at Wheaton willing to help me recreate 'Beyond the Rain' made it mean so much more.
"I think of the quote by Maya Angelou, 'Try to be a rainbow in someone's cloud.' Sometimes it only takes one small action to brighten up someone's day, even if for just a moment. Being at Wheaton has brought so much light and positivity to my life. I hope that having this sculpture on campus not only brightens up space but also helps to lift people's spirits and put smiles on their faces."