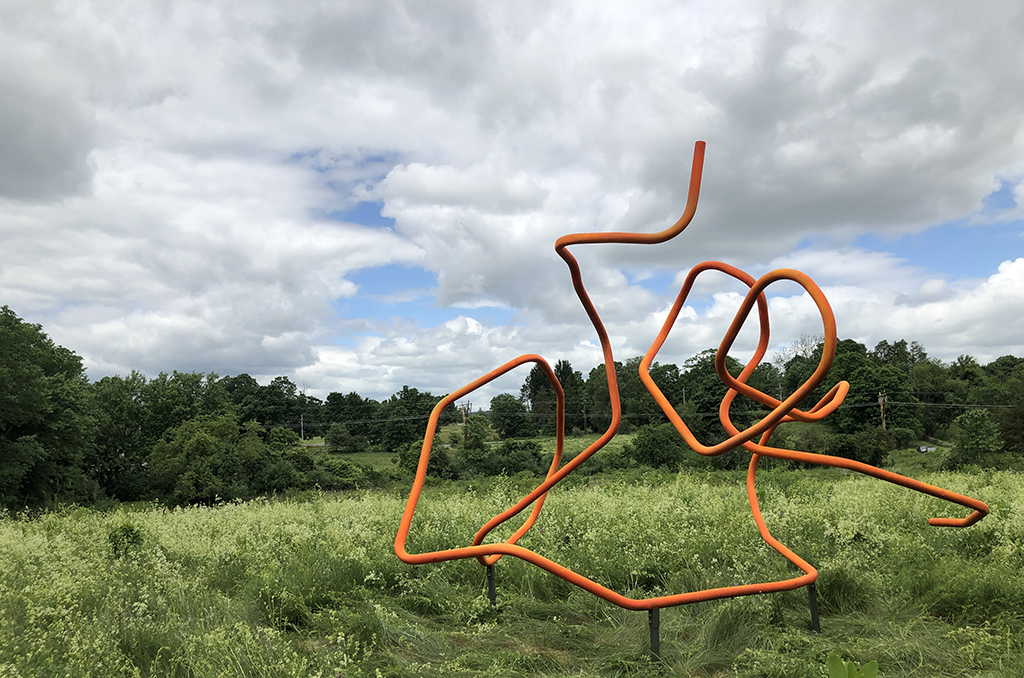 Professor Kelly Goff's trail art highlighted
Associate Professor of Art Kelly Goff is one of 14 artists featured in the "Art on the Trails 2020: Rising Up" outdoor exhibition in Southborough, Mass. The work is viewable through September at the Elaine and Philip Beals Preserve, 55 acres of protected natural space located at 22 Red Gate Lane. The MetroWest Daily News captured the installation in an article this week. 
We asked the professor to provide us with some insight into the work, which he installed onsite this month with the help of a student, his colleagues and his wife. (He also collaborated with four Wheaton students to create the work.) Here's what he had to say:
"When I discovered that the exhibition would be entitled 'Rising Up,' I thought, what a coincidence that I happen to have two large sculptures nearly complete that literally rise up. Each sculpture is a continuous line drawing that meanders around like a scribble or doodle and sort of trails off toward the sky. Along with their vibrant colors, they feel like optimistic formations to me as I think about the convolutions of our current world, the way we all seem to be navigating obstacle after obstacle but we persist, and we'll eventually get out of this mess.
The sculptures, 'Continuous Line I (tangerine), 2020' and 'Continuous Line II (aquamarine), 2020' were primarily constructed on campus last semester. The material is a two-inch-in-diameter rusty pipe that had been pulled out of Wheaton's old boiler room and was awaiting recycling. I salvaged as much as I could from a large construction dumpster outside the physical plant one day in the pouring rain, knowing that it would be hauled away the following morning. 
The lengths of pipe were rusty and beautiful with natural bends and contours. Four students worked on the project in various roles. Sasha Kasem-Beg '20, Nathan Domingos '20, Augustus 'Gus' Williams '20 and Coby Goodrich '20 all helped shape the pipes further. The process of construction, although laborious, was fun and entirely intuitive as we welded the pipes end to end in a slowly expanding tangle.
When I learned that I had been invited to exhibit the works, I moved them from where they had been standing unfinished near Mars Arts to a friend's backyard for finishing, which I completed over the past couple of weeks. When finished, I texted pictures of the sculptures to the four students who had worked on them, and unsurprisingly, Nathan Domingos '20 offered to come help with the installation in Southborough." 
With the pandemic in mind, there was no formal opening reception scheduled, but the public was invited to stop by during the installation weekend to chat with the artists while practicing social distancing. Nathan and my friends and family were my installation crew. My wife, Tracy Rosebrock, Professor Leah Niederstadt and Kate Boylan, the director of archives and digital initiatives, all helped with the literal heavy lifting while our children played outdoors."