Applause for playwright Charlotte Meehan
Professor wins $15,000 Massachusetts Cultural Council fellowship award to support life's work
Charlotte Meehan's work as a playwright has always been about holding up life and observing it in the bright spotlight of the stage. Even a random personal conversation or a simple weather report in her hands can become fodder for a play that shows something significant about human nature.
In May, the Wheaton College playwright-in-residence and professor of English received an honor that recognizes her creativity and talent and encourages her to keep going—a $15,000 Massachusetts Cultural Council (MCC) Artist Fellowship in Dramatic Writing to freely use in support of her work and life. The award recognizes exceptional work by Massachusetts artists across a range of disciplines.
"Being honored with an MCC playwriting fellowship this year was particularly meaningful because I applied with my new play, 'Everyday Life and Other Odds and Ends,' that deals with the vicissitudes of living with Parkinson's disease, from which my husband, Steven Bell, passed away in May 2020 after I'd not been allowed to visit him for two months due to COVID-19," Meehan said.
"I'm fortunate to be able to use the money for living expenses, and, in that regard, it also could not have come at a better time. Dealing with long-term illness is costly and often financially catastrophic, which is too little spoken about," she said.
The idea for the play dates back to 2016 when Kate Snodgrass, artistic director of Boston Playwrights' Theatre, asked Meehan to write a 10-minute play for the annual Boston Theatre Marathon. Meehan is the co-founder and artistic director of the Boston-based multimedia theater company Sleeping Weazel.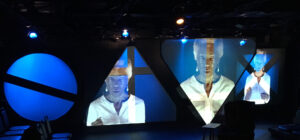 "I wrote one loosely based on what my husband and I were facing with his Parkinson's disease—with his permission. After writing two more for subsequent marathons, I yearned to expand these snippets of an individual couple's life to a broader landscape of relationships and to add other art forms," Meehan said.
"Everyday Life and Other Odds and Ends" is scheduled to premiere March 12 through March 27, 2022, as part of the ArtsEmerson mainstage season at The Jackie Liebergott Black Box Theatre, located in the Paramount Center at Emerson College in Boston.
The subject matter is heavy, but Meehan hopes that it can be uplifting for audiences.
"Although this new multimedia play with dance deals with a debilitating degenerative disease, above all I want people to feel the strength of love and the triumph of will it takes to live with Parkinson's and to empathize with this compressed version of the aging process," she said.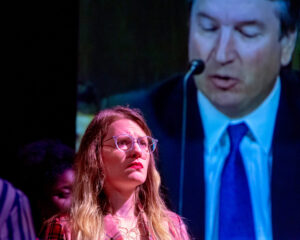 Simran Lamba '21, who majored in film and new media studies, was Meehan's research assistant in the early investigation of how to incorporate dance into the play. Over the years, the professor has collaborated with students, alumni and professors (especially Stephanie Burlington Daniels '97) on Sleeping Weazel productions.
"Relaunching Sleeping Weazel 10 years ago has allowed me to develop my work freely and to present the works of others that, with mine, create a theatrical landscape of my own imagining," Meehan said. "Beginning this journey with former Wheaton students Adara Meyers '08, Amanda Weir '04 and Jess Foster '09 was a great joy that moved me beyond worrying about fitting my aesthetic into the American theatrical mainstream. That was the key to my artistic freedom."
In 2017, Sleeping Weazel won an Elliot Norton Award for outstanding fringe theater production from The Boston Theater Critics Association for "3/Fifths' Trapped in a Traveling Minstrel Show," a three-person multimedia play written by James Scruggs that explores issues of race in America.
​​In 2019, the company again won an Elliot Norton Award for outstanding production of the year in the category for small and fringe theaters for "The Audacity: Women Speak." The play, which was conceived of and arranged by Meehan, featured the true stories of women's experiences with sexual harassment, systemic misogyny and sexism, assault and rape. Professional photographer Elliott Mazzola '09 collaborated on the show, producing a montage of video clips and original video that added a multimedia component to the production.
Meehan, who encourages students to seek out opportunities for grants, hopes that her MCC fellowship award serves as an inspiration.
"I think when students see that artists can receive support for their work, it boosts confidence in taking such an uncertain path," said Meehan.
This fall she is teaching two sections of a new course aimed at first-year students called "Foundations of Creative Writing," which gives provides many writing prompts without regard to what form—fiction, poetry, playwriting—will take shape.
"I can't wait to see what they write," she said.