The Wheaton Athletics Department held its annual awards banquet in Emerson Gymnasium in April to celebrate the accomplishments of the Class of 2015 student-athletes and outstanding coaches, and to present six major awards:
Dean Sue Alexander Awards
Read the inspiring closing remarks about being a part of the Wheaton family made by Anna Viragh '15 at the ceremony.
Katy Ananian and Cara Morris were each presented with the Dean Sue Alexander Female Senior Student-Athlete Award, and Richard Jenkins claimed the Dean Sue Alexander Male Senior Student-Athlete Award. The awards recognize graduating seniors who have made a significant contribution to the success of Wheaton's athletics program. Students are nominated based on their participation in the intercollegiate and/or intramural program; proven leadership ability and commitment; and relevant committee work.

Ananian is the all-time wins leader in women's lacrosse program history, while Morris is a two-time school record holder (200-medley relay, 800-free relay) in the pool for the Lyons. Ananian also has been a resident advisor on campus for three years and worked in the Admission Office for two years, most recently as a senior admission intern.

Morris has been the treasurer of the Wheaton Athletic Mentors, a senior resident advisor, a senior advisor for BACCHUS (Boosting Alcohol Consciousness Concerning the Health of University Students), senior class secretary and a member of the Distinguished Women of Color Collective.
Jenkins was a key member of multiple relays, including the 800-freestyle relay that set a school record and recorded an NCAA Division III "B" cut in 2014. He also holds five top-10 all-time performances in program history in the 500-free (fifth), 200-free (fourth), 50-back (fourth), 100-back (sixth) and the 200-back (third). He has earned conference Relay Team of the Week accolades and several selections to the College Swimming Coaches Association of America Team Scholar All-America list.
Jenkins has also made an impact beyond his sport, serving as president of the Class of 2015 for four years; as the student banker for the Student Activities, Involvement and Leadership Office; and as a member of the Roosevelt Institute and the History Club.
Debi Field '70 Outstanding Female Athlete of the Year

Emily Berardi'15 earned the Debi Field '70 Outstanding Female Athlete of the Year award. The award recognizes extraordinary athletic ability as well as demonstrated sportsmanship and contribution to a team, the college and the world of sports.
Berardi has been dominant both as a pitcher and a hitter for the softball program this season with a 13–3 record and a 1.21 earned run average (ERA), along with a .452/.476/.822 slash line (.avg/.obp./slg), 17 runs scored, 33 hits, 10 doubles, one triple, five home runs and 21 RBIs.
Earlier this year, she tied the single-game strikeout record with 15 total and won nine straight decisions from March 8 to April 10. During that stretch, she keyed Wheaton's 3–1 victory over the No. 6 nationally ranked Wesleyan team with a complete-game effort in the circle and two RBIs in the contest.
Berardi claimed one New England Women and Men's Athletic Conference (NEWMAC) Player of the Week award, three NEWMAC Pitcher of the Week accolades, and one National Fastpitch Coaches Association Top-Performer honor this season. During Wheaton's program record 22-game winning streak (March 12 to April 21), she went 10–0 in the circle over 54 2/3 innings pitched, to go with 36 strikeouts and a .223 batting average against. Berardi also hit .500/.528/.979 with 16 runs, eight doubles, five home runs and 14 RBIs.
Chad Yowell Outstanding Male Athlete

Luke Finkelstein was given the Chad Yowell Outstanding Male Athlete Award, which recognizes extraordinary athletic ability, as well as demonstrated sportsmanship and contribution to his team, the college and the world of sports.
Finkelstein's leadership and play on the soccer pitch in 2014 nearly went unmatched, as the senior midfielder claimed All-America honors from the National Soccer Coaches Association of America and D3soccer.com.
He guided Wheaton to its second straight appearance in the NCAA tournament last fall and a NEWMAC regular-season title. In 2013, the Lyons captured the NEWMAC championship over MIT on the road.
The captain of the team for the past two seasons, Finkelstein helped turn the Lyons into a cohesive unit, which directly resulted in a 34–10–2 overall record (.761 winning percentage) during that span. He also ranks seventh all-time in games played (83) and fourth all-time in assists (28).
Claudia Friese Special Recognition Award
Ben Chalot, who is the associate director of academic advising and career services in the Filene Center and an assistant coach for the men's and women's swimming and diving teams, received the Claudia Friese Special Recognition Award. Established in 1983, the award recognizes behind-the-scenes dedication to the athletics program exhibited by any member of the Wheaton community.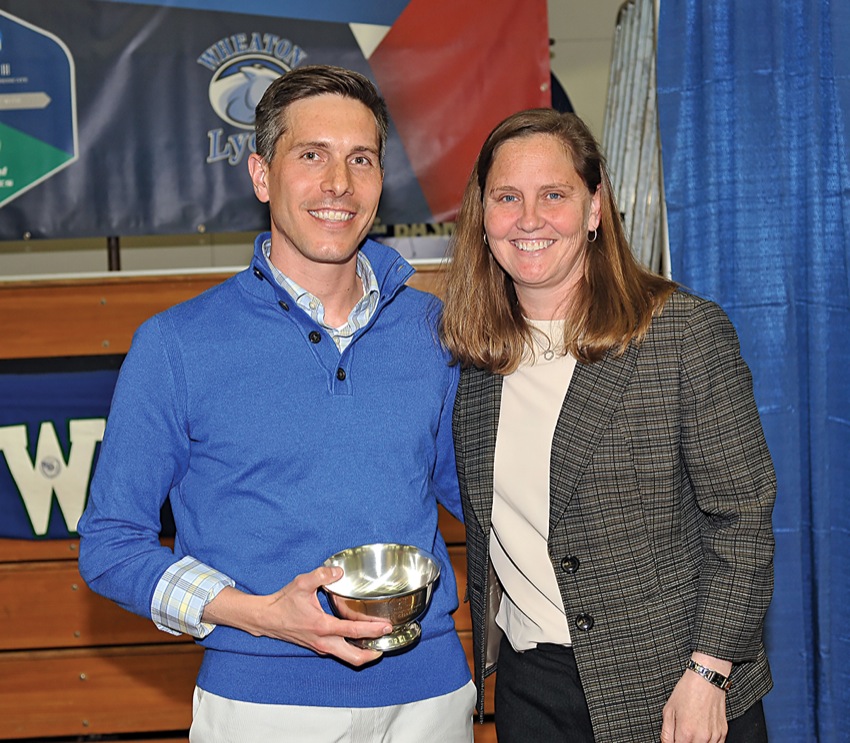 Chalot was honored for his work with student-athletes. During the past few years, he has instructed and guided many student-athletes in all matters of their career development, including résumé building, internships and interviewing. Most importantly, he has helped hundreds of Wheaton's student-athletes land full-time and part-time internships, scholarships and funding to conduct research during both summer and winter breaks.
His vision in this area has supported many of Wheaton's student-athletes in their academic success as well as in their pursuit of career goals.
Lynn Miller Inspiration Award
Softball and volleyball assistant coach Bob Roscoe received the Lynn Miller Inspiration Award, named after Wheaton Hall of Fame member and now retired men's and women's tennis head coach Lynn Miller.
The longest-serving active assistant coach at Wheaton, Roscoe was in his 20th season in the softball dugout this spring despite being diagnosed with pancreatic cancer. He died June 14.
Roscoe's initial year coaching softball at Wheaton was 1996. By then he was midway through a 14-year stint with the women's volleyball program.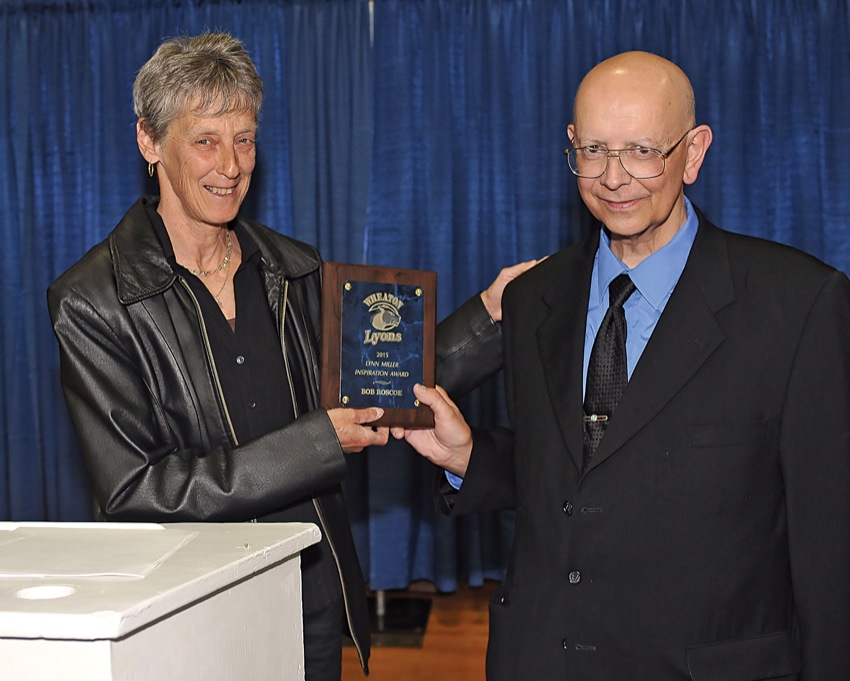 He also was an assistant volleyball coach from 1989–2001 before serving as a co-head coach in 2002, helping the Lyons to a 15–16 mark. During his time with the softball squad, the Lyons have qualified for seven NCAA Tournaments, including three trips to the College World Series.
Roscoe's impact on Wheaton student-athletes over the years has been immeasurable, and for that reason, he was honored by the softball team during their annual alum game earlier this year.
After Roscoe's death, Director of Athletics and Recreation John Sutyak '00 spoke of his legacy: "We are all saddened of the news that Bob lost his courageous battle with cancer. For more than 25 years, 'Brotha Bob' has been a mainstay at Wheaton, first with our volleyball program, then with softball. His ability to connect with student-athletes and be a conduit between the head coach and the players had a positive impact on every team he coached. I don't think it is any coincidence that Bob was a member of the most successful softball and volleyball teams in Wheaton College history during his time here."
Photos by Keith Nordstrom