An invitation to change lives
President Hanno calls for action at inauguration
"Let there be no doubt in anybody's mind: The world needs Wheaton College," President Dennis M. Hanno told a packed audience of students, faculty, graduates, staff, family members and guests during his inauguration as Wheaton's eighth president on Friday, October 17.
The college's liberal arts mission of preparing leaders to solve problems using multiple perspectives provides the perfect foundation for taking on the challenges facing the world, he said during his inaugural address, titled "Accelerating Wheaton's Impact on the World."
"A liberal arts education teaches us always to be looking for new solutions and opportunities, to explore these from multiple perspectives, to learn by taking action, and to consider the human element in the choices being made," he said, pointing out that the goal is to realize our full potential.
"Each and every day, I challenge myself to think about how I can change lives. That's why I chose to pursue a career in higher education," said Hanno. "Now, I challenge everyone here to think about the role that you can play in building a Wheaton that changes even more lives and strengthens even more communities."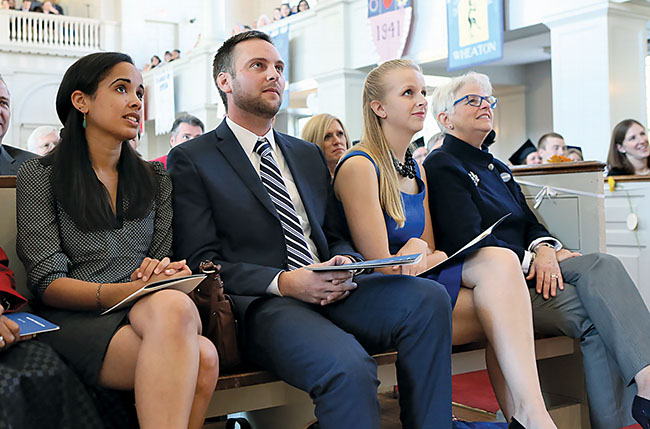 Standing at the podium in Cole Memorial Chapel, the president issued an invitation to the 20,000-plus strong Wheaton community to commit to spending at least 15 hours involved in service during the next year, as part of the theme for his inauguration, "Changing Lives, Strengthening Community."
"If every member of our community participates, that will be over 300,000 hours of service. We will definitely shape communities with these efforts, but probably none more than our own," he said. "When we serve others, we develop a greater appreciation for what we have, we come together with shared purpose and strengthen the bonds between us, and we grow and develop from what we learn through our actions. When we give of ourselves, I have always believed that we become even richer through the many ways we are positively changed."
At Wheaton, service is defined broadly and includes research and scholarship, social entrepreneurial projects, and volunteer work with community organizations on a local, national or global level—any engagement aimed at improving the world.
President Hanno also revealed a plan to create a center for social innovation at Wheaton "that would bring students, faculty, staff and alumnae/i together to provide the support and guidance needed to see more ideas flourish, come to fruition more quickly, and have greater impact."
Hanno has been committed to service throughout an academic career that has included a focus on developing global study and service programs as a part of his championing the study of the liberal arts.
Several people representing various aspects of Hanno's current and past life presented greetings, including the chair of the Norton board of selectmen; Alumnae/i Association president Jane Martin '74; Wheaton professor Nancy Kendrick; Student Government Association president John Paul Carando '15; the president emeritus of Babson College; and U.S. Senator Joe Donnelly (D-Indiana), Hanno's college roommate when they attended the University of Notre Dame.
"I want to tell the entire Wheaton community, you've got an all-star here and he's going to do an amazing job," said Donnelly, pointing out Hanno's love of students and education. "I also bring greetings from the larger nation as a whole … because here's what we know: We have challenges, but we're going to get through them. We have a lot of things we have to work on, and a lot of the solutions are going to come from you because you are the leaders of the future. You are the leaders of our country in the days ahead, and you are the stewards of our leaders. And so from all of us, we want to thank you for challenging them, for making them think and for making them have this world be a better place. And I will tell you I can think of no better leader, and no better person, to help create that vision and that goal than my lifelong friend, President Dennis Hanno."
In closing, Hanno focused attention on the future: "It's time to turn the page and to begin writing the next chapter in the long and storied history of this amazing institution. … I am incredibly excited about what lies ahead for this special place, but I need you. It's up to all of us to write the future of Wheaton College."
Photos, video
More photos and watch the video of the event at wheatoncollege.edu/inauguration.
Make a commitment

President Dennis M. Hanno is encouraging all in the Wheaton College community to commit to spending at least 15 hours during the next year involved in service that "changes lives and strengthens communities," the theme of his inauguration. We want to know how you are involved in changing lives and strengthening communities through service, research, social entrepreneurship and other ways. Go online to tell us and send us a photo. We may share your story online.

Professor compose music for inauguration
Professor emeritus, brother create ceremonial pieces