An Emmy, Peabody for alum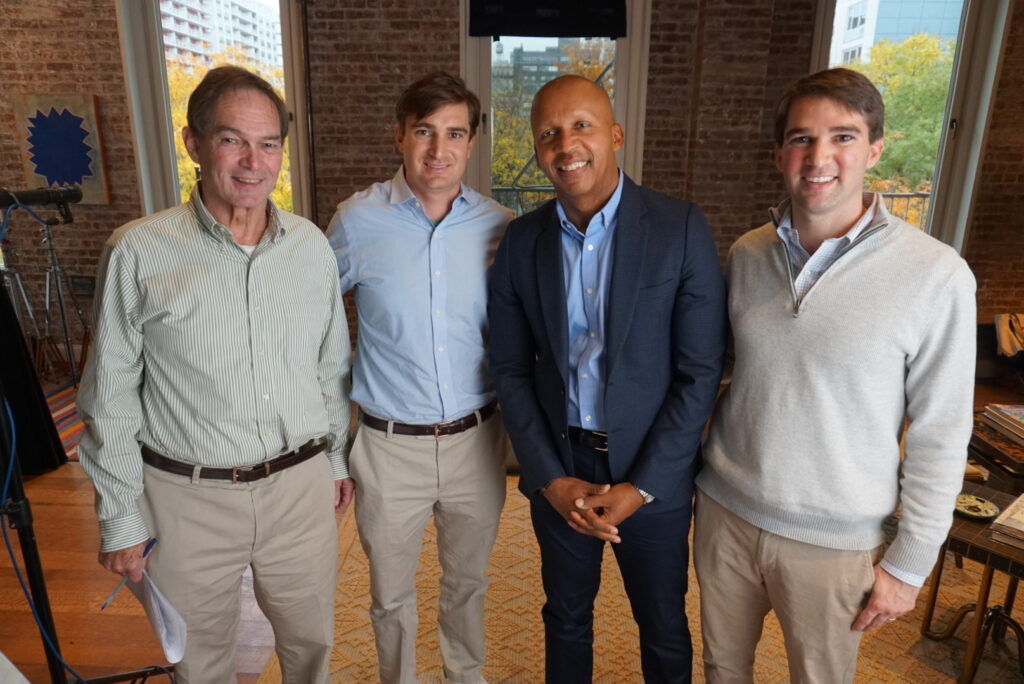 Documentary about racial injustice crusader wins accolades for George Kunhardt '09
An HBO documentary about a racial injustice crusader produced and directed by George Kunhardt '09, his father Peter and brother, Teddy, recently won an Emmy and Peabody Award.
"True Justice: Bryan Stevenson's Fight For Equality," which was produced by Kunhardt Films for HBO in 2019, won an Emmy in the Outstanding Social Issue Documentary category. It also won a Peabody Award, which honors storytelling excellence, and the National Association for Multi-ethnicity in Communications 26th annual Vision Award, which recognizes diversity in programming.
The film chronicles Alabama lawyer and Equal Justice Initiative founder Bryan Stevenson's fight to create a more fair criminal justice system, particularly on the behalf of the poor and falsely accused. Stevenson, who is a MacArthur Genius Grant recipient, and his staff have won release from prison more than 135 wrongly condemned prisoners on death row and relief for hundreds of others wrongly convicted or unfairly sentenced.
George Kunhardt has been inspired by Stevenson and his work since hearing him speak at The Gordon Parks Foundation's 2016 gala in which Stevenson was presented an award. (George Kunhardt's older brother, Peter Kunhardt Jr. '05, is the executive director of The Gordon Parks Foundation.)
"Bryan is the kind of person that five or 10 minutes of hearing him talk changes your life," George Kunhardt said. "He's a transformative figure in our world."
Kunhardt, his father and brother, Teddy, run Pleasantville, N.Y.-based Kunhardt Films, which specializes in documentaries and has won many awards. The 41st Annual News & Documentary Emmy® Awards were presented September 22 during a live stream event.
During an October 2 interview via Zoom, Kunhardt was humble as he sat in his home office while his sons, ages 6 months and 2 ½, napped nearby. (He is married to Jackie Phillips Kunhardt '09.)
When asked about receiving awards, he replied, "What I like is that it brings attention to the film. A lot more people will see it. A lot more people will talk about the film. A lot more people will donate to Bryan and his organization. It gets a whole second life for a film and that is the importance of these awards."
"The award really goes to Bryan. It's his story, his narrative," Kunhardt said. "We were the fortunate ones who got to talk to him and bring his story to life and get it to a large audience that hopefully will make a difference."
In a Los Angeles Times review, the critic praised the documentary, writing, "… this coolly passionate film mostly deals with Stevenson's thoughts rather than his life, providing an involving examination and analysis of the ideas [and ideals] that consume the man's every waking moment."
The writer also noted, "The Kunhardts are well-positioned to take on this story. Father Peter was the director of last year's excellent 'King in the Wilderness' documentary on Martin Luther King Jr.'s final years, and sons Teddy and George served as producers."
Kunhardt Films has now won eight Emmy Awards, two Peabody Awards and others for a long list of films, including for 'Jim: The James Foley Story' (HBO, 2016); "John McCain: For Whom The Bell Tolls" (HBO, 2018); and "The African Americans: Many Rivers to Cross" (PBS, 2013).
What is the secret of success? "Trust. Getting the subject matter's trust," Kunhardt said. "There is a shorthand that my brother, father and I have with each other. We can tell honest stories. When we meet people we've done films on we create a culture that is inclusive and understanding. We're patient filmmakers, and I think that goes very well with the subjects that we do."
At Wheaton, Kunhardt was the first studio art major with a focus in film and television. He credits his education and experience as crucial to his success.
"Everything I have done has spun out of my Wheaton experience. If it weren't for COVID-19 I'd want to come to campus to talk to the students. I did that a couple of years ago, which was a lot of fun," said Kunhardt, who in 2017 came to campus to discuss the art and practice of producing documentaries and screen his company's HBO film "Becoming Warren Buffett."
"The true secret to any success in filmmaking is hard work, and Wheaton ingrained that. I learned so many different things from not just filmmaking but also other programs. You need to learn mathematics to know how to do a budget. You need to have a liberal arts education. Learning history in general helps you understand what you know and what you don't. Every small piece of different courses throughout my time at Wheaton has helped shape my career," he said.
Beyond the audience of HBO subscribers who had the first access to "True Justice: Bryan Stevenson's Fight For Equality," the film has reached more than 40,000 students with screenings and a discussion guide, courtesy of the Kunhardt Film Foundation, the company's nonprofit.
"I hope a lot of different people watch this film. I hope a large portion of white students and people watch this film and, hopefully, have a self-reckoning," Kunhardt said. "Growing up in New York as a white male, I had a very privileged upbringing and I didn't know a lot of things. I think it is important for people to watch this film and have very hard conversations, which is what we've been trying to do. … It's one of those films that you can't watch and not get angry, upset and want to get out there and make a difference. I think this film truly will make a difference."