Amplifying diverse voices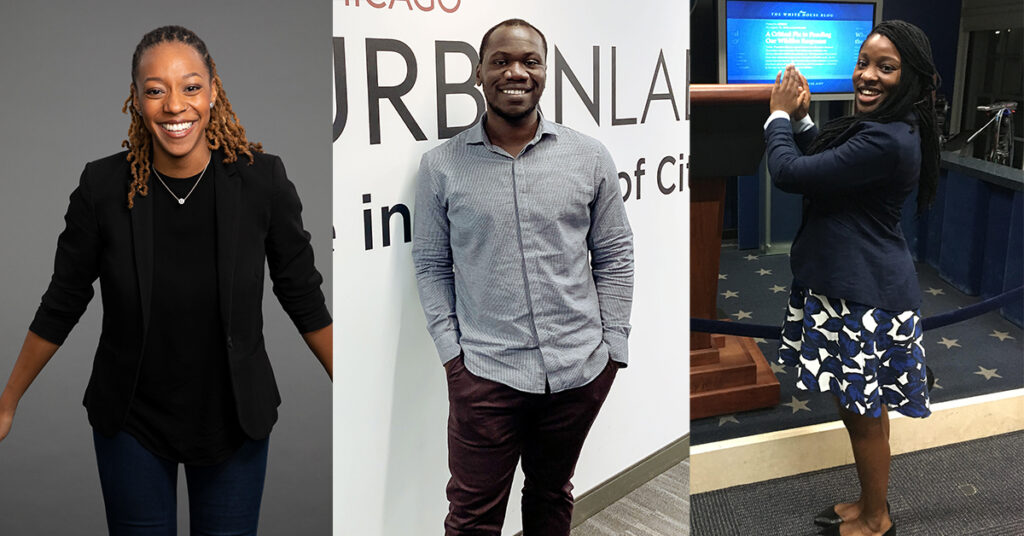 Black alumni panelists share professional, personal journeys
A recent panel delved into the experiences of Black alumni and explored how their identities and Wheaton College education have shaped their professional and personal lives.
Sixty students, alumni, faculty and staff members attended the event, "Whea are Wheaton," which featured Nana Asare '15, Kenya Bryant '12 and Maya Ennis '14. The February 24 panel was jointly organized by the Marshall Center for Intercultural Learning and Alumni Relations as part of Black History Month.
When developing the program, Kayla Berrios, multicultural program coordinator in the Marshall Center, said she determined the best way to celebrate Black History Month was not only through honoring the experiences of well-known Black trailblazers—but alumni and their contributions.
"These trailblazers were once young people, like our students here at Wheaton, filled with passion, promise and wisdom. I envisioned creating this space where Black alumni could come and remind our students and community that greatness comes from here, too," Berrios said.
"From navigating their college experiences while being one of few who looked like them, to their professional journeys and maintaining their beliefs and values, our Wheaton alumni have managed to create change all around them. Much like they did as students, they continue to speak out and challenge themselves and others to do better," she said.
Marco Barbone '09, senior assistant director of Alumni Relations, said that the students, alumni, faculty and staff who attended the panel now have a better understanding of what students of color have experienced and still experience.
"We hope this can further educate our community members so we can continue to make the steps toward a more inclusive campus. One great surprise that came out of such an open and honest conversation was the willingness of alumni on the call to speak up and say, 'if you are ever in my area, please let me know, I would love to connect with you,'" Barbone said.
During the event, the three alumni spoke at length on how they made the most out of their Wheaton education and what they learned along the way—as well as how they achieved success in their careers.
Bryant, a sociology major, has worked in a variety of fields since Wheaton, including publishing, radio and education—before landing her current role in corporate social responsibility at Estée Lauder in Washington, D.C.
Wheaton gave Bryant a platform to be an activist and advocate for herself and the community. As a student, she strengthened her natural ability to lean into difficult conversations with integrity, and took advantage of study abroad opportunities to experience different countries and cultures, she said.
"It allowed me to see the world beyond the block, which is what I wanted for myself," said Bryant, who was a Posse Scholar.
She also noted the meaningful connections she made with students, professors and staff members within the small-class environment and at regular meetings at the Marshall Center.
"I knew I had the capacity to be myself, to speak up about things and that my perspective was necessary. Me taking up space was necessary," she said.
Ennis, a psychology major, serves as the deputy national finance director at the Democratic Attorneys General Association in Washington, D.C. She identified community building as the number one lesson she learned while at Wheaton.
"I learned how I could build a circle of support around me, which included the support of professors," she said. In particular, she said she benefited from the guidance she received from professor Peony Fhagen, who taught her First-Year Seminar on class and cultural identity.
Ennis tapped into her support system and sharpened her skills as a self-advocate when successfully pursuing a scholarship to study abroad in Egypt. These same abilities allowed her to ease into the experience, she said.
Professionally, Ennis also said that she seeks to work for organizations devoted to racial equity that actively recruit diverse candidates.
Asare, who majored in anthropology, is a research manager at the University of Chicago Health Lab. As a student, he served with the Student Government Association and received a Thomas J. Watson Fellowship that later supported his self-designed, post-graduate global research studies.
"Wheaton opened up the door to a lot of experiences, including figuring how to navigate predominantly white spaces and finding resources and people and how best to amplify my voice and use my experiences to contribute to conversations," Asare said.
He said he benefited from close connections to professors, including Professor of Anthropology M. Gabriela Torres, with whom he remembered debating the efficacy of health organizations in global contexts.
"I often think about those conversations with professors and how they shaped the way I see things," he said.