Rose Jackson '06 tackles global issues as policy advisor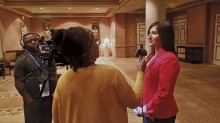 Rose Jackson '06 can start the day discussing sanctions in Burma, move on to a meeting about the most recent Chinese hacking attempt, later discuss civilian protection in Iraq and Syria, and at the end of the day strategize on how to prevent Burundi from slipping into genocide.
For her, it's all in a day's work.
In her 10 years-plus since graduating from Wheaton, Jackson has thrived in the complicated and intense field of international relations.
The alumna, who majored in international relations as an undergrad, earned her master's degree in international relations and conflict as a rotary scholar in Kenya. More recently, she worked at the U.S. State Department and in Congress, and is a security fellow at the Truman National Security Project and a term-member of the Council on Foreign Relations.
In April 2016, Jackson joined Open Society Foundations as its senior policy advisor for its Secure Partnerships Initiative.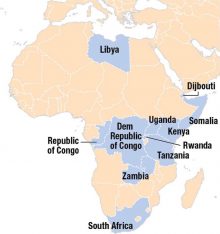 In her previous role as chief of staff at the U.S. State Department's Bureau of Democracy, Human Rights and Labor, Jackson served as key advisor to assistant secretary Tom Malinowski. She participated in his official meetings—which included U.S and senior foreign government officials, human rights activists and international nonprofit leaders. She also advised the assistant secretary on strategic messaging, social media, public outreach and engagement with Capitol Hill while communicating his decisions within the bureau's 14 offices.
"I traveled with him on official diplomatic missions and managed the content of those trips, helping to decide who to meet and where to visit. That put us on the road about half of each month, with two to three days per country. It was a punishing but very interesting schedule," she said.
One of her greatest honors during her time in government was working with families of political prisoners—some of them American citizens.
"The U.S. government would work hard to secure their freedom, and few things brought me more pride as an American than meeting them back in the United States and having the chance to thank them for their sacrifice and bravery. It's impossible to interact with people who have sustained so much pain and suffering as punishment for standing up for things we take for granted every day, and not walk away inspired and grateful," she said.
Open Society Foundations hired Jackson to run a presidential transition initiative to help the new administration improve how the U.S. supports foreign security forces. In this position, she takes knowledge gained in how the U.S. government operates and applies it to problems that people in and out of government want to solve, she said.
"I've been lucky in my career to have worked in the field, on the Hill, in the executive branch and now with a private foundation. It's given me a unique perspective on how all the pieces fit together and the important role each one of these different sectors plays," she said.
Jackson said while Wheaton had a profound impact on her professional development, her interest in international relations began at a young age. Even as a child, she was fascinated by politics, in part thanks to family trips to India.
"I was one of those freshmen who came to Wheaton with a pretty good sense of what I wanted to major in," Jackson said. "The fact that Wheaton was one of the few liberal arts schools at the time with a dedicated international relations major made the school even more attractive to me."
At Wheaton, she discovered a welcoming community that supported her career ambitions.
"I had professors who challenged and empowered me; coaches who taught me leadership and camaraderie; and friends and college staff who introduced me to new ideas and perspectives," she said. "I really valued that Wheaton allowed me to try things out and develop as a person and not just a student or major."
Darlene Boroviak, professor of political science, recalls Jackson as "someone willing to take on the world."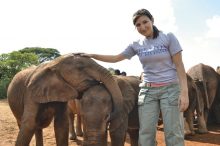 "Rose could not contain her curiosity about global issues and public affairs, and had an enthusiasm for learning that reflected a deeply ingrained sense of caring about and connectedness to others," she said.
Jackson loved to play with ideas and she was not afraid to express an opinion in class, Boroviak said. "She understood the importance of backing up opinions with facts. She was one of a group of students in my 'Foreign Policy' class who volunteered to participate in a panel discussion on current U.S. foreign policy for the campus and surrounding communities," she said. "Rose assumed a leadership role by leading the other students and seeing that they were prepared for the presentation."
Jackson also was an active participant in the Student Government Association and the Roosevelt Institute; for the latter, she coordinated a regional conference on campus that brought together students from Wheaton and other colleges and universities to discuss policy issues. Also as a student, she conducted an independent research project that focused on the relationship of sports to the development of national identity in South Africa.
"I admired Rose's ability to link her campus activities outside of the classroom with learning inside the classroom," Boroviak said.
Also, Jackson was a four-year member of the women's lacrosse team. "Lacrosse was an important part of my time at Wheaton. It provided me community and taught me leadership lessons that I still draw on today," she said.
"I want Wheaton students to know how many interesting and impactful jobs and experiences are out there for them. Wheaton produces people who live in service of their passions, and that means there is a long list of alumnae/i who are doing incredibly impressive things in their careers," Jackson said.
In 2010, she came back to campus for International Women's Day to share with students about her career; at that time, she worked at the National Democratic Institute.
"I came back because I'm grateful for the education and community that Wheaton gave me, and I want each generation of students to do increasingly more amazing things for this world," she said.