Alumna provides insight on monarchy history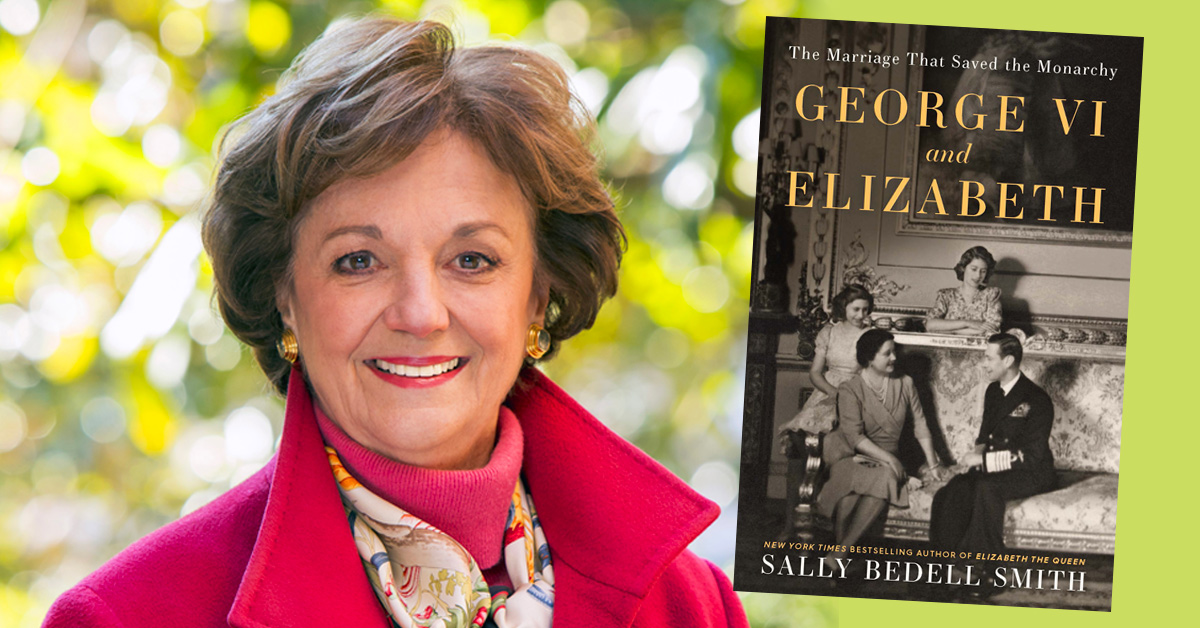 Sally Bedell Smith '70 delves into origin of royal family in new book
Sitting in the library of her Washington, D.C., home, on a sunny morning in February, Sally Bedell Smith '70 took a break from writing a piece for the Wall Street Journal to talk via Zoom about her latest book, George VI and Elizabeth: The Marriage That Saved the Monarchy.
She had just returned from the Rancho Mirage Writers Festival in Palm Springs, Calif., where she was a guest panelist for the event "The Art of Biography." Soon she would be traveling again to 22 locations for more than 30 lectures, including one on March 22 in Palm Beach, Fla., which was arranged by her good friend Susan Schiffer Stautberg '67, and one at the Nantucket Book Festival in June.
Smith is in high demand for speaking engagements and media commentary as the fascination with the royal family dramatically increases in light of the death of Queen Elizabeth II, the upcoming coronation of King Charles III and, of course, the ever-present media attention on Prince Harry and Meghan Markle, the Duke and Duchess of Sussex. In fact, Smith is scheduled to be a royal commentator in England for CNN during the coronation ceremony on May 6.
The author and historian has written three New York Times bestsellers about the royal family—Prince Charles: The Passions and Paradoxes of an Improbable Life (Random House, 2017); Elizabeth the Queen: The Life of a Modern Monarch (Random House, 2012); and Diana in Search of Herself: Portrait of a Troubled Princess (Signet, 1999).
For the fourth book, "I thought, well, why don't I find out what's at the root of all of this?," Smith  said. So she wrote about the origins of the family.
George VI and Elizabeth: The Marriage That Saved the Monarchy (Random House, 2023), is a 565-page endeavor (with an additional 94 pages of endnotes) that took four years to research and write. It chronicles the story of King George VI and Elizabeth Bowes-Lyon, the parents of Queen Elizabeth II, and how they raised their family while meeting the challenges of World War II.
"The appeal of this book to me is that it is fundamentally a wonderful love story that I am able to tell for the first time based on their diaries and letters from the early 1920s," said Smith, who was given special access to original materials in the Royal Archives at Windsor Castle by Queen Elizabeth II.
Smith, who majored in history at Wheaton College and was a 2020 honorary degree recipient, is accustomed to extensively interviewing many people for her books. But for this one she had to rely heavily on the archives in addition to original sources, unpublished materials and research that took her into the stacks at The London Library as well as collections in Britain and Canada.
"Those long nights that I would spend in the basement of Everett Hall [at Wheaton], with my little file cards, doing my history papers for [the late Wheaton history professor] Paul Helmreich I think really helped," she said. "Obviously, the whole way of doing things now is very different but it did sort of imprint me with the curiosity and the way of organizing things that would enable me to write something that is coherent and meaningful."
The inner world of the royals has long held the attention of the American public. Smith shared her thoughts on why that is during the interview.
"I think obviously it has a lot to do with the origins of our country. We were a British colony and George III was our last king, 250 years ago. Over the years, once we broke away and became independent, we have had a special relationship with Britain," Smith said. "And I think people love the tradition and the ceremony and everything that was embodied in the Queen's funeral—that sense of stability and continuity that stretches back 1,000 years."
Smith's fascination with the monarchy is strong because of her own insatiable curiosity as a historian and writer.
"The real events and the characters and the challenges that they faced are, to me, incredibly compelling. And my mission with each of the books has been to get behind the superficial impressions of these monarchs and heirs and just illuminate aspects of their jobs, their personalities, and show the way they were as people, as human beings," she said.
Her long-time friend and literary agent Amanda Urban '68 said that quest has led to the success of Smith's books.
"Over many years, Sally has gained access to this British institution and has portrayed it in mesmerizing detail in several books. She never whitewashes their sometimes foolish or scandalous behavior, but she also spotlights how rigorous and demanding this 'glamorous' life is," said Urban, who majored in English at Wheaton and works at Creative Artists Agency in New York City.
The author has dedicated the new book to Urban, who has represented her since the mid-1980s. "She has just been a fantastic agent, an advocate and believer," Smith said.
The two met Smith's freshman year via Urban's roommate and had an instant bond. In the book acknowledgements, Smith noted that they have been friends for more than five decades: "She is as confident as she is supportive, and I always count on her to give me an honest reaction to my writing."
Well before its official April 4 release, George VI and Elizabeth: The Marriage That Saved the Monarchy already is generating praise from early reviews, including from the Wall Street Journal, whose columnist Peggy Noonan wrote: "Sally Bedell Smith's reputation rests on her commitment to scholarship and access to previously undiscovered information. But it's not enough to find it—you have to bring wisdom to it. This book is a deeply moving marvel."
A Publisher's Weekly review said that the biography "adds up to a stirring portrait of grace under pressure." And Kirkus noted that Smith "leaves no jewel unturned as she recounts the lives of an improbable couple who would do so much to steer their country through the turbulent period of the abdication crisis and World War II. …[She] gracefully brings us into her subjects' inner world."