Alumna mycologist presents lecture on fungi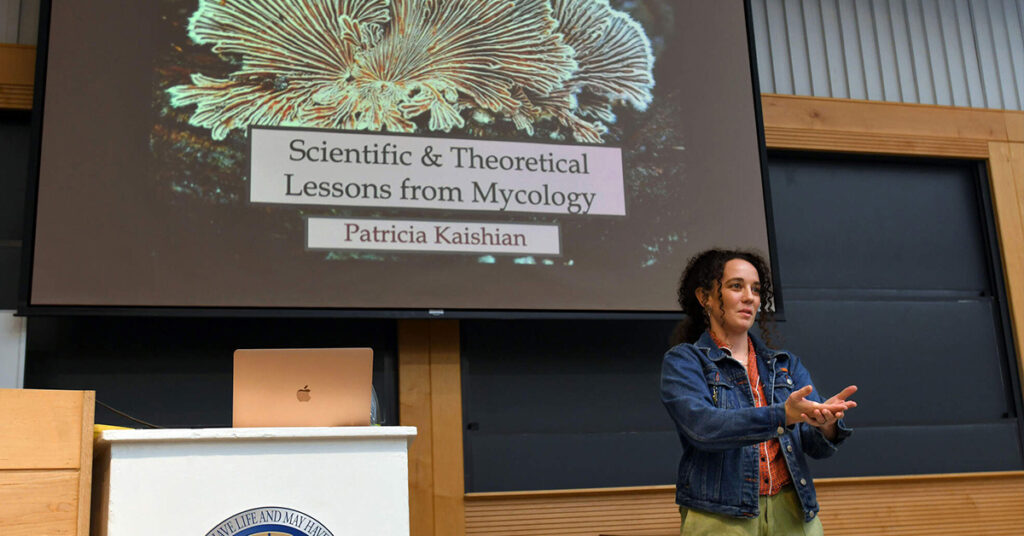 Patty Kaishian '13 discusses her work studying an often-neglected kingdom
In the sciences, fungi often are overlooked, as many perceive them as deadly, gross or weird, according to mycologist, taxonomist and educator Patty Kaishian '13.
Of the more than three million species of fungi thought to exist, only 150,000 have been described. As such, the fungi kingdom is ripe for scientific research and a greater understanding of its special place in the tree of life, she said.
"We've barely scratched the surface of what fungal diversity exists around us," said Kaishian, who is a visiting professor of biology at Bard College. "Even with those we have named, we don't necessarily know their ecology, how they are interacting with other organisms, and what they are doing in the system in which we found them."
The alumna, who majored in biology at Wheaton, has dedicated her professional life to studying the intricacies of fungi. She presented the LaDonne Heaton Schulman '57 Alumnae/i Lecture on Wednesday, October 5, in the Hindle Auditorium at the Diana Davis Spencer Discovery Center Dedicated to Free Speech and Innovation. On the following day, she led students in Professor of Biology Scott Shumway's "Environmental Science" course for a mushroom foray in Wheaton Woods. View photo gallery.
She also visited Professor of Religion Jeffrey Timm's mysticism and spirituality course and Assistant Professor of Biology Jessie Knowlton's ecology course.
In opening remarks at the lecture, Shumway said, "Patty embodies all that is good about Wheaton College and a liberal arts education. She is living proof that a student who decides to take advantage of all that Wheaton has to offer has the potential to exceed beyond their wildest dreams."
Fungi—which are more closely related to animals than plants—provide a lens into the Earth's rich biological diversity and may offer solutions to some of the planet's greatest challenges, Kaishian said.
For instance, some species may help fix damaged habitats through their ability to break down heavy metals or even radioactive materials. Also, research into fungal profiles within the human body may provide the groundwork for future cancer treatments, she said.
Kaishian first discovered a love of fungi during a naturalist course. At the time, she was on temporary leave from Wheaton to recalibrate her academic path. Soon mushroom hunting became a part of her everyday life.
"I like to look for fungi wherever I am. You don't have to go to fantastic far-off lands to find incredible fungal diversity. You often need to be patient and be willing to look at something a little smaller than you may notice," she said.
When she returned to Wheaton, she took advantage of myriad opportunities to study fungi—in addition to plants and insects—through biology courses and study abroad research experiences in Costa Rica and China.
As a student, Kaishian engaged in a number of hands-on research projects, including independent research at a local farm with Professor Emerita of Biology Betsey Dyer on mites that live on bees.
When conducting fieldwork in a Costa Rican rainforest, she first encountered the lack of available resources and research on fungi.
"At the field station library, you could find a dozen different books on one family of plants. But there wasn't a single comprehensive book on fungi, which was astonishing to me, especially considering how scientists would gather from all around the world to study these systems in this rainforest. Yet this whole kingdom of life was completely overlooked," she said.
She ended up researching mushrooms in the Costa Rican rainforest. In China, she studied traditional Chinese medicine with Professor Emeritus of Biology Edmund Tong.
"At Wheaton, I learned to become a scientist and how to do work in the field. What made me excited about studying mycology, in addition to the organisms, is the excuse to be outside because that is where I felt most like myself, inspired and happy," she said.
Following Wheaton, she spent a summer in Peru studying fungi with the nonprofit Project Amazonas. In 2020, she completed a Ph.D. in mycology at SUNY College of Environmental Science and Forestry. As part of her doctoral research, she named and described 13 new species of fungi and conducted mycological research across much of central and South America.
Kaishian said she is particularly interested in the co-evolutionary, symbiotic relationship between insects and a special type of small fungi that live on them.
"This group is very understudied. I think I am one of five or so people in the world who works on this whole order. If you are interested in making new taxonomic discoveries, mycology is a wonderful direction to go in," she said.
Equally important to Kaishian's role as a mycologist are her activism and belief in ethical science. In 2018, she joined a team seeking to research biodiversity and collect biological data on rare species in Ecuador to help prevent mining on Indigenous land. She also is involved in peacemaking efforts in Armenia—her ancestral homeland. She and three friends launched the International Congress of Armenian Mycologists to improve the biological, ecological and social welfare of Armenians through scientific collaboration and research.
"Science is an enormously powerful tool for resisting climate change and trying to protect the places that we love. It has to be done with other socially informed concepts, principles and action," she said.
Ophelia McGrail '23, who attended both the lecture and mushroom hunting, said Kaishian was relatable to students and successfully made the connection between her work as a scientist and her activism for social and environmental causes.
"I really love mushrooms, so the mushroom walk in Wheaton Woods was the best possible way I could have spent my Thursday morning. Patty's knowledge and expertise were clear, but she was not condescending about it at all or difficult to understand. It was great that I got to brush up on my mushroom identification skills with her. Everyone I talked to who attended her lecture said it was one of the best lectures they've ever been to here," said McGrail, who is majoring in biology.
Mary Hodge '25, a biology major, also found Kaishian's lecture and visit inspiring.
"She elegantly blended a great appreciation for science with critiques of the ways the scientific community view and define knowledge. Her definition of science as "one of many ways of knowing" resonated with me. I also found it very comforting to see a younger scientist who is successful in a pure science field and is also able to integrate social justice into her work," Hodge said.