Alum nominated for Boston Music Award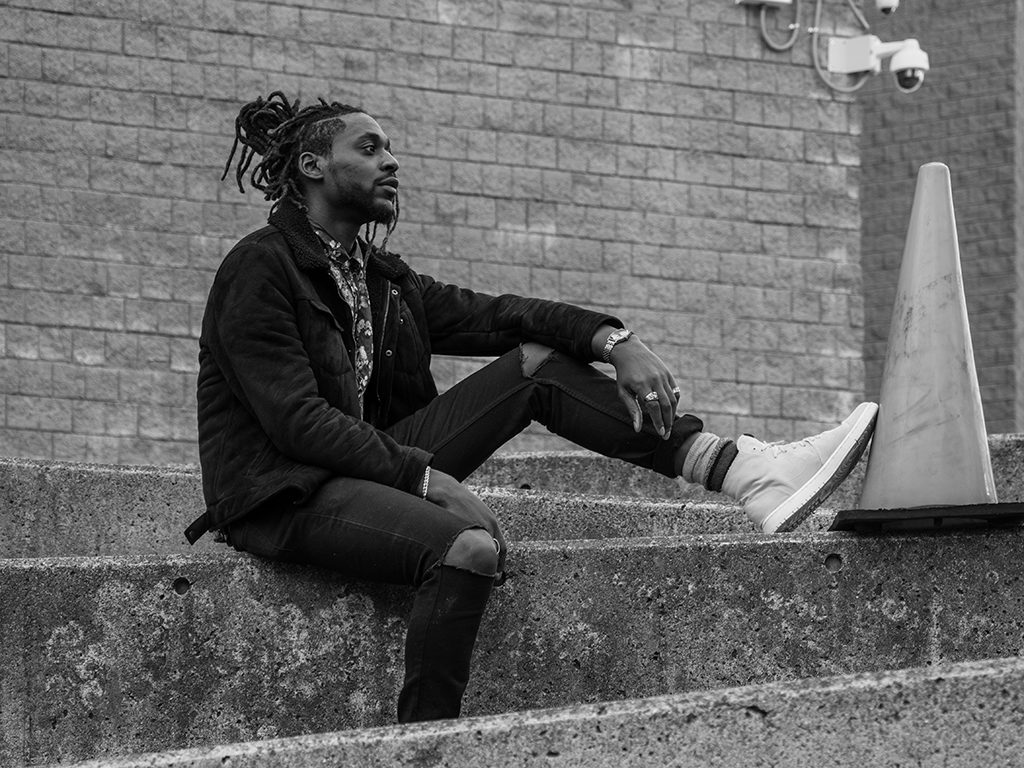 Cliften Bonner-Desravines '13 is up for New Artist of the Year
Cliff Notez (the hip-hop artist also known as Cliften Bonner-Desravines) has been nominated for a New Artist of the Year 2018 Boston Music Award, which annually recognizes outstanding musical talent in the Massachusetts area and aims to predict the future direction of music in Boston.
The Wheaton College Class of 2013 music and psychology double major is one of 10 artists nominated in his category. (His stage name, Cliff Notez, originates from a nickname given to him by schoolmates before he came to Wheaton.)
Boston Music Award nominees are selected by a committee comprised of about 400 members, including journalists, promoters, agents, radio programmers, DJs and music label executives.The general public weighed in with 50 percent of the voting on finalists through November 4. Winners will be announced on December 12 at the House of Blues, Boston. (UPDATE: He won!)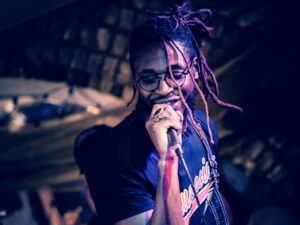 "It's definitely exciting," said Bonner-Desravines, during a recent interview in his dorm-room-size production studio located in Cambridge, Mass. "I spent a lot of time convincing myself that I wasn't going to get nominated, so I didn't get my hopes up. But getting it was kind of unreal. It's humbling."
Bonner-Desravines, whose hip-hop based music is jazz and blues inspired, last summer released his first solo album of 15 songs titled "When the Sidewalk Ends." The album, which is available on Apple Music and Spotify, explores themes of racism, oppression, black mental health and identity.
"It's examining racial trauma and what that does to the mind," he said. "The songs tell a story, taking you from a protest where somebody loses a friend and going through the five stages of grief and figuring out what 'acceptance' is by the end of the album."
The Boston native wears many professional hats. He is a musician, filmmaker, photographer, writer and producer, who has worked with Boston University, Harvard, MIT and the Museum of Fine Arts Boston. Until January of this year, he worked full-time at The Institute of Contemporary Art/Boston (ICA) for three years. He ran new media programs and classes on film, music production and DJing, reaching about 2,000 Boston high school students each year.
Bonner-Desravines is the founder and co-owner of the multi-media collective and production company HipStory, tapping into the master's degree in digital media that he received from Northeastern University. HipStory seeks to provide a platform to help tell the stories of marginalized voices and rethink how the stories have been told historically, he said.
"Our stories are not all about slavery and crazy trauma all the time. We have normal stories, too. We have normal lives that can be just as boring as the 'Gilmore Girls.'
In 2017, he debuted his first narrative short film "Vitiligo," which was accepted into 12 film festivals. It won a Best Short Film award at the March on Washington Film Festival, where he was honored alongside author Ta-Nehisi Coates.
Bonner-Desravines left the full-time gig at the Institute for Contemporary Art to concentrate on his music and his work with HipStory. At first it seemed like a stupid idea, he said. "The first few months were a little rocky. Luckily, we picked up some bigger clients, which helped out."
In March, HipStory was awarded a $15,000 Live Arts Boston grant from The Boston Foundation to support and grow the scale of the popular house parties featuring local musicians that he had been running mainly out of his apartment. In February, the MFA-Boston even hosted one of the live events.
The Boston Foundation also hired HipStory to curate the opening events and music for Boston's HUBweek, which showcases  innovation, technology and design. Bonner-Desravines also performed music from his new album live at Boston City Hall Plaza as a closing event on October 13. (Boston.com listed him among performances worth checking out during HUBweek.)
His musical roots go way back to growing up in a music- and basketball-focused family, where he sang in church choirs, and run straight through Wheaton, where he sang with the chorale, performed with iSpeak and created his first band, The Valid-Dictorians, in 2011. He produced and recorded five records with the band in the studio on campus, which helped launch him on the Boston music scene after Wheaton.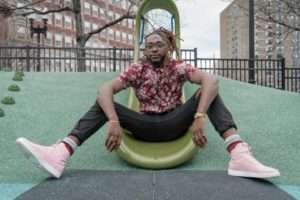 "Music has always been a therapeutic thing to me, a way for me to process for the majority of my life," he said. "And I've always been really interested in the brain. I had one of my first-ever introductions to therapy when I was in prep school the year before I went to Wheaton, and I had never heard of anything like that before."
That interest in the brain is one of the reasons he double majored in psychology along with music. "Deep down I was also trying to understand how my brain worked, too. Or, how to understand people and social psychology."
However, the son of a social worker admits the real reason he picked psychology: "I'm first generation. I couldn't tell my dad I was just studying music in college. I had to give him some type of hope that I was going to be a doctor or something," he says, leaning back in his office chair laughing.
At Wheaton, Bonner-Desravines said he found the freedom and support to pursue all of his passions (from music to film and photography) and to reconsider dreams when necessary. In particular, he names professors Shawn Christian and Peony Fhagen (his academic advisor), and Raquel Ramos, dean of the Marshall Center for Intercultural Learning, for being inspiring role models.
At 6-foot-7, he had dreams of playing in the NBA since childhood and was a forward on Wheaton's men's basketball team for three years. A twice-torn ACL changed his mind on that and got him focusing on alternative career plans, which became clear with a couple of internships, including one at National Recording LLC in Milwaukee, Wisc.
Although he switched the plan, his student-athlete experience continues to be invaluable in his career. "I'm still using in business the principles I learned regarding teamwork and communications," he said.
Ramos recalls how supportive and encouraging he was to youngsters who participated in Wheaton's basketball summer camps. And Christian can still picture him in the classroom: "I taught Cliff in ENG 101, first-year writing, and ENG 256, the novel in multi-ethnic America. In both classes, I remember him as relatively quiet but thoughtful. It was during his visits to my office hours, where I got a better sense of his diverse interests and energy. We had some really great conversations about a range of topics, from representations in course texts and Caribbean upbringings and food, to his interests in working with young people," Christian said.
"So imagine my great joy when, a few years after he graduated, I saw him helping to introduce [novelist] Jesmyn Ward at the ICA in Boston and addressing the audience, especially the youth in the room, with passion and conviction. I did not know that he'd been working there with its education outreach programs. The way he related his connection to Ward's storytelling was really powerful and arresting," he said.
"Cliff displays that understanding of storytelling in his filmmaking, too. When he came to Wheaton to show his films [in May 2017], it was so clear that he was honing his artistry and pushing boundaries to tell important, uncommon stories."
Christian has yet to see Cliff Notez perform but applauds his music award nomination. "This is an awesome honor for him and the commitment he made long ago to follow his passions."