Alivia Cross '19 makes a scene
Senior designs setting for "Much Ado About Nothing"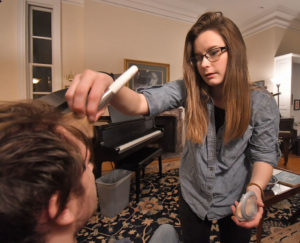 When Wheaton's mainstage production Shakespeare's "Much Ado About Nothing" (directed by David Fox) runs November 8 through 17, the handiwork of theater and dance studies major Alivia Cross '19 will have a starring role. She spent two months coming up with the set design, which was executed by a team, including students in "Stagecraft" taught by theater technical director Colin McNamee '04.
Getting ideas: "I read the script several times and considered not only the location the play takes place in but also the needs of the actors on stage. Designing for theater is always a collaboration. I worked closely with professors Clinton O'Dell and David Fox, and Colin McNamee. Feedback helps all members of the design team ensure that the show has unity."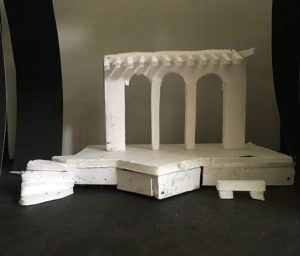 Challenge accepted: "One of the challenges, I faced when designing the set was the number of actors that the set needed to accommodate. This show is unlike many other Wheaton productions because there are so many actors [17]. The set needed to be able to include everyone without looking or feeling crowded. One way I accommodated a large number of people was to create several different elevations throughout the set. By including more than one level you can see more actors and this also creates several different 'spaces' for the action to take place in."
Balancing act: "Another small challenge was balancing the role of scene designer with my course load. Now that the set is being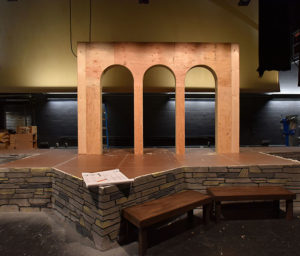 constructed there is a lot of work to be done to make sure it is ready for opening night. This sometimes means coming in after classes and painting or carving 'rocks' for several hours. However, seeing the set and production come together is rewarding and makes the late nights worth it."
Learning stage: "The opportunity to design for 'Much Ado About Nothing' is an important part of my education here at Wheaton College. As a theater and dance studies major with a concentration in technical design, I have been able to try many facets of technical theater through courses, including 'Lighting Design,' 'Costume Construction,' 'Intro to Design' and 'Stagecraft.' I was also teaching assistant for 'Makeup Design' last spring. However, I have found that the hands-on experiences I have gained at Wheaton are where I have been able to learn the most and apply my classroom knowledge to production. All of these experiences prepare me for life post-graduation. I hope to work as stage manager or scene designer for theater companies in the U.S.A. or UK.
Ensemble work: "An important lesson I have learned throughout this process is that Wheaton's Theatre Department has the kindest and most genuine professors. Not only do they teach me the skills I need to succeed, but they have continually gone above and beyond to ensure that I feel supported throughout the process. They are willing to answer any and all my questions or give me the tools to answer them myself."