Aïssatou 'Aïcha' Diouf '15
Job: Paralegal at Boies, Schiller and Flexner LLP
Major: International relations
Hometown: New York, N.Y.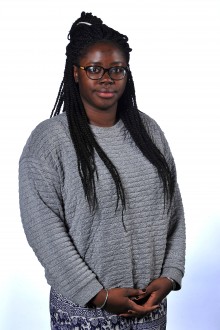 Getting there: "I got the opportunity to interview for this job through networking at a dinner hosted by a friend of my father's who had just premiered the first night of a new collection in an art gallery. I eventually interviewed and got the job as a paralegal.
"Wheaton had prepared me well through various events to be able to network, which was a major factor in landing this job. As I prepared for the interview, Marianne Singer [associate director] at the Filene Center helped me as we ran through multiple answers for questions.
"My education and experiences at Wheaton made me a well-rounded person who is able to use my liberal arts degree to my advantage. Every experience at Wheaton will prove useful after graduation from extracurricular activities to the classes."
Looking forward: "I am looking forward to the new experience that I will be embarking upon. This is the steppingstone to figuring out what I like or dislike about the legal world. I will be challenged in ways I have never imagined and that alone will be rewarding."