When he heard of plans for a fall faculty exhibition at Wheaton, Assistant Professor of Filmmaking Patrick Johnson decided to create a new feature film as his contribution. And he knew just where to find his crew—right on campus.
With the help of students Diego Perez '15, Geoffrey Cook '16 and Zevi Rubin '16 and recent graduate Gabe Bornstein '14, Johnson spent four days filming on location over the summer at a mountaintop castle in Cavendish, Vt.
The film, titled Fangzi, a Chinese word for house, tells the story of 10-year-old Kala and her mother, Angelica, who have survived a deadly pandemic by taking refuge in a modern castle. As the building's protective systems begin to fail, the pair must make a critical choice that will determine their survival.
Impressed by Bornstein's visual style after seeing his work in class, Johnson tapped him to serve as camera assistant and to take charge of time-lapse photography.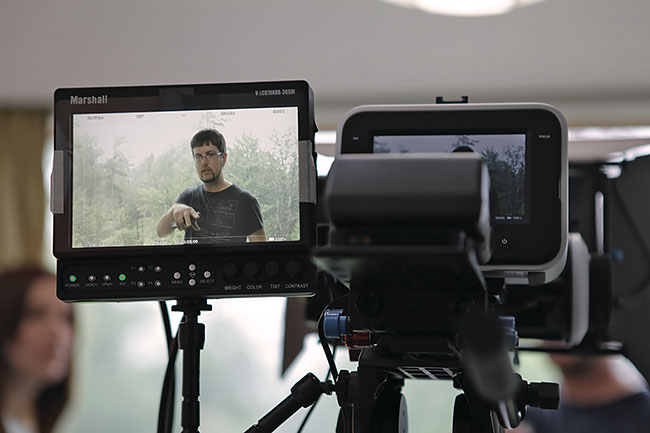 Bornstein, who majored in film and new media studies and who hopes to start a production company in Portland, Maine, found the film shoot to be a great learning opportunity. "After reading his script, seeing the location and crew of students he had assembled, I couldn't turn the offer down. I've learned that working on sets is easily the best method of learning when it comes to filmmaking, and I knew that Professor Johnson would provide a hands-on experience."
Perez, a film and new media studies major, was Johnson's sound man. Cook, a film and new media studies major who had been in the professor's "Production I" class, worked on set as a production assistant, readying lenses, camera rigs and other equipment for director of photography Ryan Piccirillo—a professional hired by Johnson.
While Rubin hadn't taken one of Johnson's courses, the professor knew him by the camera-rigged quadrocopter drones he has flown around campus.
"Rubin brought a lot of value to the project, getting shots that would be difficult to execute in any other circumstance," Johnson said. "He has an interest in developing his ability to build and fly quads into some sort of commercial enterprise, and I think being on set gave him some valuable intel."
For Johnson, having Wheaties on set was a boon.
"Sometimes the logistics and assembling all these elements can pull away from the enthusiasm and from the sense that you're doing something creative, but their enthusiasm made the whole shoot such a pleasure and so exciting and fun. I really appreciated it," he said. "In all future projects I'll definitely try to tap into Wheaton students, because they brought so much to the table."
The finished film runs about 12 minutes. Once it premieres at Wheaton, Johnson plans to submit it to film festivals.
"I'll play it on the festival circuit and give it about a year of applying to festivals and see what happens, and after that I'll make it available online to the public," he said.