Soheir Mobin '20 believes that older adults' stories have the power to combat the loneliness that afflicts so many senior citizens. Ian Kobelenz '20 sees a future in recycling carbon emissions for heating greenhouses and manufacturing plastics. Khadeedja Muheto '18 envisions inspiring teachers to be their best selves in helping students achieve.
Soheir, Ian and Khadeedja—along with nearly a dozen other Wheaton students—spent the week before the start of the spring semester developing their ideas into plans for launching a viable business or organization. They are participating in the Wheaton Institute for Social Entrepreneurship (WISE), a semester-long program that Wheaton offers in partnership with the Global Center for Social Entrepreneurship Network (GCSEN). It is incredibly exciting.
One of Wheaton's highest priorities, central to the strategic plan that the Board of Trustees approved in 2016, is to make the college a leader in helping students develop solutions to big challenges and act on them. It's a lofty goal, but it is within our reach. Wheaton students have tremendous potential to improve the world; the accomplishments of our alumni make that clear. Our aim is to build on that strength in preparing young women and men to transform their insights into plans that can impact communities. The ideas that our students are developing through WISE demonstrate their potential. I am not surprised.
Wheaton's liberal arts education offers the perfect foundation for launching a social entrepreneurial venture. The broad-based study the college offers inspires students to synthesize ideas and forge new connections. And the rigor of the college's courses ensures that students are also building the kinds of skills that are essential to success—the ability to analyze information critically, communicate effectively, think quantitatively, assimilate new information and work well with others.
And there's no reason to wait until after graduation. Too often, students discount their ability to have an impact. The passion and energy and idealism many students possess is powerful fuel. It's the reason that I decided to pursue a career in education: the desire to make a difference. I see that same hunger in our students and in the high school students with whom I've worked, here in the United States and around the world.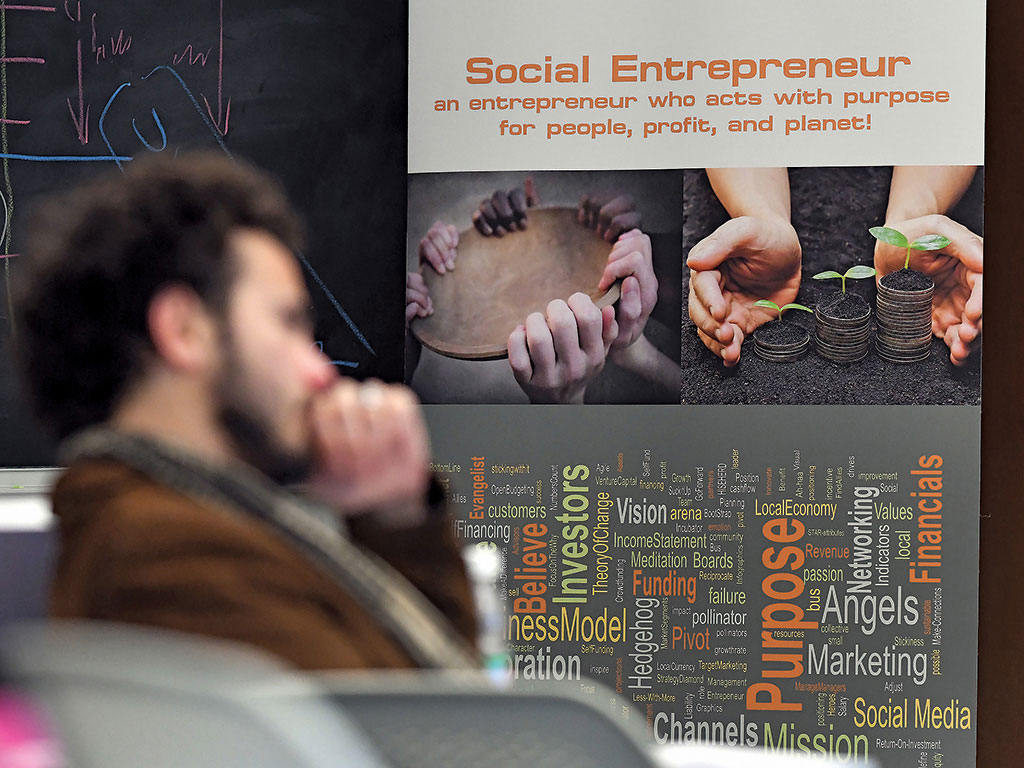 The college has been moving swiftly to respond to that interest. In 2015, we launched the Wheaton Innovates Now program to serve as a focal point for social entrepreneurship activities. We also opened the Center for Social Justice and Community Impact to focus student interest in promoting social justice and community service on campus and in our surrounding communities.
In addition, Wheaton has entered into partnerships with like-minded organizations. With GCSEN, we are able to offer students the expertise to develop their own ideas right on campus. Our collaborations also provide opportunities for learning off-campus with MassChallenge and the College for Social Innovation, both in Boston, and the Social Entrepreneurship Greenhouse in Providence, R.I.
The Diana Davis Spencer Foundation has played a central role in supporting these new initiatives. And this winter, the foundation transformed our ability to expand our efforts by committing as much as $10 million to establish an endowed professorship in social entrepreneurship and to create space for these activities. These developments will make Wheaton one of just a very few liberal arts colleges to offer such a rich array of programs in this area.
This is invigorating work, and there are opportunities for many more members of the community to be involved. The gift from the Diana Davis Spencer Foundation includes a $5 million challenge grant to bring the social entrepreneurship programs into the same space as related programs in business and management, and the multidisciplinary makerspaces that connect science and technology with the arts and humanities. And alumni who have launched successful social entrepreneurship projects—and there are many—are always needed to offer their experiences and insights to today's students.
Wheaton's history, and the myriad contributions being made by graduates today, testify to our ability as a college and an extended community to meet daunting challenges and improve the world. The commitment to doing so even more forcefully rose up clearly through the strategic planning process, and we are working to build on that shared vision. Our potential as a liberal arts college dedicated to intellectual life and creative action is incredible.