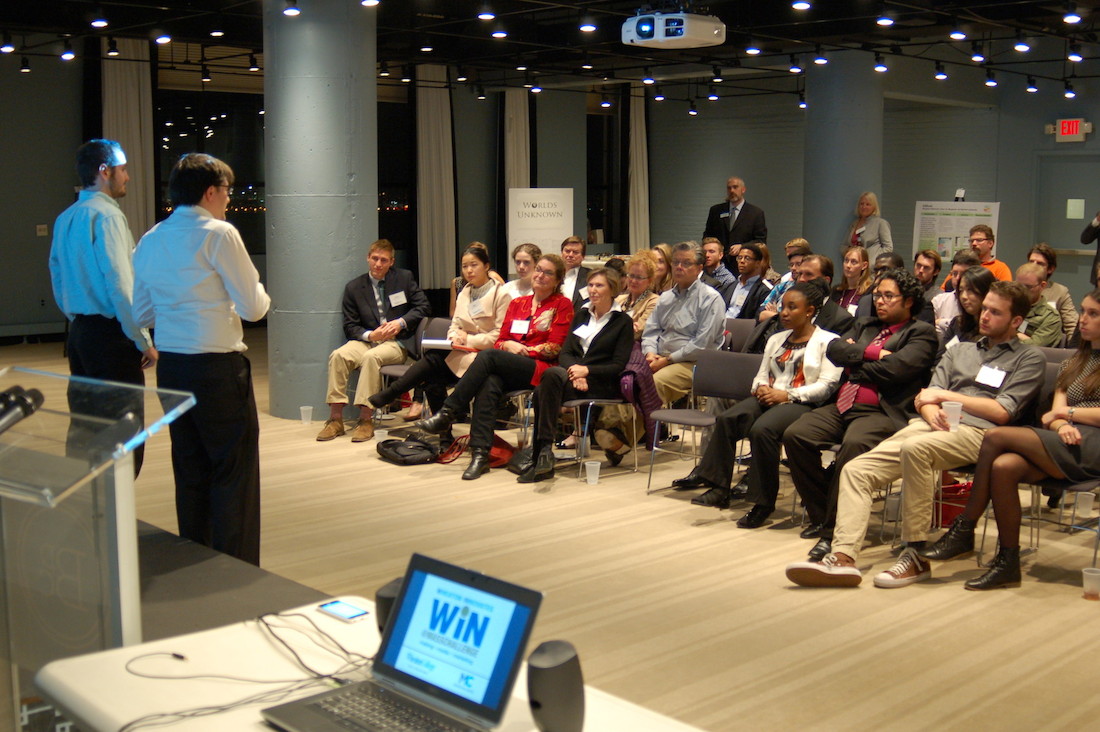 Wheaton has formed a new partnership with MassChallenge, the world's largest startup accelerator, to create project- and internship-based learning opportunities for the college's students while providing talent to promising new businesses.
WIN at Mass Challenge, which stands for Wheaton Innovates at MassChallenge, is the name of the new program. It builds upon the college's focus on putting learning into action through internships and its growing emphasis on "maker culture", the creative industries and entrepreneurial activity, which are encouraged through the WHALE (Wheaton Autonomous Learning Environment) Lab and IMAGINE, short for InterMedia Arts Group Innovation Network.
"We aim to make WIN something that benefits everyone," President Dennis M. Hanno said. "Our students will get the opportunity to work with innovative and exciting start-ups and the businesses will get the benefit of our students' many talents in marketing, social media and technology."
MassChallenge's mission is to fuel start-ups. It selects 128 early-stage entrepreneurs each year—from a pool that, this past year, consisted of more than 2,300 applicants from more than 60 countries—to develop their businesses through a four-month residency at the nonprofit's location at the Boston Design Center in the city's Seaport District. In addition to office space, the organization offers businesses access to myriad resources, mentors and potential investors. Its partnership with Wheaton offers a new source of talent for these innovators.
Wheaton students will contribute their energy and expertise to MassChallenge startups as they provide project-based and internship-based support in a variety of areas, including social media management, marketing, design, film production, and application and web development. Hannah Goldberg Professor of Teaching Innovation Josh Stenger is serving as the college's liaison to MassChallenge, identifying opportunities for collaboration and mutual benefit.
John Valentine, the director of partnerships at MassChallenge Boston, described the partnership with Wheaton College as innovative. "We have had partnerships and sponsorships with colleges and universities before, but this is unique," Valentine said. "We are incredibly proud to be launching this program that we see as a model that we can use with other universities and colleges.
"This has a special place in my heart because I truly feel the opportunity that we will be creating for students in the next year will be life-changing," he said.
Wheaton and MassChallenge celebrated their partnership with a special event at the startup accelerator's Boston location on Monday, Nov. 9, 2015. Before a crowd of alumnae/i, parents and friends, nine students pitched six ideas for new businesses and non-profit operations. The concepts ranged from an online service that would facilitate the sale of used textbooks among college students to an initiative to share Western advances in prosthetics with countries in Africa. The audience voted to select the winning proposal—an emergency management service employing drone technology—earning the student a stipend to attend an entrepreneurship conference of their choosing, courtesy of the college's Career Services at the Filene Center.
"We have wonderful students who can do anything they want, if they put their minds to it," Professor Stenger said. "It's our job to create the opportunities for them to experiment and to encourage them to innovate."