Naleli Morojele '09 works for equality in post-apartheid South Africa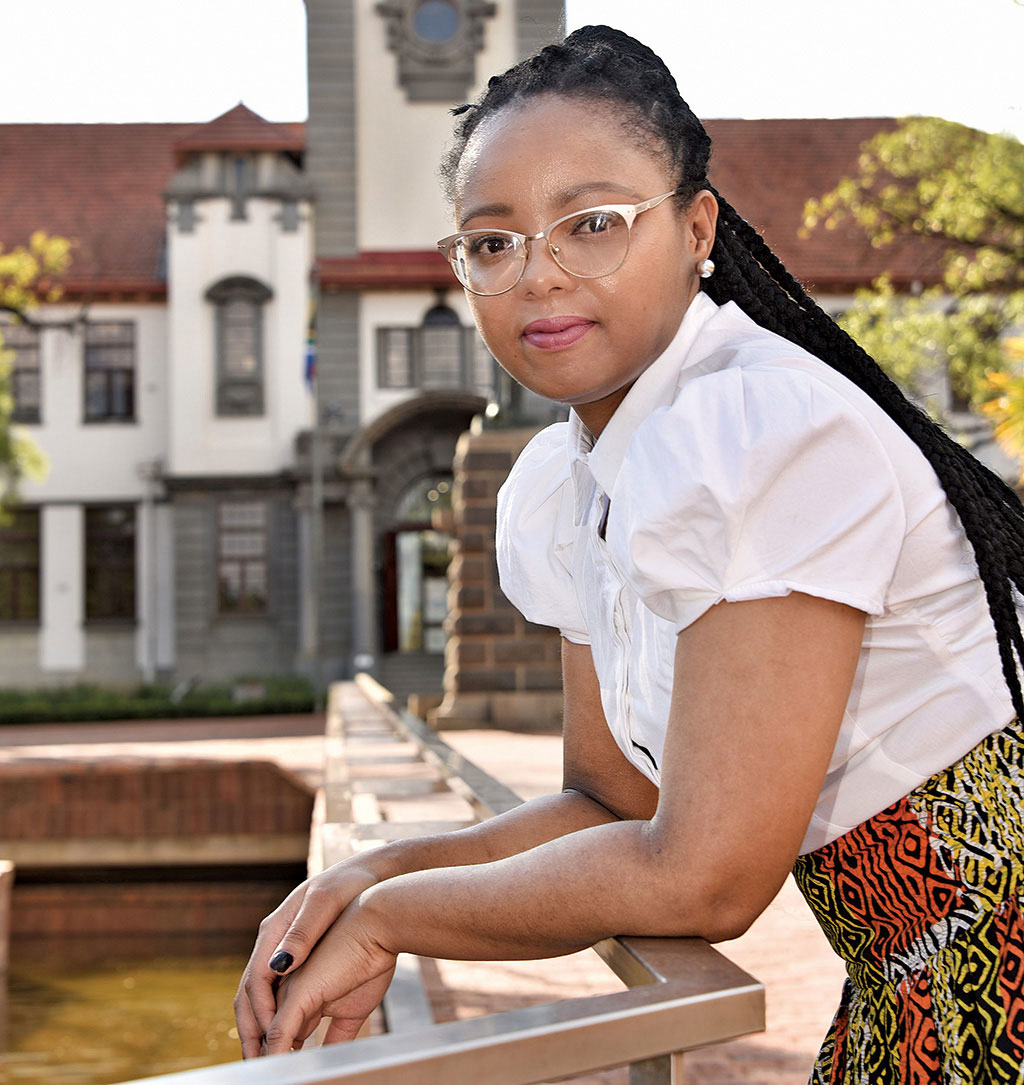 Naleli Morojele '09, who grew up in the shadow of apartheid, is part of a generation of young South Africans actively working for a more socially just and equitable country, for all citizens.
Apartheid ("apartness" in Afrikaans) refers to the period from 1948 to the early 1990s when the country's all-white National Party government created laws forcing the separation of different racial groups, leading to political and economic discrimination against nonwhites. During that time, intermarriage was illegal, and friendships between people of different races drew suspicion.
Morojele said although the government disbanded many of these laws of that oppressive period, the effects still linger: unequal access to education, health care, basic resources and opportunity.
"The conditions created by colonialism and apartheid are still very prevalent in our society, and are still affecting those of us born into freedom," said Morojele, an activist, feminist and scholar who graduated from Wheaton with a double major in women's and gender studies and economics.
"The work of my generation is to begin to entrench the vision of those who fought for freedom before us, but we are also engaged in developing our own vision of what we want for ourselves and society," she said.
Morojele, a native of Bloemfontein, South Africa, knows the foundation of that vision must ensure human rights—which the United Nations defines as rights inherent to all people, regardless of race, sex, nationality, ethnicity, language, religion or other status.
As an officer of the South African Human Rights Commission, she educates citizens on their democratic rights and assists citizens who lodge complaints involving human rights violations. As a scholar, she is researching how higher education institutions can be transformed to become truly equitable institutions, especially for marginalized groups, in particular women.
Two South African organizations, the Institute for Justice and Reconciliation and Lead SA, recognized Morojele in November 2017 for her contributions to advancing reconciliation—a term that encompasses the countrywide effort to foster healing and national unity following apartheid. She was among 10 young African activists (between the ages of 18 and 35) named for their exceptional work in the gender justice field.
"She has a deep love for Africa and its people, and has dedicated her professional life to exploring new knowledge for the advancement of social justice and equality in the continent," according to a statement announcing her award.
As for Morojele, she remains humble, and sees herself as no different than other citizens.
"I think most black South Africans today are concerned with issues of social justice and equality. I don't consider myself to be an exceptional case. It is just that I happen to have certain privileges that allow me to dedicate my career to trying to advance social justice and equality," she said.
Morojele pursues her social justice mission in two spheres of her life: as a graduate student working on her Ph.D. at the University of the Free State in Bloemfontein and as a human rights officer of the South African Human Rights Commission.
Human Rights Commission
Morojele joined the commission in September 2017 after devoting several years to academia, which included earning her master's degree in African studies at the University of the Free State.
When she joined the commission, it had been some time since she had conducted field research. Years ago, for her dissertation, she interviewed women members of parliament, cabinet ministers, ambassadors and executives in parastatals—culminating in the book Women Political Leaders in Rwanda and South Africa: Narratives of Triumph and Loss (Barbara Budrich Publishers, 2016).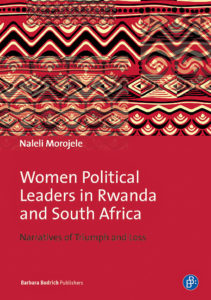 "I've always had an interest in women who make me think about the world and social norms differently. I was fortunate enough to interview many women like this, including a black woman who was able to drive and buy herself a car at a time when even white women in South Africa were not allowed to drive, which seems like something simple but is an example of everyday acts of resistance," she said. "It is these kinds of stories and experiences that open the mind to the possibilities of something different than the oppression that most women in the world experience."
By taking a job at the South African Human Rights Commission, Morojele assumed the role of practitioner once more—putting her in touch with citizens and the struggles they face.
"I'm able to combine my research interests with people's lived experiences, and try to make a difference using what I've learned and been exposed to in academia," she said.
The commission, formed in October 1995 by the South African government, is charged with promoting respect for and a culture of human rights while monitoring the observance of such rights in the country.
At the commission, Morojele and her team handle a wide range of rights violations being experienced by citizens—from discriminatory labor practices to the inability to access water.
The commission also challenges everyday acts of discrimination, bigotry and racism. For instance, it recently met with the company H&M, which manufactured hoodies featuring a black boy with the words "Coolest Monkey in the Jungle." (The hoodies have since been taken off the market.)
While Morojele cannot talk about specific violations she personally handles due to privacy issues, people continue to report violations every day, she said, indicating the pressing need for social justice efforts to continue.
In January 2018, for example, the commission reported an uptick of complaints; 9,000 were registered across South Africa.
As such, Morojele has kept busy. Her work mainly brings her to the Free State province, located in the east-central part of the country known for its high plains, to do fieldwork.
She visits small towns, schools, informal settlements, community groups and clinics to connect with citizens and educate them on the laws that protect them in the South African democratic constitution.
"We visit farm dwellers and workers to inform them of their rights, as they are often the most exploited and marginalized in our society," she said.
She also follows up after the commission makes a finding in an investigation about a violation. "I have to ensure that the commission's recommendations are adhered to by the respondent."
In addition to outreach, Morojele conducts research, including on socioeconomic rights.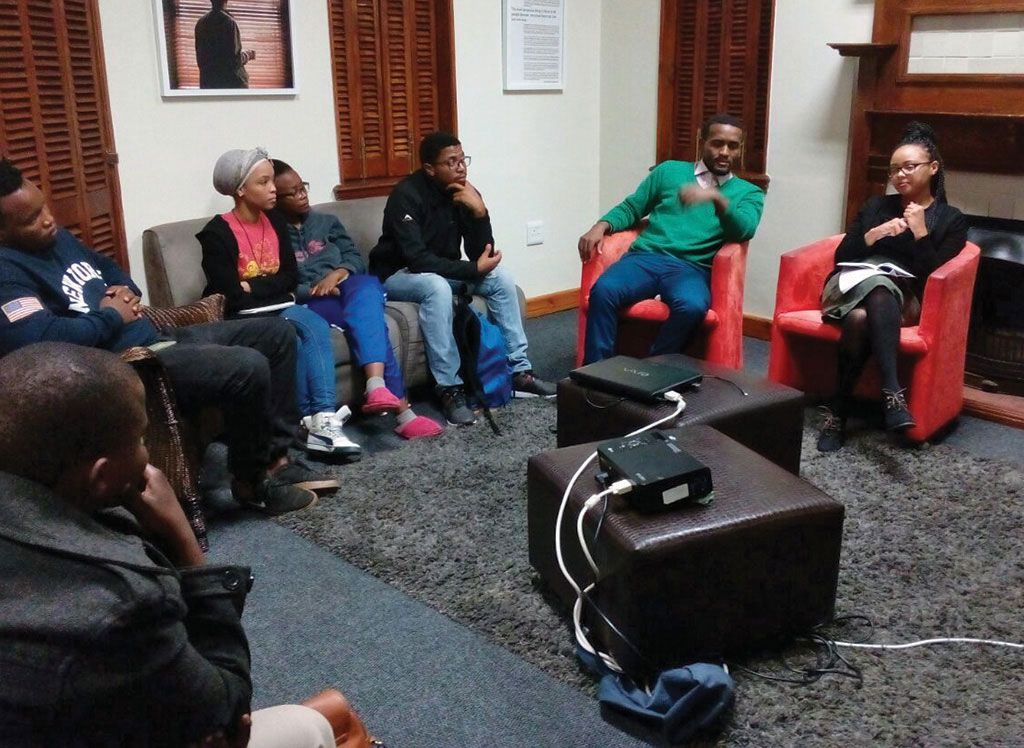 Access to higher education
The focus of her scholarship as a doctoral student is equal access to and transformation of higher education institutions.
Students are so frustrated by the slow pace of transformation and lack of access, including institutionalized financial exclusion, that they have resorted to protesting against both universities and the state, she said.
The commission recently urged the government and institutions of higher learning and students to work collaboratively to ensure eligible poor students are accommodated, she said.
Unlike her work at the commission, which is more broad in scope, Morojele focuses her scholarly research on women and barriers they face in universities.
"In my Ph.D. studies, I'm trying to take more of a theoretical turn in my work, looking at how institutions of higher learning in South Africa might be better spaces for [everyone]," said Morojele, especially poor, queer and transgender women and those with disabilities.
Her Ph.D. advisor is Professor Andre Keet, a well-known scholar who serves as chair of South Africa's Ministerial Oversight Committee for the Transformation of Public Universities and as a member of the Council for Higher Education.
Morojele first worked with Keet as a research assistant at the Institute for Reconciliation and Social Justice, where they partnered on research on human rights education.
"Professor Keet has influenced how I approach education and advocacy," she said. "I try to ensure that people and communities understand that human rights, in essence, is not about dictating to people who they are and how to live their lives. But that all people have a right to be full and complete actualized members of society, regardless of their social markers and positions, and that they have a right to challenge those systems, bodies and ideas that violate and diminish their humanity and right to be self-determining."
Keet commends Morojele for her passion and dedication.
"Naleli has been a crucial member of the team studying student activism in universities to provide ways for renewed thinking and doing work to advance inclusivity in the system," he said.
Keet described Morojele as a hard worker who goes the extra mile (or kilometer): She is known to cancel weekend trips to complete her work and recently took it upon herself to translate material into one of the local
languages, he said.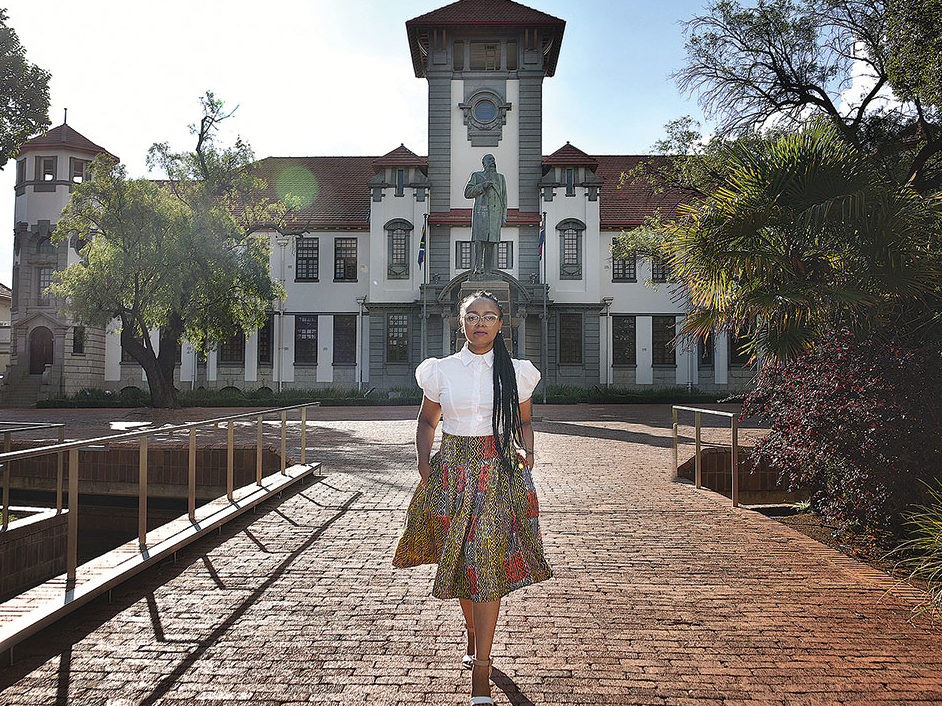 (Courtesy of the University of the Free State)
Impact at Wheaton
Morojele's commitment to social justice, equality and feminism stretches back to her time as a student at Wheaton.
She was a member of the AIDS Prevention Club, and she researched the lives of women guerrilla fighters in Mexico and South Africa for her
senior thesis.
She also made an impact as a student intern at the Marshall Center for Intercultural Learning.
Ebony Williams, who then served as program coordinator for intercultural learning at the center, recalls Morojele as a "vibrantly creative, deeply personable and incredibly passionate" student.
"Naleli showed herself to be thoughtful, invested in the learning process, in listening, and in sharing her own experience and knowledge," Williams said. "Naleli did everything from making flyers and co-organizing women's lunches to greeting speakers and connecting students across identities and communities. No task was ever too small or too big for her to take on."
Morojele spent six months organizing a women and gender conference titled "We Are Wheaton" in spring 2009. This one-day event drew students, staff, faculty and alumni to engage in dialogue on issues affecting women and gender on a global scale and also at Wheaton, according to Williams.
"Naleli's dedication to engaging with the complex nature of what it means to be female across culture, nationality, race, religion and all other aspects of identity at their intersections is incredibly powerful as she embodies a feminist philosophy in her work and everyday life," Williams said.
For all of her efforts, Morojele received the Weiss Women's Leadership Award, given to students who demonstrate outstanding qualities that would make them great leaders.
Forward-facing
As Morojele balances her doctoral work and officer role at the South African Human Rights Commission, she continues to follow her calling to be a voice of justice in a changing South Africa.
She ultimately wants to return to full-time academia, where she feels she can make the greatest impact.
"I enjoy supervising other research students, conducting research and producing knowledge that has the potential to be liberating," she said. "I also hope to be able to take what I am learning now and use it to begin to influence national and international policies."