Thirty-eight floors up, at the United Nations Plaza in New York City, Kathleen "Kathy" McNally Sloane '68 is giving a captivating tour of the $7.5 million four-bedroom penthouse apartment she's working hard to sell on a snowy February morning. As she moves from the living room to the dining room to the kitchen, pointing out the sweeping views of some of New York's most thrilling landmarks (the East River, the Empire State Building, the UN headquarters), you can see that not only is Sloane at the top of this towering building, she's at the top of her game in life.
The philosophy major spent a brief time in publishing at Harper's Bazaar magazine, engaged in historic preservation causes as a politician's wife and partner, and then discovered that her true passion was saving historic buildings and making sure they were in the hands of those who cherished them. That discovery led her to get her real estate license in 1979.
Fast-forward to 2016. She's now one of New York's most powerful real estate brokers, with more than $1 billion in sales and a client list that includes Robert Redford, Martha Stewart, Diane Sawyer and a certain VIP political family, whom she has found houses for in both New York and Washington, D.C.
The foundation for her impressive career was set during her four years on campus taking philosophy, history and French classes from professors so memorable that their words are still at the forefront of her thoughts today as she brokers deals with people from all over the world.
During her time at Wheaton, Sloane notes, she not only learned to think critically and problem solve but also to lead. That has served her well and helped her seal a deal that involved pleasing a presidential family and a corps of Secret Service agents while in the limelight of a media frenzy. And she did it with enough calm and skill to be able to matter-of-factly tell a New York Times writerin a 1999 article about the sale, "Everything about this was normal—except that they are the First Family."
Finding the First Family a house
In 1999, Hillary Clinton asked Sloane to help her find a home that she and her family could move into after the White House years. Sloane quickly realized that it was more than just Bill Clinton, Hillary and daughter Chelsea that she would have to please.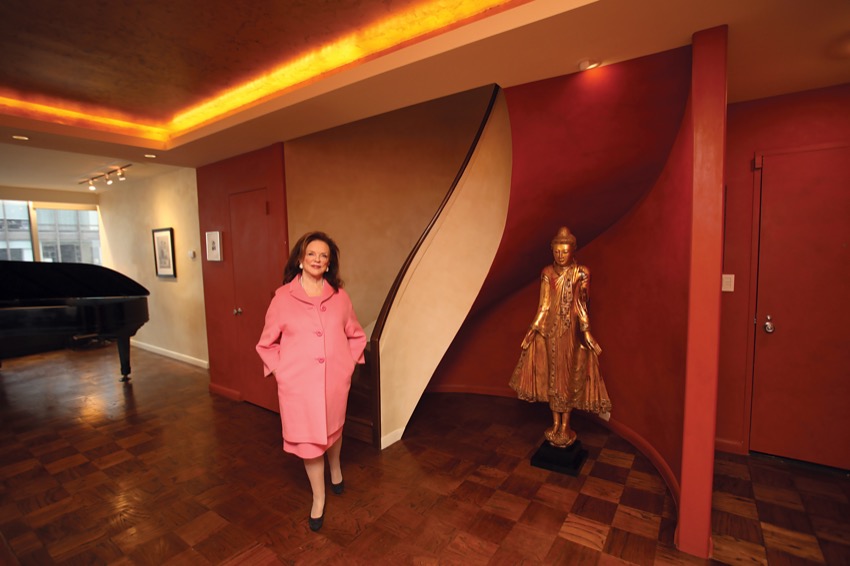 "The Secret Service was important, because they had to approve anything we did because the president was going to live there," Sloane says. "Even though they said they would approve anything, that did not turn out to be the case."
In fact, Sloane looked at 91 houses in seven New York counties before she found one that was a perfect fit.
"I discovered that the Secret Service really liked a cul-de-sac because it meant they could cut off the road easily," she says. "When I found the house in Chappaqua, I called Hillary, who was on Martha's Vineyard, and she flew right down."
Once Sloane had the First Lady's approval, they called the president to arrange a time for him to look at the house.
"At this point, we were followed by about 50 members of the press, and the president invited all the neighbors into the front yard, with their dogs," Sloane says. "I said, 'Well, it seems to me that each one of you is reacting more strongly and positively to this house than any other house, so what do you think?'"
Bill, Hillary and Chelsea all agreed this was the house. Just like that, the First Family had a home—a $1.7 million, 11-room Dutch Colonial home in Chappaqua, N.Y., a woodsy suburb of Westchester County.
And Sloane had successfully pulled off one of the most high-profile sales of her career. "I was so relieved that we found the perfect place," she says.
In late 2000, then newly elected Senator Hillary Clinton once again called upon Sloane to find a home for the family in Washington, D.C., and Sloane again found success.
Building a foundation at Wheaton
Finding the right place has been a theme in Sloane's life, starting from the day she arrived at Wheaton.
Sloane still remembers the day her mother drove her from Pittsburgh, Pa., to Wheaton so that she could tour the campus. Sloane was pretty much sold that it was the right school for her—her best friend from childhood, Ellin Hahn Wymard Malone '67, was already a student here.
Her conversations with the wife of J. Arthur Martin, professor and chair of Wheaton's Religion Department at the time, helped seal the deal. The professor's wife talked a lot about the benefits of a Wheaton liberal arts education and the fact that the college was a small community of students but also was close to many big cities, such as Boston and New York.
From the moment she enrolled, Sloane was deeply caught up in campus life. The mid- to late 1960s were a volatile time politically, and Sloane—who managed to carve out a place in the Religion Department as a philosophy major to ensure that Professor Martin would be her thesis advisor—spent almost every weekend traveling to those nearby cities just to soak up the culture and keep her finger on the pulse of the world during the Vietnam War.
Even though she was brought up as a Democrat, she was very active as a member of the Republican Club on campus because she felt that it gave her a way to actually contribute to local politics in Massachusetts.
"The Republican Club was really doing things on the reform side in Massachusetts on the theory that all politics is local, and I had the opportunity to work for a candidate that had good ideas for the community," she says.
Her friend and classmate Christine Todd Whitman '68, who served as the 50th governor of New Jersey from 1994 to 2001, recalls that "Kathy was always looking to engage the student body in the current political dialogue."
Friend Ellen Murphy Warner '69 says that she's not surprised at all by Sloane's career success, given their interactions on campus. "Kathy has a curious and interested mind and a great social conscience, which was evident from the start. She is—and always has been—a people person and a truly decent person herself," Warner says.
During an interview over drinks at New York City's famed Carlyle Hotel, just blocks from Sloane's Upper East Side home, she reminisces about her Wheaton days. "Looking back, it was an irreplaceable time to be a college student. There were massive demonstrations with genius thinkers about the war and what to do and who should be the next president. Wheaton was at the center of it all," she says.
Back then, Sloane had no idea that she, too, would soon be at the center of it all, moving from Norton to New York for work, first in magazines.
Moving into publishing
When she graduated from Wheaton, Sloane was nervous about finding a job, but she quickly landed on her feet as an assistant at Harper's Bazaar magazine in New York City. The role was part of a unique training program designed to give new hires a big-picture view of the publishing world by allowing them to rotate between editorial and advertising departments.
"My first post was with the fashion department, which was where the entire magazine came together," she says. There, she witnessed a regular rotation of iconic 1960s designers and photographers—everyone from Oscar de la Renta to fashion photographer Francesco Scavullo—as they dropped by to preview and discuss their work.
"These were the people deciding what fashion was," she recalls. "If they said life would be about the belt, it became about the belt. The best part was raiding the accessories closet, which they cleaned out once a month."
After her stint in the fashion department, Sloane's next assignment was in the literary department of the magazine. But at that point, she had started to date Harvey Sloane, a public health doctor from Louisville, Ky.
As the pair began their courtship, Sloane became increasingly disenchanted with the literary side of magazines.
"This was before things were emailed or scanned, and I just remember staring at stacks of paper manuscripts that people had spent so much time on that would probably never be read," she says. "At that point, I was getting ready to move on to the advertising department—the next stop in my rotation—but I never got there because Harvey and I became engaged."
Sloane left New York to move to Louisville with her fiancé, who was hard at work building a neighborhood health center for indigent families there. For her, it was a welcome change—she loved Louisville and was eager to begin her new life.
Opening a door to a new focus
In Louisville, Sloane immediately took on championing the preservation of historic properties in her neighborhood. The properties were in danger of being taken down as part of an urban renewal project.
She and her new neighbors made speeches and went door to door fundraising all over Louisville to help gain the support of the community.
"Thank goodness the neighborhood and all its beautiful row houses still exist," Sloane says. "That was my first moment in a leadership role. I learned that you have to draw attention to what's going on, but everything has to be community-based and ultimately there has to be pride from both sides in what you're trying to accomplish."
As Sloane's work and interest in historic preservation continued to grow, so did her husband's career in politics. He ran for mayor of Louisville and was elected in 1973. She helped him every step of the way, with their 2-year-old daughter, Abigail, in tow during months of meet-and-greets.
After the election, while her husband rebuilt the city hospital and implemented emergency services, including a 911 system, Sloane oversaw 536 volunteers, who helped with everything from expanding greenery in the city by planting trees to dealing with major crises like tornadoes and the desegregation of public schools.
In the late '70s—just before her husband was elected for his second term as mayor—she began to devote a lot more of her time and energy to the historic preservation of homes and properties throughout Kentucky.
"I was elected to be chairman of the State Board of Historic Preservation in 1975, which required me to tour the state to identify every historic structure and talk to people about the value of the homes they lived in so we could work together to save historic properties from demolition," says Sloane.
"My biggest fear was, 'Where would these houses be in 60 years? Would they be torn down or restored or what?' Then, after we saved them, my attention turned to, 'OK, well, who is going to live in these structures?'"
At the time, she and her family lived in a 7,500-square-foot home in Old Louisville, a historic district that included 1,600 structures that she and her husband had helped protect.
She decided that one way to preserve historic properties was to get a real estate license to ensure the homes had buyers who would care. Once she had it and began working for one of the largest suburban real estate companies in the area, she was the top seller within a year—all of this as the busy wife and partner of a politician and mother of three.
Owning the keys to the city
Sloane was still living in Louisville in 1984 when she got a call from an old friend, Larry Rockefeller. He was in upstate New York to restore an inn and save Beaverkill Valley in the Catskills, and wanted Sloane's help with marketing and finding conservation-minded buyers.
"The Beaverkill project began because there is a very famous river there called the Upper Beaverkill Stream, which is one of the most important trout streams in America," Sloane says. "It's a beautiful place, but a lot of people discovered it and moved trailers there, so there were trailers parked all along the stream and there was no sanitation, so they were polluting the stream. Larry decided to use his resources—and those of his father, Laurance Rockefeller—to save that valley."
Sloane took the opportunity to get her New York real estate license. After serving as a consultant on the Beaverkill Valley project, she then secured a full-time job in 1986 at Brown Harris Stevens in Manhattan, where her Wheaton roommate, Mary Kernan Rutherford '68, worked and had encouraged her to apply.
Now, decades into her real estate career, with more than $1 billion in New York sales alone (selling properties ranging from a $150,000 garden studio to a $70 million co-op), Sloane says it feels as if her career is just getting started.
"It's a constant learning curve," she explains. "New York is filled with historic properties, and although there are many established apartment buildings that have been built for that purpose, there are a lot of potential reuses and adaptive reuses of those buildings, whether they're in Manhattan or Brooklyn or Harlem. My job is to stay on top of the changes and the trends. There's a lot to learn every day, and I have to keep my finger on the pulse, which is what makes this career so exciting."
New York is home turf, but she also spends many days traveling the world to meet with potential clients and to scope out properties and new business opportunities in places as close as Miami and as far away as Shanghai.
According to Stephen Larkin '92, who has spent 15 years working in real estate public relations and sales in the city, there's no tougher market than New York.
"Demand is high and inventory is low, especially for the kinds of properties Kathy's clients require," he says. "There are only so many best-in-class views, locations and amenities, and Kathy Sloane is very good at finding them for her discerning clientele. She stands out not only for being a real estate veteran but as someone who has been at the top of her game for decades."
And she shows no sign of slowing down. She credits her life experiences, beginning at Wheaton, with helping her find the right path.
"Whether it's the lessons learned in history or philosophy courses I took or the friendships that have continued to thrive over all these years, Wheaton is always an active part of my life," she says. "I'm forever grateful."
Photos by Rossa Cole