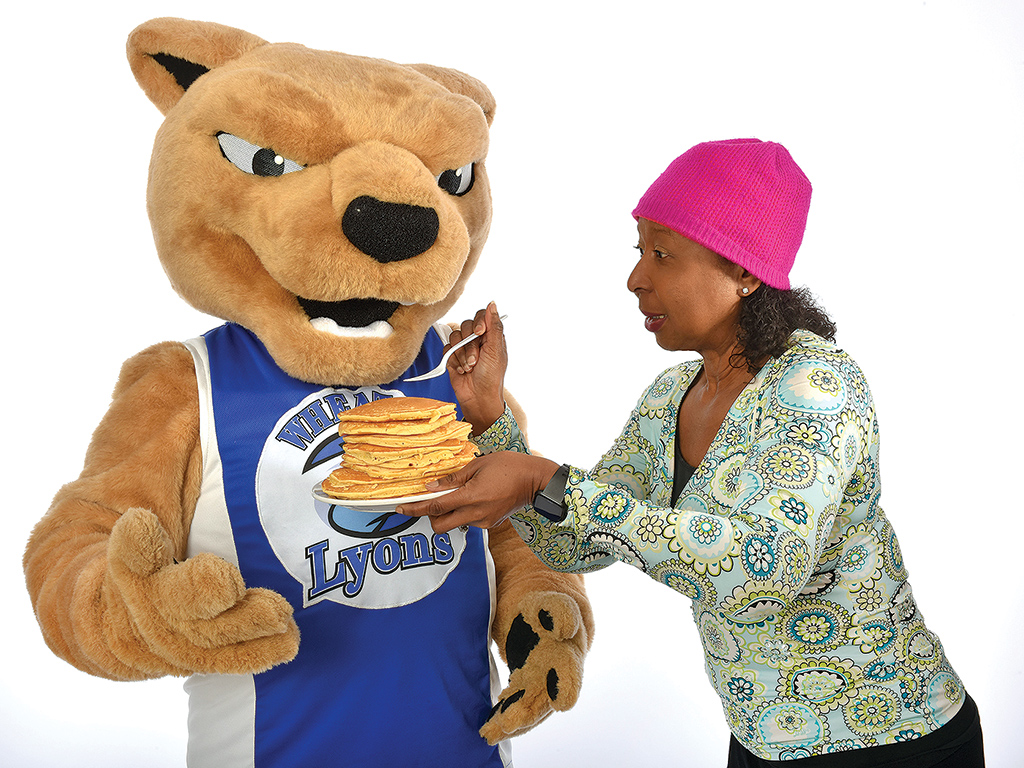 Can you tell that we like to eat?
What gave you the first clue? Was it the cake on the cover of the magazine? Or is it this photo of me "feeding" the Lyon during a photo shoot for the community pancake breakfast that President Dennis M. Hanno hosts each year?
You are so smart. And we are so dedicated here that we will go all out to provide you with the best illustration for our stories—especially if sugar and carbs are involved and we get to eat the art when we are done photographing.
Our cover story provided great inspiration because of the wonderful celebrations that took place this academic year noting many anniversaries, including the establishment of several student groups, a theme house and the long-lasting relationship and collaboration with the Posse Foundation, which has resulted in many student scholars and leaders coming to Wheaton and doing great things.
Beyond marking the passage of time, the cover story more importantly celebrates the lasting connections that students make while they are here—with each other, with faculty and with the college. The two feature stories by staff writer Laura Pedulli continue on that theme, focusing on alumni working in the growing field of public health and the beautiful connection that now retired Professor Andrew Howard created with his students (now alumni and professional photographers). They exhibited work together on campus this spring.
And the party is not over. Look forward to hearing more about what the Alumni Association has in store for marking its 150th anniversary. We may need to get an office treadmill if this continues.
Bon appétit.
(Photo by Keith Nordstrom)