Asher Trout '17 produces teasers for ION Television shows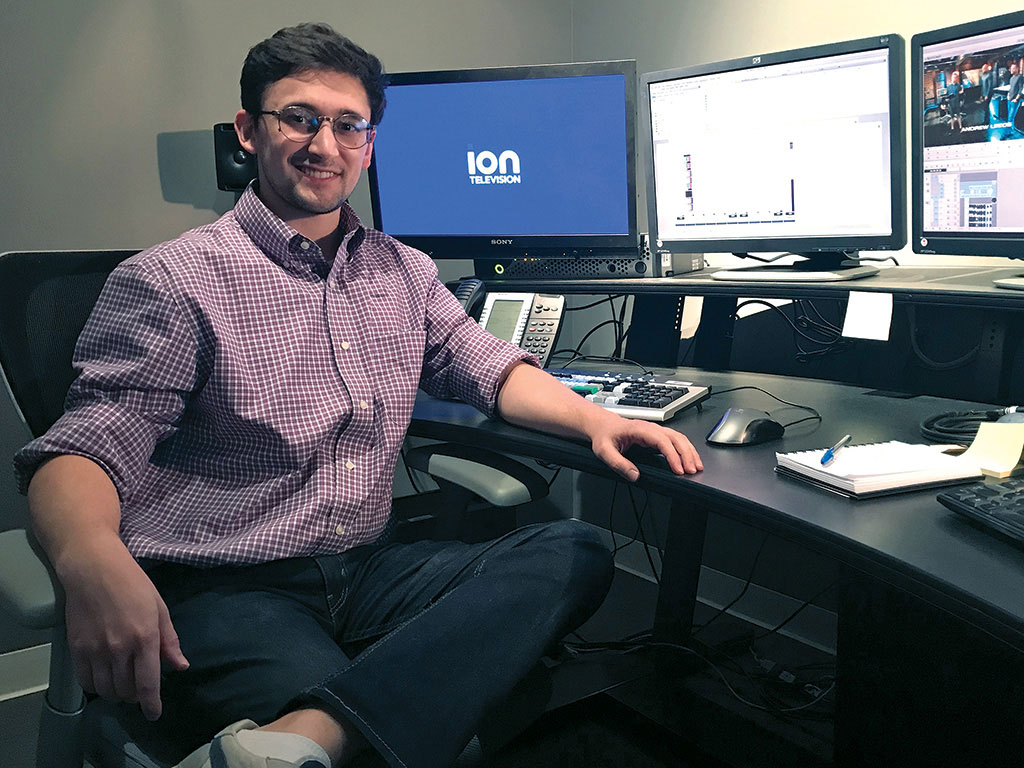 Asher Trout '17 spends his days watching television. But he's no couch potato.
As producer, video editor and writer at ION Television in Clearwater, Fla., he carefully scrutinizes episodes of shows, including "Criminal Minds" and "Law & Order: Special Victims Unit," and creates promos that help drive viewership.
The work involves identifying the shows' major themes to write scripts for individual episode summaries, image spots for shows and network promos. He also edits the promos for all content aired at the network and sometimes visits the sets as part of his job.
"I most enjoy the freedom to create through my editing," said Trout, who double majored in film and new media studies and anthropology at Wheaton. "Working with voiceover artists, our in-house sound engineers and the graphics team allows me to produce the highest quality promos possible."
He said he has learned a lot about the entertainment industry and professional editing workflow. "Plus, it's very exciting to see work I've made on national television," he said.
Trout always has been interested in film, but it wasn't until taking the course "Intro to New Media Studies" at Wheaton that he began considering a career in filmmaking.
Coursework in both anthropology and film and new media studies paved the path to his current role, he said.
"My classes with professors Josh Stenger, Talitha Espiritu and Patrick Johnson were hugely influential in helping me prepare for a career in filmmaking. My anthropology classes with professors Gabriela Torres, Bruce Owens and Donna Kerner were equally helpful.
"Anthropology taught me a lot about analyzing stories, finding themes and in a lot of ways it improved my storytelling abilities as much as my film classes did."
Professor Johnson described Trout as a focused and self-motivated student who produced high-quality work.
"While enrolled in my 'Digital Editing' course, he took the initiative to enter the American Cinema Editors' competition, which challenged students to edit a scene from the television show 'Nashville,'" Johnson said. "Asher must have produced nearly a dozen drafts of the scene, refining his edit until every story beat was optimal. His efforts paid off, as he won third place and was invited to attend the Eddie Awards in Los Angeles, the 'Oscars of Editing.'"
For his senior seminar, Trout used advanced techniques in After Effects, a digital editing software, to produce an original marketing campaign for the clothing brand Prime Life.
As a student, Trout also received a scholarship for a summer internship at Story Tank Media in Portland, Ore., which helped him land the job at ION Television.
His long-term aspiration? Edit a horror or thriller film. "As an editor, those genres are the most dependent on strong and experimental editing to be effective."