A powerful physics network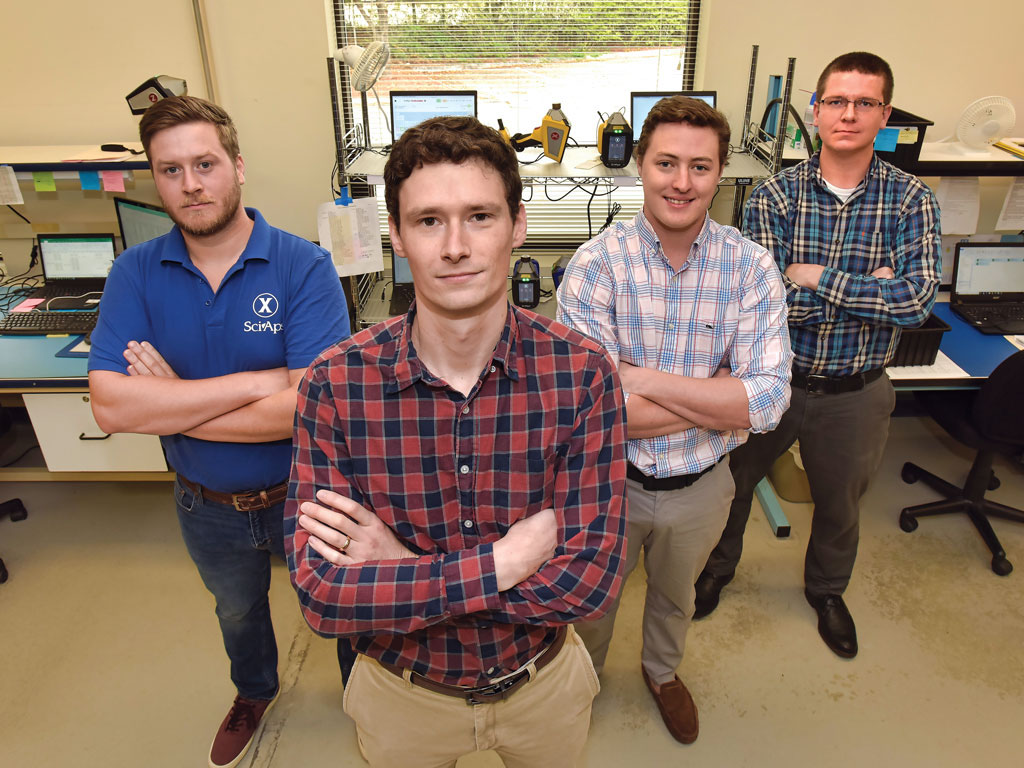 Morgan Jennings '08 achieves success at tech startup, pays it forward
Growing up in Vermont, Morgan Jennings '08 was always interested in science. Still, when he enrolled at Wheaton, he was unsure whether to pursue it as a major and a career—until he took his first class with Professor of Physics John Collins.
"Getting involved in the Physics Department there really sold me on it. J.C. made physics a lot of fun," Jennings said, using Collins's universal nickname among his students. "He's just a super relatable, easy-to-talk-to person." It's a sentiment heard frequently among current and former students about Collins, who is now in his 30th year teaching at Wheaton.
Over time, Collins recalls, Jennings emerged as "a quiet leader" among the physics students; he even hired Jennings during the summer after his junior year to collaborate on a research project for General Electric about phosphor powder. (An article about the work was published in the Journal of Luminescence under the intimidating title: "The Interconfigurational (4f15d1 to 4f2) Luminescence of Pr3+ in LuPO4, K3Lu(PO4)2 and LiLuSiO4.")
Physics, the study of matter and energy, takes its name from the ancient Greek word for "knowledge of nature," and that reflects what attracted Jennings to the subject. Sometimes it would take him 12 hours to finish a take-home physics exam at Wheaton, but at the end he felt satisfied knowing he had solved all the problems on the test.
"There is always a right answer," he said, "even if it may take a long time to get to it."
Today, Jennings is putting that dedication to work as the product manager at SciAps, a 5-year-old startup based in Woburn, Mass., northwest of Boston. The company makes advanced hand-held devices that can measure the elements, minerals or compounds inside a physical object, whether a rock or a piece of scrap metal. Its key customers include companies that buy and sell recycled scrap metal, which use the devices to determine a metal's value, and mining and exploration companies, which use them to understand the chemistry of what they find underground.
"It's a good mix of science and technology," Jennings said. "We're at the forefront."
While Jennings was one of SciAps' first employees, it now employs about 65 people, and he no longer is the only one from Wheaton. Working with referrals from Collins, Jennings has brought on board three of his fellow physics graduates: Bert Marston '10, Colin Nygren '15 and Ryan Clair '16.
SciAps CEO Don Sackett has jokingly dubbed the group "the Wheaton Mafia." Praising their strong people skills, he said, "They've all been out of the same mold—they have good technical understanding, but we're also not afraid to put them out in front of customers."
The discovery phase
Initially, Jennings wasn't sure how he would use his physics degree. "I came to really love the science when I was at Wheaton, but I still didn't know what I wanted to do with it," he said. Soon, though, he found a job as an application scientist at Innov-X Systems, another Woburn company that made analyzer instruments. It was a good fit, and he wound up staying at the company for five years.
"I always considered going to grad school, but I kind of like the more practical applications of science," he said. "Being able to tie the science into a business atmosphere is really nice for me."
Then in 2012, Sackett—who had hired Jennings at Innov-X when he was its CEO—left the company and started SciAps. He quickly decided Jennings would be an asset as he and his co-founders worked to get the new business off the ground.
"We needed someone who could do technical work but also have the interpersonal skills to work with sales reps and distributors," Sackett said. "He could do both. He was organized. He doesn't forget stuff. He doesn't do things halfway. He's reliable. I can just say, 'Morgan, let's do this.'"
As the product manager, Jennings oversees all three main lines of SciAps
devices. The instruments "zap" objects to measure their elemental contents, with one line using X-rays and the other two using lasers. A customer can point one of the SciAps analyzers at a piece of metal or a rock, and within a few seconds it will report the concentrations of the elements inside—with no need to send samples back to a lab for tests.
Jennings's responsibilities include supervising several employees, including Nygren and Clair, who provide technical support to SciAps sales staff in the field as they demonstrate products to customers. Jennings also travels to visit key clients himself, and serves as an intermediary between customers and the engineering team.
"It's fun working at a small company, because you have to do all sorts of stuff," he said. "You can never be too rigid with what your role is. If you're willing to try something and be proactive about it, you can really do whatever you want."
Jennings credits Wheaton with teaching him not only science but also the other skills he uses at SciAps. "In business, you're only as good as you can communicate your ideas," he said.
"I think what has helped make me be effective in this role I'm in is I have some of the science background, but I'm also able to communicate and work with people. I think that's in line with Wheaton's philosophy."
Collins said those skills are what has always made Jennings stand out. "There's an impression people have of physicists as a little withdrawn socially, a little uncomfortable—and I probably fit that even a little bit," he said. "But Morgan was not one of those. … He was so very good with people, and highly intelligent, and also just a person of integrity."
Of course, work isn't Jennings's entire life. When he isn't at SciAps, he's usually home with his wife, Samantha Murray Jennings '08—who works as a project manager in the operating room at Massachusetts General Hospital—and their infant daughter, Molly.
Forward motion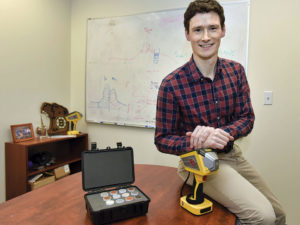 Jennings started his unofficial second job as an employment agency for Wheaton physics majors in 2010, when Collins reached out to see if he could help find an opportunity for Marston, who graduated that year. Jennings secured Marston an interview at Innov-X.
"I proved that I was a problem-solver and a hard worker, and they said, 'You know what? With Morgan's reference, we'll take you on board,'" Marston recalled. While his initial job in tech support was "not glamorous," within a year he was promoted to a position he really wanted, as a
research-and-design engineer.
Marston stayed on at Innov-X after Jennings left for SciAps in 2013, and turned down an initial offer from Jennings to come join him at the new company. But in January 2018 he decided to take the plunge, saying he was attracted by the
possibility of switching from a large employer to a startup.
"I feel like I really have skin in the game," Marston said. "My work has a direct impact on the success of the business."
At SciAps, Marston is a product engineer who oversees the manufacturing process. "But being such a small company, actually I do a little bit of everything," he said. "Sometimes I even have to roll up my sleeves and start taping boxes for shipping."
By the time Marston arrived at SciAps, Jennings already had hired two other Wheaton graduates. The first was Nygren, who as a junior approached Professor Collins, his advisor, for help with career opportunities. Collins put Nygren in touch with Jennings, who secured Nygren an internship at SciAps during the summer of 2014.
Jennings and his colleagues were so impressed with Nygren's work that they offered to hire him when he graduated the next year, and in the meantime kept him on as an intern for his senior year, during which he developed a laser technology that served as his capstone project. He now works directly for Jennings as a product specialist, serving as the technical expert who answers customers' questions about SciAps devices.
"When I started working at SciAps, I was doing a little bit of everything, sometimes working with salespeople trying to hit targets, then with engineering people trying to get the laser to be more powerful or something," Nygren said. "So, the kind of diverse education that you get out of Wheaton helped set me up for the diverse work environment that I now have."
In November 2016, SciAps gained its third Wheaton employee with the hiring of Clair, another former Collins student. Clair was friendly with Nygren, who reached out to him when Jennings needed to hire another product specialist.
Clair believes a well-rounded education, including an intensive focus on writing, is crucial for success working in the sciences. "You don't just need to know the math; you need to know the rest of the human skills," he said.
Jennings said the Wheaton group has "a good reputation in the company—obviously, since I keep hiring them. They're well-liked. They're hardworking."
Sackett said that as Jennings kept suggesting Wheaton graduates to fill positions, he thought, "You know, we had good luck with Morgan; why not try another one? Then we had good luck with Colin; why not try another one?" Now, he said, "We're 4-for-4."
Back at Wheaton, Collins is grateful that the effort to build lasting bonds in the Physics Department has paid off. "The goal is to keep this rolling, keep the connections real, keep everyone interested and enthusiastic and working for one another," he said.