Wheaton celebrates 20-year collaboration with The Posse Foundation, success of scholars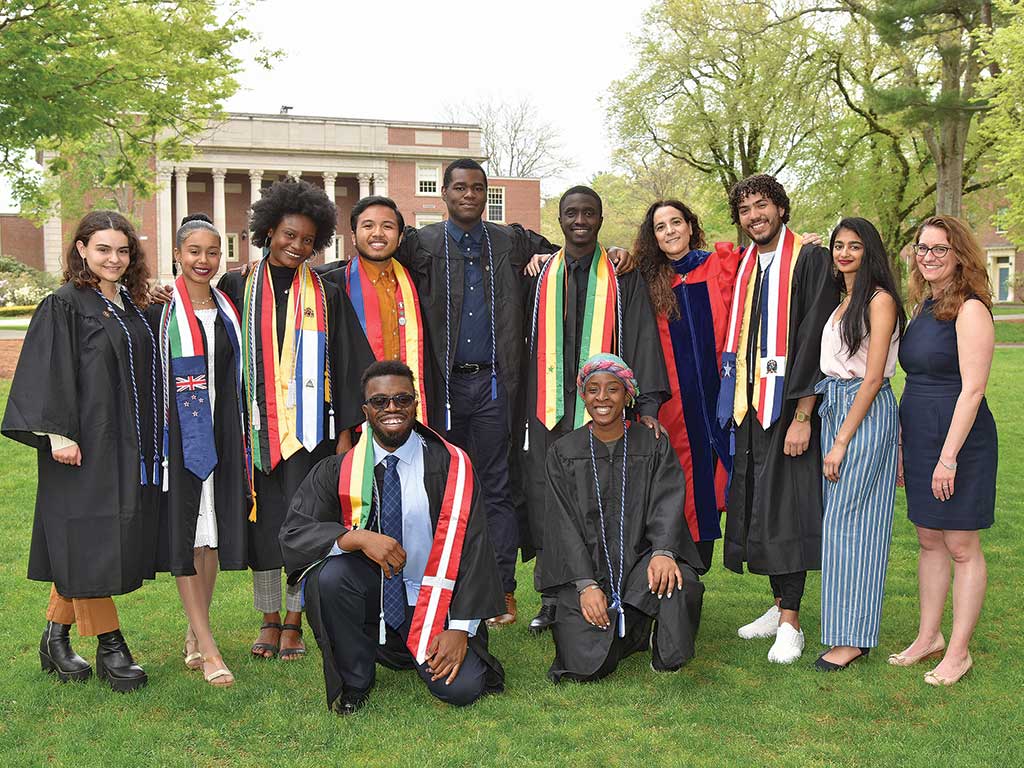 There are always tears.
Each year, as Posse Scholars sit in the sanctuary of Cole Memorial Chapel during their personal graduation ceremony the day before Commencement, there are tears of joy, triumph and excitement for the next chapter that lies ahead.
Proud families, classmates, friends, faculty, staff, trustees and Posse Foundation officials, who travel from New York City for the celebration, share the emotion of recognizing all that the student leaders have accomplished in their lives and on campus.
In the intimacy of this space, the full power and impact of Posse can be seen as well as felt. For 20 years, Wheaton and Posse Foundation partners have worked together for moments like this that cap their collaborative efforts to help scholars achieve their academic and personal goals and pursue their professional passions.
"The collaboration has been one of the most inspiring and meaningful partnerships the college has had long-term," Wheaton College President Dennis M. Hanno said. "The Posse Foundation helps Wheaton, like many other top colleges and universities around the country, expand its pool of outstanding and diverse student leaders."
The New York City-based foundation partners with colleges and universities to choose cohorts of 10 students from New York City schools who enter college together as a "posse" (a group that shares a common bond). Before they arrive on campus—as well as after—the organization helps the selected students prepare for and manage the rigors of challenging academic environments.
The foundation also has offices in and recruits students from Atlanta, Boston, Chicago, Houston, Los Angeles, Miami, New Orleans and Washington, D.C. This year alone foundation staff interviewed more than 17,000 students across the country for more than 700 scholarship slots.
Scholars hone leadership skills, gain perspective on expectations and get to know each other in New York before heading off to their colleges and universities. Each partner institution invests in full-tuition scholarships to recruit the students to campus. The goal is to diversify campuses not just by race or ethnicity but also by ideology and geographic origin. Other partner schools include Colby, Middlebury, Trinity and Vassar colleges.
Wheaton Director of Archives and Digital Initiatives Kate Boylan '04 was in the very first Posse cohort at Wheaton, Posse 1, and said she cherishes the communication skills she gained as well as the friendships and the challenges to ideas that led to fresh perspectives.
"I've grown and been shaped here to no end and I couldn't imagine a different college experience at this point. Wheaton has definitely informed the person that I've become and Posse was a huge part of that," said Boylan, who last year worked as a Posse liaison.
Wheaton Alumni Trustee Ryan Letada '08, CEO and co-founder of NextDayBetter, a media company that tells stories about the migrant experience, was a member of Posse 5 (the fifth cohort to graduate from Wheaton). He described the impact of the program as profound and long-lasting.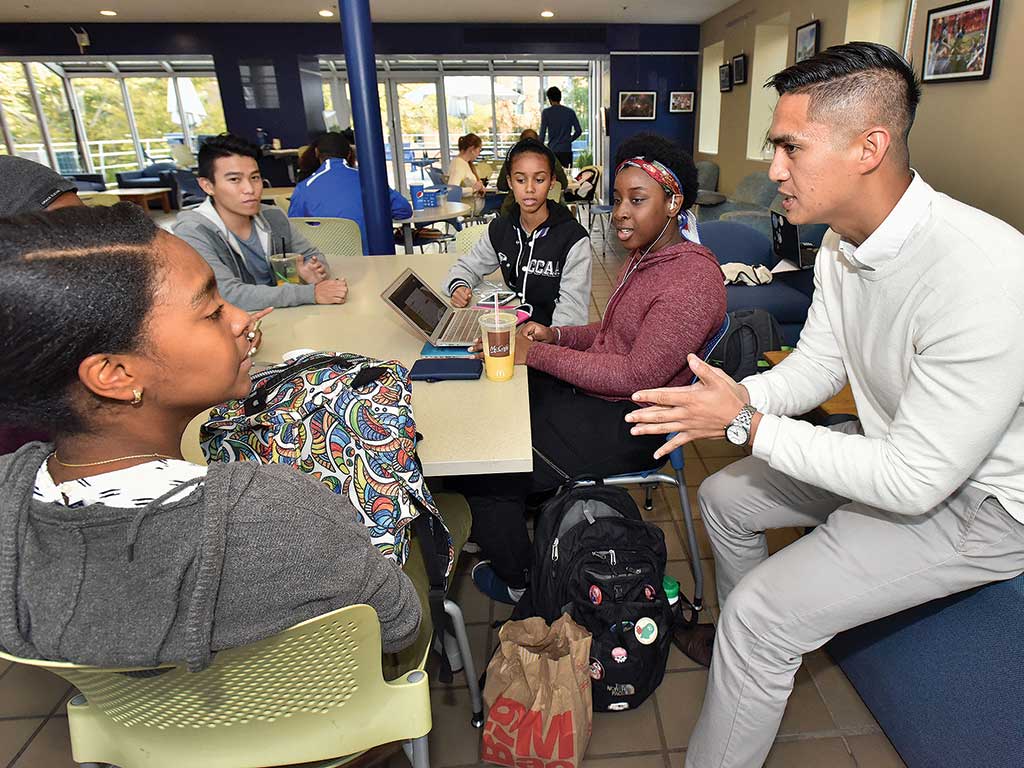 "My Wheaton Posse experience changed my life by helping me cultivate a support network and chosen family that empowers me to do my NextDayBetter work," Letada said. "It has been 12 years since graduating from Wheaton and, to this day, I am deeply connected to my Wheaton Posse community."
In May 2019, The Posse Foundation celebrated 30 years of identifying and providing training for students with extraordinary potential who might not otherwise consider attending a small liberal arts college or might be missed by elite schools. During the gala at The Metropolitan Museum of Art in New York City, Wheaton alumna and "60 Minutes" correspondent Lesley Stahl '63 was the emcee and Posse Scholar Derron Wallace '07 (winner of a Projects for Peace grant, a Watson Fellowship, Marshall Scholarship and a Fulbright) was a presenter.
Wheaton Trustee Emerita and Posse Foundation Life Director Patricia "Trish" Higgins Arnold '66 first heard about Posse during a casual conversation at a luncheon. She was instrumental in bringing Posse to the attention of college leaders and advocating for Wheaton to establish the partnership.
"Diversity of backgrounds and perspectives is essential in higher education, but it can be hard to achieve on a small suburban campus," Arnold said. "Posse changes a campus, and Wheaton understands and appreciates what the scholars bring to our educational experience. All Wheaton students benefit from the engagement and leadership of Posse Scholars, who are able to talk across differences in and outside of the classroom."
Wheaton Life Trustee Anson M. Beard Jr. said he welcomed the opportunity to vote in favor of the partnership when Arnold introduced the idea. In fact, she also introduced Beard to the founder of The Posse Foundation and he became involved as a member of the organization's national board of directors.
"It's a phenomenal organization," Beard said. "It has been a tremendous contributor to the Wheaton community because of the caliber of the Posse Scholars. They are selected for Posse because they are leaders. If you look at the Student Government Association at Wheaton, many of the leaders have been Posse Scholars. It's amazing to see what they do and how they set examples for others."
Posse Foundation President and Founder Deborah Bial pointed out that when Wheaton began its partnership with the organization in 1999, the foundation was still a grassroots operation recruiting a few dozen students per year. "Today, Posse has recruited close to 10,000 scholars, and Wheaton remains a partner, deeply invested in Posse Scholars' success,'' Bial said.
"Posse Scholars reap the myriad benefits of a great college education," she added. "They are highly engaged individuals leading on campus, winning prestigious fellowships and making a difference in the world. We couldn't be more grateful for the investment Wheaton makes in these young people. President Hanno's leadership, the outstanding Wheaton faculty, the staff and administration all contribute mightily to make this collaboration an enormous success."
The success of this partnership is in the results, Hanno said. "More than 90% of Posse Scholars both at Wheaton and nationally graduate on time [compared to the national average of 59%]." And many of them year after year are among the Wheaton students who earn national awards, including Watson Fellowships, Marshall Scholarships and Fulbrights, he said.
"For me, Posse has always been about the leadership that students bring to campus. Every one of them gets involved in activities and programs on campus and, by senior year, many of them end up being recognized in some way as some of the top leaders on campus," Hanno said.
Posse Scholars are devoted to their academic and leadership pursuits, which leads to great accomplishments. However, also crucial to their success, Hanno noted, are the faculty members who are recruited to serve as mentors for each cohort of Posse Scholars.
"Mentors help Posse Scholars reach their goals, grow to become even stronger campus leaders and prepare to go out and take on the world. I believe that every student would benefit from such an impactful relationship," he said. "In fact, as a result of the success with the Posse model, we have tried to replicate it in various ways with other groups of students."
Assistant Professor of Religion Barbara Darling was a mentor for Posse 15 and was among those sharing in the tears in the chapel the year her cohort graduated in 2018.
"It's hard not to cry when we see all the love shared among the Posse and their families and friends, and you think about all the sacrifices some of the families have made and all the obstacles many of the Posse Scholars have overcome to get to the point where they are graduating from Wheaton," Darling said. "All of that, and I was sure crying when my Posse graduated because I knew how much I would miss seeing them on a regular, weekly-plus basis."
From Posse 1 to the most current cohort, Posse 20, students and alumni note the impact of their Wheaton education and experience and the Posse program on their lives on campus and beyond.
"What I love is having the ability to learn and grow as a person," said Emmanuel Leal '23, Posse 20. "My mentor, [Associate Professor of Economics] Brenda Wyss, has known me for a little less than a year and she has become one of the most important people in my life. I have the ability to talk to her about my problems, have a regular everyday chat and have a feeling of a home away from home."