A personal tour of Bhutan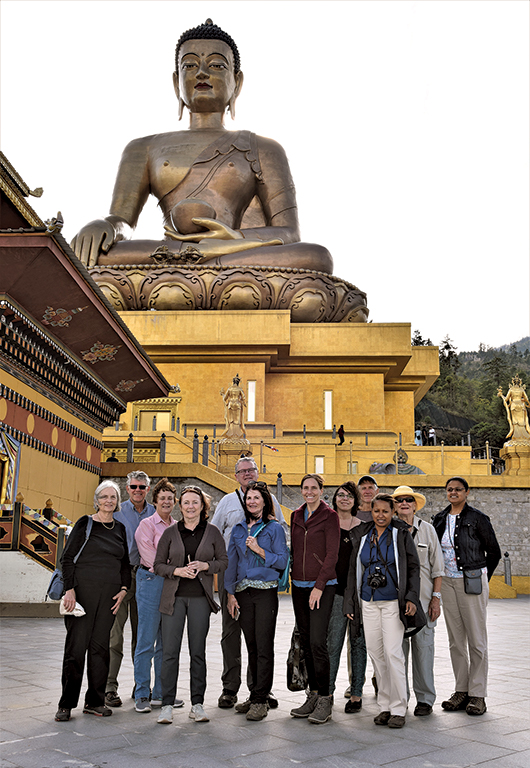 Bhutan, the only remaining Himalayan Buddhist kingdom, often is called "the last Shangri-La" because of its dramatic, pristine landscape. A remote, landlocked nation in South Asia, it is not easy to get to. However, a lucky few alumni and family, accompanied by faculty and staff, traveled there in fall 2018 as part of a trip sponsored by the Wheaton Alumni Relations Office.
Wheaton has a longtime relationship with Bhutan dating back to the 1990s and continuing through a study abroad program first launched in 2010. The program is a partnership with Royal Thimphu College, the first private institution of higher learning there. Also the nation's current king, His Majesty Jigme Khesar Namgyel Wangchuck, was a Wheaton student from 1999 to 2001.
Associate Professor of Anthropology Bruce Owens led the excursion (from September 25 through October 5) with Gretchen Young, dean of the Center for Global Education at Wheaton. The group, which included alumni from classes ranging from 1962 to 1994, was small enough for personal exploration and allowed the travelers to bond and tailor the experience.
"The goal of the trip was to provide our community members with an opportunity that only Wheaton could offer," said Courtney Shurtleff, director of Alumni Relations. "This truly was a once-in-a-lifetime opportunity in which Wheaton faculty and staff created the itinerary. Professor Owens has a deep knowledge of the area and was able to take travelers to places only known to the locals. That level of personalization is what Wheaton is known for, and we were happy to deliver it on this trip."
Claire Lang Ballantyne '94, who majored in history at Wheaton, said the trip was more than she imagined: "About 20 years ago I read a memoir by a Canadian woman who lived in Bhutan and I have been interested in the region ever since. I always hoped to travel there one day, but realistically didn't believe it would ever happen. But this trip was perfect—everything was already planned out, we would be accompanied by a Wheaton professor so it would be not just touristy but genuinely educational, and, though I would be traveling with strangers, we would all have something dear in common, Wheaton."
In addition to exploring culture, history and landmarks, "some of the most memorable moments included extraordinary meals—ranging from an eight-course traditional feast at what is arguably Nepal's most beautiful hotel and a candlelit continental dinner in a former palace courtyard to our favorite meal in Bhutan, served in a farmhouse by the chef and her husband while we were seated on the floor around a wood stove," Owens said. "The tour concluded with performances of traditional Bhutanese music and dance by the members of Phusum Drayang troupe of Paro, who insisted that we all join."