A new page in her story after Wheaton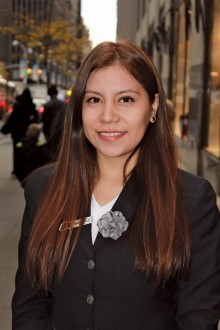 Maricielo Solis '14 was selected into the NBCUniversal Page Program in fall 2014. The yearlong program is a rotational training and development program that serves as a pipeline for entry-level positions within NBCUniversal. During the year, pages have the opportunity to work and gain hands-on experience within different departments throughout the entire NBCUniversal organization. The three-month assignments allow pages to explore their interests and develop their skills in media.
The program is highly competitive, only accepting 2 percent of the 16,000 annual applicants, and has helped the careers of many famous anchors, producers, actors and media personalities.
"I hope to hone my journalistic skills, make connections in the media industry and get more experience in news production," said Solis, who majored in international relations at Wheaton. "My ultimate goal is to land a job as a production coordinator and work my way up to become a TV anchor/reporter and producer of documentaries and independent films."
It has been a busy learning experience so far.
Her assignments?
"I am basically working seven days a week. It is crazy but I love my job."
"During my time at Wheaton, I had the amazing opportunity to complete two media internships, one in the U.S. and another one abroad. My first media internship was at Univision Television Network as an investigative reporter intern. This internship was possible with the support of the Wheaton Fellows program, which provided me with funding to undertake an unpaid media internship.
"The second internship was with Bolivian Express magazine in La Paz, Bolivia, as a journalist. I got the internship with the help of the staff at the Filene Center for Academic Advising and Career Services, who connected me to a Wheaton student who had previously completed the internship, and I received funding support through the Davis International Fellows Program. Overall, I truly believe that the tools and resources that the Filene Center provided me were crucial to being accepted into the Page Program at NBCUniversal. Both internships provided me with print and broadcast newsroom experience and exposure that are essential to excel in this competitive industry. "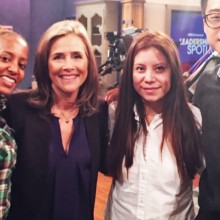 Solis's assignments as a page have included being an assistant at the TODAY Show, helping with audience coordination for Late Night with Seth Meyers, The Meredith Vieira Show, The Tonight Show starring Jimmy Fallon and Saturday Night Live. She also served as a production assistant at Weekend TODAY and had the once-in-a-lifetime opportunity to work the red carpet for Saturday Night Live's 40th Anniversary Special, escorting Steven Spielberg, Robert De Niro and Tina Fey. She is currently on assignment at MSNBC.
"Being part of the NBCUniversal Page Program has been a truly unique and rewarding experience," she says. "My assignments have given me the opportunity to network tremendously with talent and producers, and learn every aspect of news production."