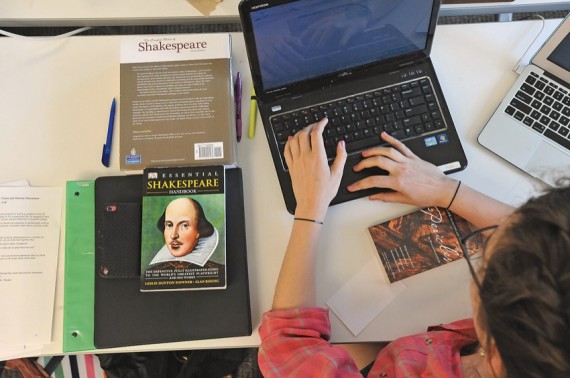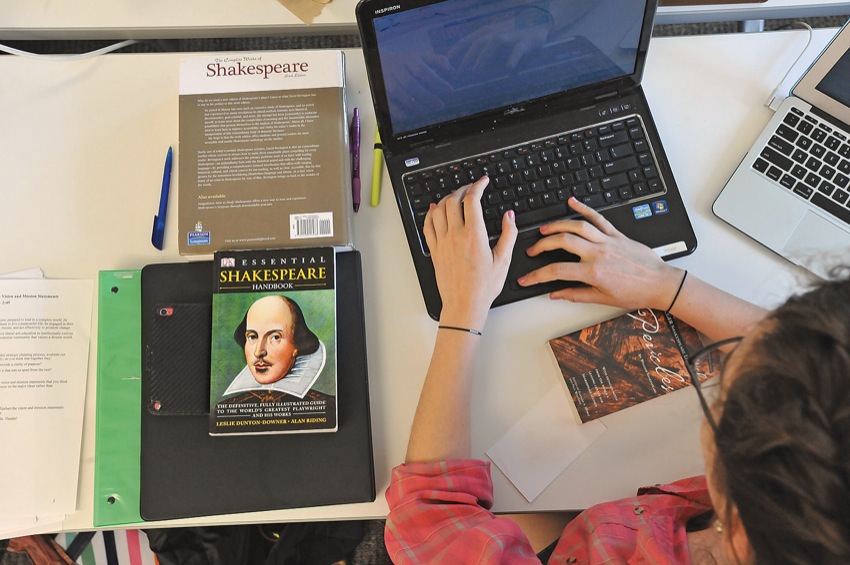 A leader in harnessing technology to enrich the liberal arts, Wheaton now is offering a new minor in digital humanities.
The minor builds upon a solid foundation of courses and scholarly projects across campus that combine computational thinking and digital tools with humanities disciplines.
For example, Wheaton's Lexomics project involves the use of modern computing and statistical techniques to analyze literature (e.g., the extent that Percy Shelley might have helped in composing Mary Shelley's Frankenstein and Jane Austen's influence on the works of George Eliot); virtual reality enables Hispanic studies students to explore the Amazon; and a history department project led by Associate Professor of History Kathryn Tomasek entails digitizing documents from the founding period of the college.
The minor is structured so students can customize their academic program while developing skills in areas like information management, multimedia communication, social computing, digital game and story design, design preservation, data visualization, and others, according to Mark LeBlanc, professor of computer science and co-coordinator of the minor.
These methods provide a new dimension to study the humanities, or "new glasses on old problems," so students can take on more challenging research, LeBlanc said.
Wheaton already has name recognition in the digital humanities field, as the college is cited in the chapter, "Should Liberal Arts Campuses Do Digital Humanities? Process and Products in the Small College World," which appears in Debates in the Digital Humanities (University of Minnesota Press, 2012).
Winter Jade Werner, assistant professor of English and co-coordinator of the minor, said she read about Wheaton in Debates in the Digital Humanities years ago as a graduate student.
"Even before I came to Wheaton, I had it in my mind that the campus was heading in this direction," she said.
To obtain a minor, students are required to take courses from three major programs that they tailor to their individual interests. Among possible courses are: "Introduction to Museum Studies" (anthropology); "Digital Editing" (arts); "Robots, Games and Problem Solving" and "Computing for Poets" (computer science); "Advanced Writing: Digital Controversies" and "Digital Victorians" (English); "Introduction to New Media (film and new media studies); "Digital Humanities Methods and Tools" (Hispanic studies); and "Media and Society" (sociology).
The minor's steering committee includes faculty from departments across campus, as well as staff from the Madeleine Clark Wallace Library. The inclusion of library staff, who are working on digital initiatives to bring parts of the college's vast collection (including the Gebbie Archives and Special Collections and the Permanent Collection) online—is essential to the minor, LeBlanc said.
Kate Boylan '04, director of archives and digital initiatives at the library, said her department aspires to preserve the collaborative scholarship that comes out of this new minor, such as when a student and faculty member might develop their own new application to computationally analyze Victorian literature.
"We're pulling together a new subject guide, which will have links to databases and datasets and new applications used in the digital humanities fields," she said.
Looking back at her time as a student, Boylan said if this minor had existed she would have "jumped all over it"—although back then much of the work was done manually.
"I'm excited that current students are working in a world where computational tools are refined and the digital humanities lexicon is developed so that they can dive right into the field and start researching and manipulating the data they cull in new ways," she said.