Nothing thrills Abigail "Abby" Schachner '93 more than creativity and self-expression. (And forming random rhymes when the inspiration seizes her.)
Schachner is an artist who has written and performed more than 12 solo stage shows. One recent show, Schachner vs. Schachner, received multiple accolades along the fringe theater circuit, including awards for best solo show, best female performance and the audience award. The 45-minute show explores family, identity and attempted homicide.
"There are a lot of storytelling shows around, and I always found myself grappling with my little family secret," she said. "I was told never to talk about my life, yet I wanted to slip it in almost everything without explanation, and some things warrant an explanation … if only for yourself."
Generally, her performances are very personal and open, "but in a way that feels safe for me," she said. She considers Schachner vs. Schachner as the most "true" she's ever been.
Schachner first discovered a love of theater at a young age, but had a lot of fear and didn't get cast too often, she said.
In college, however, she not only had a chance to perform—but to develop her own sketches and show. "At Wheaton, I had discovered that I loved writing, I was good at it, I needed to do it, I was excited about doing it, and I developed an independent project that allowed me to create a show," she said.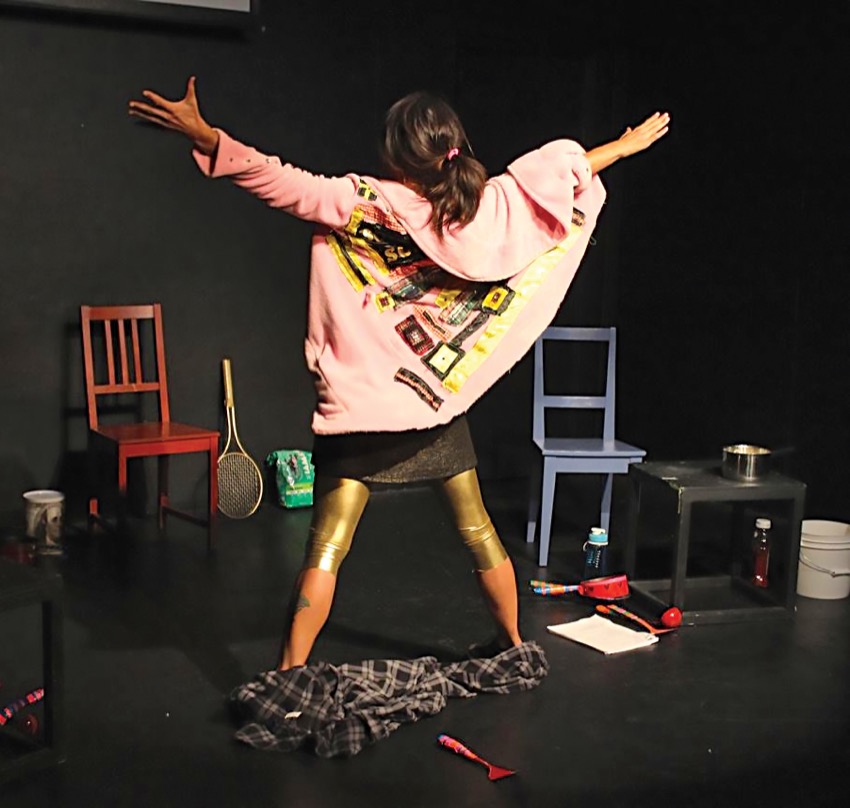 As a senior, she put on the production The Body Piece, which candidly explored her experience with an eating disorder she developed at 14.
"I created a show that packed the auditorium and had five or six really brave and talented women in it," she said. "I advertised on paper plates around the campus, and I remember wearing a blazer to make myself feel official. I probably ought to wear more blazers," she said.
The experience ended up serving her well years later, as it helped her successfully obtain a Friday night slot at Second City, a cutting-edge and well-regarded theater in Chicago.
"Then, by chance—or by design, who knows? I started creating solo shows," she said. "Hey, that rhymes!"
At that time, she took The Body Piece and created songs and new pieces and changed the name to PLATE and did the performance on her own. "After that, I would sometimes get dates, three weeks away, and write 45-minute shows on themes," she said.
With the success of "Schachner vs. Schachner," something else was unlocked in her: a love of creating for children, she said. Her most recent creation is an all-rhyming, mostly-for-kids show called U and Me and My Best Friend P.
"That's my number-one passion, by the way, writing for kids. I'm finally going to start sharing that passion, because it's bursting to come out," she said.
Looking back, Schachner says Wheaton helped her to develop as an individual. "I became an art history major because of Professor Leslie Brubaker—who was so dynamic and just the type of performer I wanted to be. As time went on, I started making up songs about the artists, such as "The Caravaggio Song" and a little ditty about mosaics, and I'd sing them in class. Only problem was, when I had to give a traditional speech, I cowered," she said.
Schachner also took a creative writing class her freshman year that allowed her to share her views in an artful way.
"Having a place to share my rage and my innocence and confusion and all that other jazz was one more brick on the path," she said.
Learn more about Schachner's performances and her art at yourfriendabby.com.