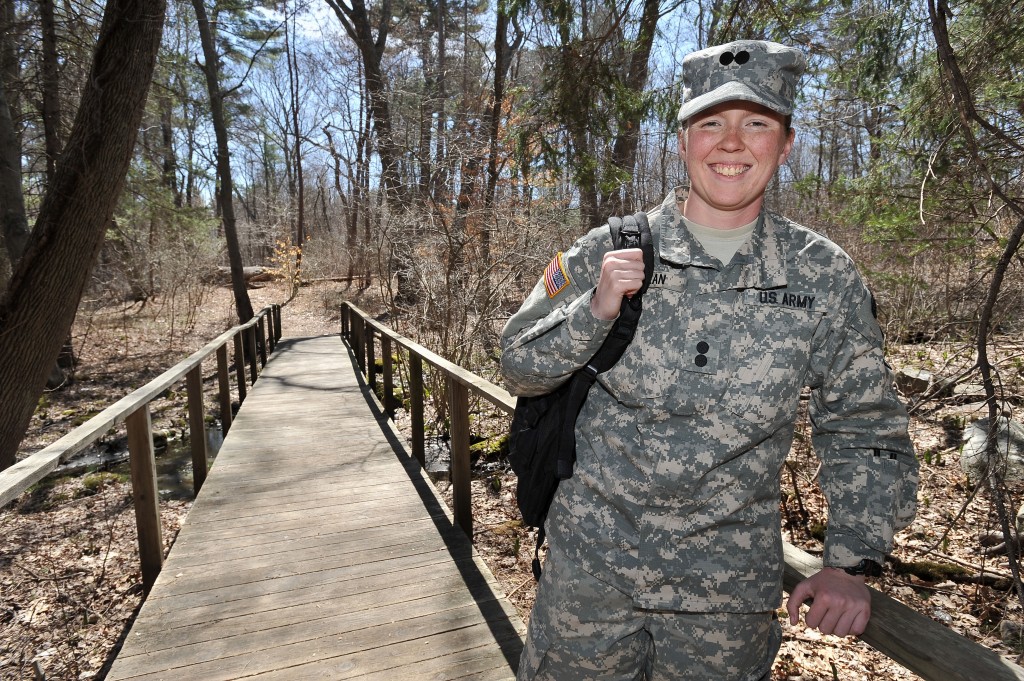 Two days after she graduates from Wheaton with a history degree, Kaitlin Phelan '15 will be commissioned as a second lieutenant in the U.S. Army at Boston University's ROTC ceremony. Two weeks later, she will become the West Virginia Army National Guard's first woman artillery officer—the fifth in the country. And in June she will join the Charleston, W.Va. Police Department.
It may seem like a whirlwind introduction to the working world for a new college graduate, but Phelan is no stranger to a busy schedule—in fact, that's the way she likes it. Since her sophomore year, she's been rising early three times a week to do physical training with her fellow ROTC cadets at Stonehill College in nearby Easton. Other mornings, she'll attend ROTC classes or participate in a "ruck march" (a long hike with big packs).
Then comes the weekend. Through the Simultaneous Membership Program, Phelan is also a member of the Massachusetts Army National Guard's 126th Aviation Regiment. That means she spends one weekend each month and two weeks each year drilling with her Guard unit at Camp Edwards on Cape Cod. Other weekends she may spend at an ROTC training event.
"I'm a fan of structure," Phelan said. "In high school, I did great because it was 'be here at this time, be here at this time.' Then I came to Wheaton—and I love Wheaton, I really do—but there wasn't enough structure. My freshman year I really didn't handle the change well. The way I dealt with it was by introducing the military into my life, and it really helped me a lot. My grades improved, my overall health improved."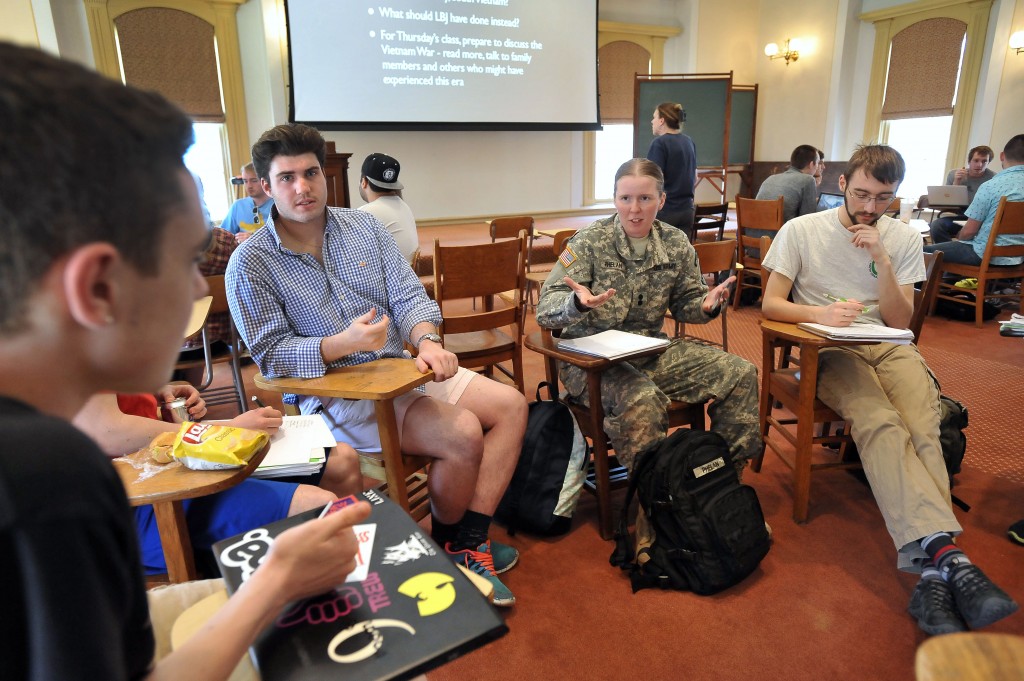 Phelan was no stranger to the military life; her dad, retired Army Col. Bob Phelan, served in the military for 29 years, including five years at the Pentagon, and she was interested in following in his footsteps.
Wheaton College may seem like an unusual choice for a military-minded individual (presently, Phelan is the only student enrolled in the ROTC program). But it was a decision that came easy for the Springfield, Va. native. Encouraged by her great-aunt, alumna Marie Phelan '46, she came to campus for a visit as a high schooler.
"My first time here, it was pouring rain, the wind was flipping umbrellas inside out, it was sideways wind, and I loved it," she said. "I loved the campus. I loved all the traditions."
Phelan intended to major in chemistry but struggled early on in her classes. That's when her Organic Chemistry instructor, Nancy Lane, stepped in.
"She noticed that I was struggling, and she pulled me aside and we just talked," Phelan said. "She checks in with me, just knows what's going on. Having a faculty member step forward to be that person—that's so helpful. I credit her with a lot of my development."
Lane gives Phelan a lot of credit, too.
"As teachers, we hope that students rise to the challenges, figure out how they can overcome their weaknesses or learn to work with them, find their path and succeed. I really experienced Kaitlin doing all of these things," Lane said. "She communicated her difficulties, took the advice she was given and put those practices into place. She persevered when things were not going her way and she asked for help. She advocated for herself and asked others to do that also. She explored other paths for herself but found what she was truly passionate about (the military) and worked very hard to get the training she needed."
Phelan chose instead to major in history, a subject she said helped her develop her writing skills.
"Writing is a huge thing for an Army officer because I'm writing evaluations, I'm writing memos, I'm writing all sorts of stuff. History's really developed my ability to write and my ability to analyze," she said.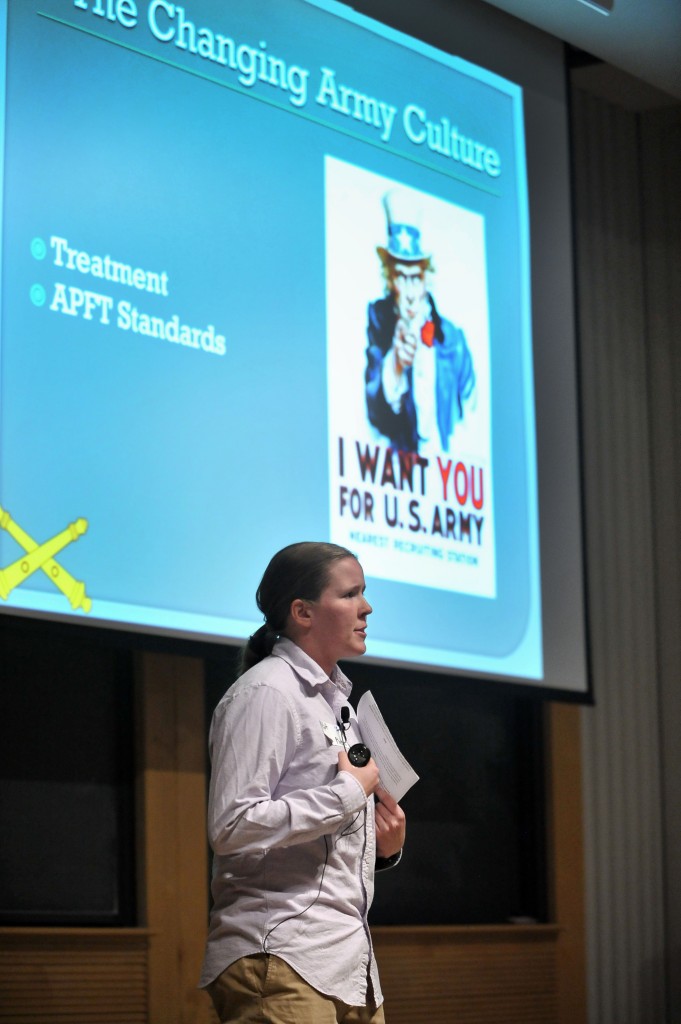 And a Wheaton education overall has given Phelan a great start in her military career.
"Wheaton has helped me develop as an academic person, being able to think critically," she said. "I can think through a problem, whereas before if I couldn't figure something out I'd just throw it out. At Wheaton you can't just throw out a problem; you have to think of other ways to solve it, which is huge in the military."
Phelan has held several leadership positions with her ROTC battalion's Bravo Company, including assistant intelligence officer and, currently, commander.
"There's just that unbreakable bond you get between you and other soldiers. Even when you're an officer, you still have that bond with your soldiers; you have to protect them, they rely on you. And I just love that feeling. It's like being on a sports team times a thousand," said Phelan, who has played club rugby at Wheaton all four years.
Phelan said she is proud to become the first woman officer in the West Virginia National Guard's 201st Field Artillery Regiment. But the job also comes with challenges.
"There's that pressure of you have to perform really well because you're the first. I'm hoping that I do well and that my gender's not even a thing, because that's how it is now," she said.
Though she'll be sad to leave campus this spring, Phelan said she is looking forward to her future, which she's happy to say is all scheduled out—at least the next five years.
"I've been at Wheaton for four years; it's hard to leave," she said. "But at the same time, I've got so much going on. It's like, let's go!"