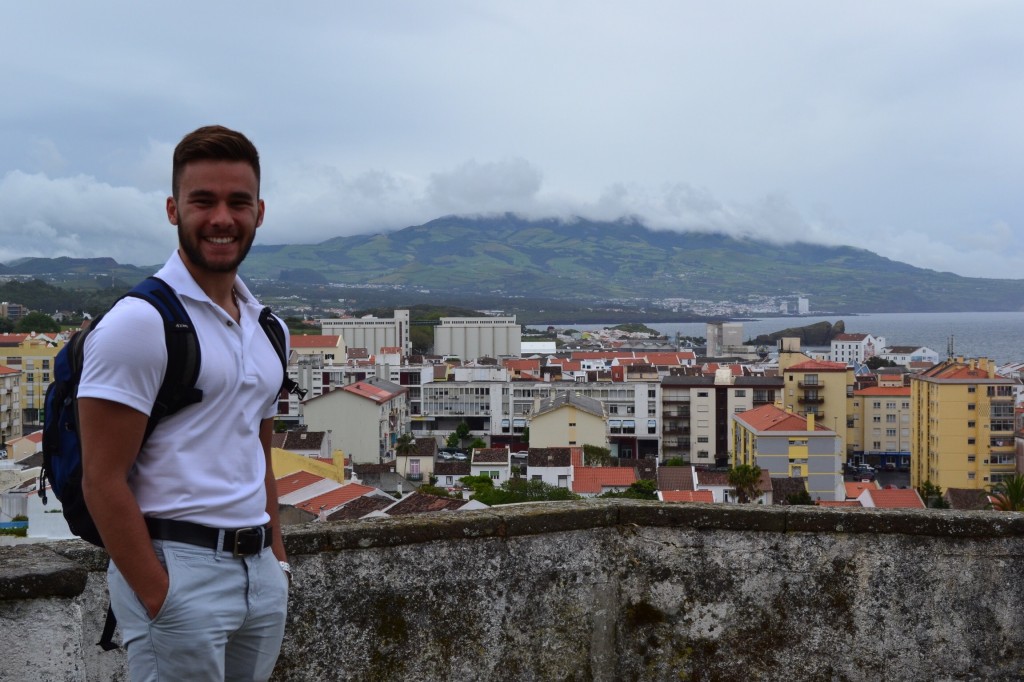 Chemistry major interns in the Azores as a Davis International Fellow
An instinct to help the sick and injured hit Samuel Zarfos '17 at a young age.
"I vividly remember watching paramedics when one of my childhood friends broke her arm. They placed her on a stretcher, held her arm to splint it, and soon she stopped crying," Zarfos said. "At that moment, I felt inspired because I wanted so desperately to help but did not know what to do."
When his uncle unexpectedly died in his sleep years later, Zarfos developed an interest in cardiology—in particular, electrophysiology. "It was bewildering to think that humans are all composed of the same organic compounds, yet we are all so incredibly different. How could someone—chemically so similar to me—have his heart just stop?" he said.
As a chemistry major on a pre-med track at Wheaton, Zarfos is taking steps to fulfill his aspiration to become a physician.
In the summer of 2015, he participated in an intensive shadowing program in public hospitals in Sao Miguel and Faial on the Azores Islands. He traveled to these Portuguese islands, located deep in the Atlantic Ocean, as a Davis International Fellow.
"I saw more procedures than I could have ever imagined," Zarfos said. "I observed surgeries for as long as five hours and saw as many as eight per day." Among the surgeries he witnessed was an aortobifemoral bypass surgery, which is used to bypass diseased large blood vessels in the abdomen and groin.
In the hospitals, Zarfos worked closely with cardiologists and saw how they interacted with patients. He noted that the Azores community tended to place a lot of trust in the physicians. "Doctors in the Azores are not paid as much as U.S. physicians and are not sued nearly as much. I actually had to teach several of them what that word meant. All the patients are grateful for anything the doctors can do and accept that they are people, too," he said.
During his fellowship, Zarfos discovered a talent for reading electrocardiograms (EKGs). "I was walked through identifying a problem with a patient's heart that couldn't be solved with medication and I asked how we could fix it, and they explained that the fix is part of the next level of cardiology: electrophysiology. That was a nice moment, to be reassured through experience and observation that what I thought I was interested in, I am truly interested in," he said.
Zarfos's experience in the Azores isn't his first exposure to medicine.
In the summer of 2014, he volunteered at Redington Fairview General Hospital in Skowhegan, Maine, where he shadowed an emergency room physician and observed nurses and other medical personnel responding to crisis situations. That same summer, to earn EMT certification, he completed 12 hours of ride time with paramedics.
On campus, Zarfos is a well-rounded student. He is a student-athlete who competes on Wheaton's men's swimming team. (During his fellowship, he carved out some time to swim in some of the islands' natural thermal pools.)
Also, Zarfos demonstrates leadership skills as an organic chemistry problem-solving leader in Wheaton's Chemistry Department—a job he took with encouragement from Nancy Lane, a teaching associate in chemistry. In this position, he answers questions and provides encouragement and support to students studying organic chemistry.
"[Zarfos] approached me about being a lab buddy, but I asked if he would be interested in being an organic chemistry problem-solving leader mainly because he is outgoing, vocal and has a presence that commands attention—useful things in an instructor," Professor Lane said.
Zarfos's enthusiasm and engaging manner with students, and his motivation to try different teaching methods, prompted Lane to ask him to return for a second semester of tutoring.
In the meantime, his hands-on experience in the Azores positions him well to achieve his long-term goals. "I now have real experience," he said.
And it couldn't have happened without the support of Wheaton, he said. "I'm so thankful for all that has happened and for all the things I got to experience. I cannot imagine this happening anywhere else but Wheaton."