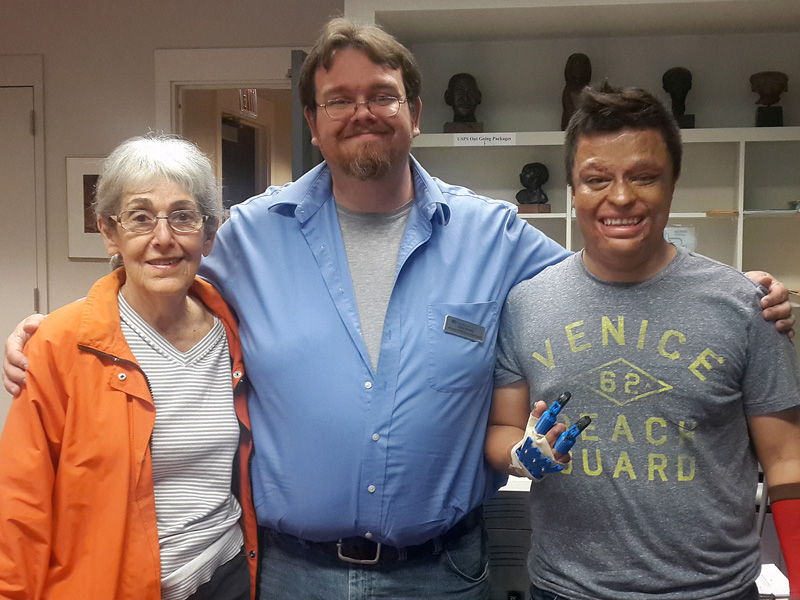 John Walsh '01, assistant reference librarian at the Newton Free Library in Newton, Mass., is building a thumb.
Using a 3D printer to create prosthetics is not in Walsh's job description (though he has lobbied to get "science wizard" added to his business cards), but it's a challenge he accepts with enthusiasm. And it's changing lives.
The thumb Walsh is working on now eventually will belong to a man named Fred, who heard about another of Walsh's projects, in which he used the library's 3D printer to create fingers for a 20-year-old from Guatemala. That project, which began this past spring, was the start of Walsh's adventure in 3D-printed prosthetics.
About a year and a half earlier, Walsh had convinced the library trustees to invest in a 3D printer as part of a new education initiative. At the library's annual Spring Fling fundraiser, he was invited to set up a table to share examples of how the printer could be used, including plastic busts, jewelry and two prosthetic hands.
Seeing the hands, Newton resident Brenda Caplan asked Walsh if he could print fingers for someone. Walsh said he could. Caplan brought Welmer Cordova to the library the next day.
Cordova had lost several fingers on both hands and suffered other injuries in a gas explosion when he was about six years old. He was in Boston for the latest in a series of treatments at the Shriners Hospital for Children. He spoke only Spanish. Walsh, who does not, communicated with him using Google Translate.
"At first he didn't quite get why he was there," Walsh said. "You've spent 15 years without fingers. Now some librarian says he's going to make you some fingers. There's a natural level of 'yeah, alright buddy.'"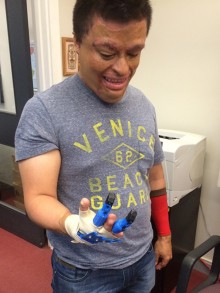 The process involved several visits during which Walsh took measurements of Cordova's right hand so he could design finger caps to fit over it. The first one was too tight, the second too big. The simple but durable caps were designed by a carpenter who lost his fingers in a work accident and now makes 3D-printed parts for people through his website, enablingthefuture.org.
Once they found the right fit, Walsh wired the fingers so that they could open and close when Cordova flexed his hand. He dipped the fingers in Plasti Dip to provide grip and attached them to a glove that Cordova could pull on over his hand. The whole process took about three weeks.
"The last time he came back, I tightened the fingers and then told him to flex. He did. Then he would not stop smiling," Walsh said. "He went to the hospital and they asked him where he got it. He told them 'the library.' They didn't believe him."
Unlike a professionally made prosthetic, which could cost tens to hundreds of thousands of dollars, Cordova's fingers cost $11 to make, Walsh said.
"Is it as good? It's really good," he said of the 3D-printed version. "It's not titanium. It's not bolted in place. But it works. And now Welmer can pick up a cup of coffee."
Walsh graduated from Wheaton in 2001 with an English degree and minors in classics and history. He also excelled at computers and worked summers in Wheaton's language lab. He also has a master's in library science from Simmons College.
"English literature prepares you for many things: how to communicate effectively, how to read, how to study and how to get good at something quickly," he said.
Over the years, including the six he has been in Newton, Walsh has seen the role of libraries change, from "the place where the dusty old books live to makerspaces and vibrant learning communities," as he puts it.
"Library use has shifted from this is where the knowledge is to this is where you can create knowledge," he said. "There's an emerging focus on the fields of science, technology, engineering, arts and math [known as STEAM or STEM]; they say there are going to be a million new jobs [in these areas] in Massachusetts in the next five years. But where do you go in your community to learn those skills? The library fills that educational need."
Every month, the Newton Free Library offers classes in 3D printing for all ages, showing them how to use computer-aided design (CAD) software and allowing them to print their designs. It's just one of many ways the library is bringing STEAM/STEM education to the community.
As for Walsh, who has managed to get "of information technology" added to his title of assistant reference librarian, if not "wizard," there are always new challenges to pursue. First, there's Fred's thumb, which involves creating a new design based on existing ideas, as currently there is no prototype for a 3D-printable thumb. The process so far has taken about one month of work, with about eight iterations. The thumb is currently being field-tested.
Walsh is also working with a church in Walpole, Mass., to 3D print prosthetics for children in Africa.
And after that?
The Wheaton alum said he's got his eye on the robotic glove given to Luke Skywalker after he loses his hand during battle in Star Wars' "The Empire Strikes Back."
"It's my encore," he said.