Rana LaPine '16 supports Native American tribes as program officer of First Nations Development Institute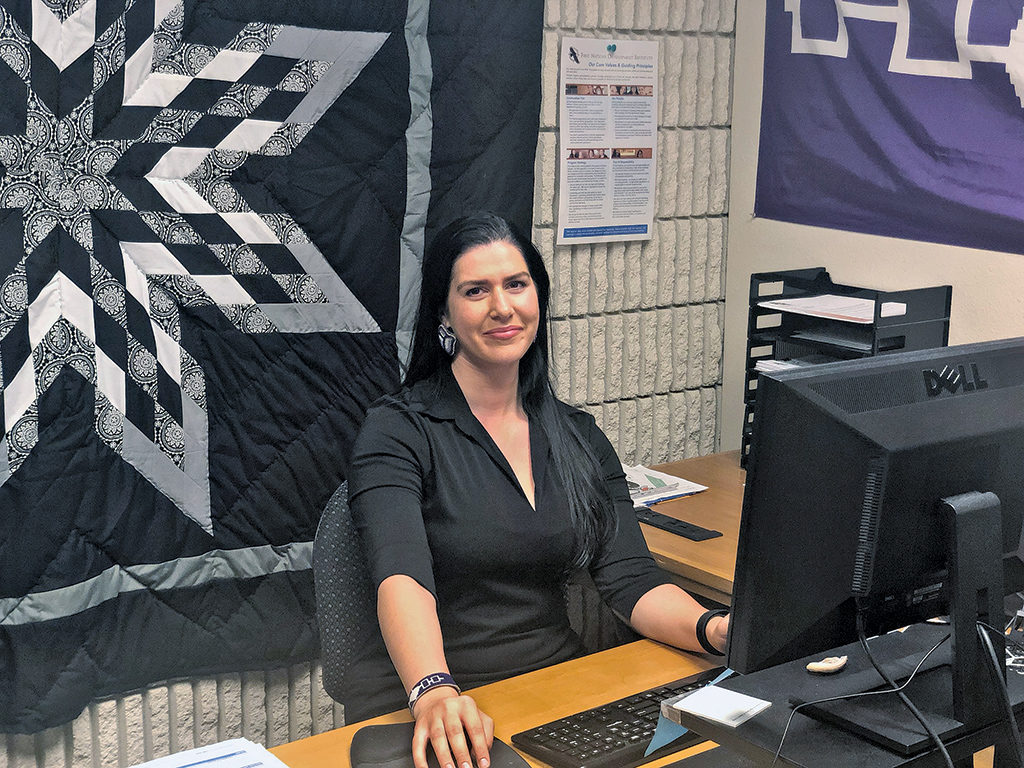 As a Wheaton student, Rana LaPine '16 had a knack for seeing need and acting to fulfill it.
"When I arrived on campus, there was very little programming for Native American students," she recently recalled. "Raquel Ramos [dean of the Marshall Center for Intercultural Learning] and her staff were kind and helpful; they worked with me to find opportunities to build activities for Native Heritage Month and encouraged me to speak out about what I thought was needed."
Today, LaPine continues to speak out as well as take action—now on a broader level.
As a program officer at First Nations Development Institute, a national nonprofit based in Longmont, Colo., she works to invest in Native American communities through direct financial grants, technical assistance and training. To date, the nonprofit has awarded $32 million to 1,547 projects throughout the U.S.
LaPine, who is Mohawk through her father, is deeply passionate about issues facing Native American communities. Economic mobility remains out of reach for many, with high rates of poverty, food instability and scarcity and technological insecurities.
In her role, LaPine serves as an intermediary between grant-makers and indigenous communities for the institute's Native Agriculture and Food Systems Initiative, which has the broad goal of assisting tribes in regaining control over their agriculture and food systems.
The initiative supports a wide swath of programs, including intergenerational farming, and efforts to increase consumption and development of new products using traditional crops like acorns.
LaPine's job is to ensure that funded projects meet their goals and that grantees have the tools they need to carry out their work. On any given day, she juggles many responsibilities, including receiving grant updates, coordinating technical assistance, reviewing future applications for funding and visiting grantees on-site.
"Speaking with grantees about the work they're accomplishing, what their challenges have been and how they've worked past them, and the impacts they've already seen, that's the most gratifying aspect of the work," she said.
Her passion for Native American issues grew and her project management and leadership skills were honed as a student at Wheaton, studying international relations. She was a member of the track and field team, SOLE [Stomping Out Loud Everytime] and the Council on Inclusion and Diversity, as well as a class senator and Wheaton Athletic Mentor. She also worked for the Filene Career for Academic Advising and Career Services as an employee relations assistant.
Meanwhile, she partnered with professors and clubs on campus, such as the Distinguished Women of Color Collective and the Feminist Association at Wheaton, to educate students on Native American life issues and experiences through various events, including film nights and presentations. She also gave two WheaTalks, one in 2014 and another in 2016.
One of her WheaTalks discussed troubling adoption practices involving Native American children in South Dakota. The other explored the links between the exploitation of Native American lands and rates of violence against indigenous women. LaPine conducted a final project in Professor Emerita of Sociology Kersti Yllo and Professor of Anthropology M. Gabriela Torres's course, "Violence Against Women," looking at a similar topic.
"In her project, she was able to show how legacies of colonialism and discrimination shape gender and increase vulnerability for women in the past," Torres said.
LaPine said she values her course work at Wheaton as well as her professors, including Associate Professor of Economics Russell Williams, who "were helpful in offering advice on not only the subjects they taught, but regarding life and careers in general."
"Their support and guidance about operating in the world and being unrelentingly passionate about my identity is something I think back to often, both professionally and personally," she said.