For the second time in a month, Wheaton College has been named a "hidden gem" among colleges and universities—this time by CollegeRaptor.com.
Wheaton is one of 44 colleges and universities nationwide to be recognized in this way and was ranked No. 5 out of 24 Hidden Gems in the Northeast.
According to College Raptor, which provides online tools and resources to aid students in their college search: "Regional gems are defined as high-caliber colleges and universities in each geographic region which receive fewer than 5,000 applicants per year but have a total enrollment of greater than 1,000." The rankings were based on enrollment and application data.
The Hidden Gem announcement is designed to call attention to schools which may be overlooked by students but which "stand out in terms of academic rigor and student success," according to a press release from College Raptor.
Grant Gosselin, Wheaton's vice president of enrollment and dean of admission and student aid, called the distinction "a wonderful recognition of the exceptional things happening at Wheaton."
"From the national recognition students receive acknowledging their academic prowess to the fact that 98 percent of graduates were employed, in graduate school or in national service or fellowships, Wheaton is an exceptional value," Gosselin said. "It's a value that was recently enhanced when President Hanno announced the Wheaton Edge—our guarantee of funding for an internship, research experience or other experiential learning opportunity to every Wheaton student."
Overall, College Raptor ranks Wheaton in the top 200 out of more than 1,600 institutions nationwide. Joining Wheaton in their list of the Northeast's top 5 schools are Ursinus College, Stevens Institute of Technology, St. Lawrence College and Allegheny College.
Earlier this spring, another college search site, CollegeRecruiter.com, listed Wheaton as its No. 1 Hidden Gem College for Employers Hiring Business Majors.
Wheaton is no stranger to making lists. The college appears on the U.S. News and World Report's list of best liberal arts colleges and institutions recommended by top high school counselors and on The Princeton Review's lists of Best 379 Colleges in 2015 and best schools in the Northeast, among other accolades.
For 10 consecutive years, Wheaton has been named one of the nation's top liberal arts colleges for preparing students to win U.S. Fulbright awards.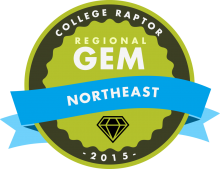 THE WHEATON EDGE
Wheaton offers every student the advantage of personal, rigorous liberal arts study and real-world experience through
The Wheaton Edge
.
OUTCOMES