Milana Meytes '15 plans to inspire creative communication during English Teaching Assistantship
As a creative writing and composition instructor in New York, Milana Meytes '15 helps students use the power of language for storytelling, self expression and remembering. This fall, she will extend her reach abroad in Serbia as a recent recipient of a Fulbright English Teaching Assistantship.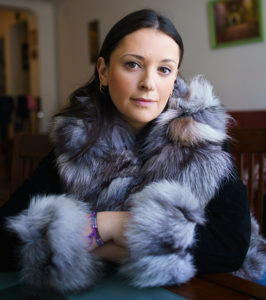 Meytes will spend nine months teaching at the University of Novi Sad, serving as a resource for conversation, vocabulary, reading and writing courses. She has big plans for helping students acquire language skills that can expand their communication opportunities.
Meytes, who was born in Uzbekistan in the former Soviet Union and grew up in Washington Heights in New York City, values the ability to communicate in her native Russian as well as in English because it has allowed her to navigate a variety of environments and widened her perspective on the world.
"Language acquisition has given me fluidity and breadth in processing and accessing the world. Now, I would love to help others anchor themselves in new perspectives through the learning of language as a Fulbright ETA in Serbia," she said.
While in Serbia, she plans to create a memoir and photojournalism workshop to encourage dialogue and cultural exchange. She will also organize a reading and gallery showcase for the broader community that would highlight the work of students.
Meytes, who majored in English while at Wheaton College, has a master's degree in humanities and social thought from New York University, where she concentrated on memory and Diaspora studies, focusing on emigre writers and Eastern European literature.
She currently is the lead essay writing instructor and curriculum developer at Writopia Lab, a national nonprofit that provides writing workshops for children and teenagers in New York City. She is also the coordinator of Writopia Lab's professional development program, running trainings for Department of Education teachers and staff members, and the creator of Writopia's Youth Essay Writing Conference.
Meytes was drawn to creative writing in high school at the urging of a middle school teacher who encouraged her to write a memoir in seventh grade. (That same teacher became her mentor and eventually founded Writopia Lab where Meytes works.) At Wheaton she found a place to grow as a creative as well as an academic writer.
"As soon as I got to Wheaton, I knew that the English Department was where I would thrive," Meytes said. "It was also very exciting to me that the college had a Russian Studies Department as well, where I could explore my family's history and language. Russian studies ended up becoming my minor. At the time, I always thought I would be a writer, professor or a diplomat. I am headed in that direction and could not have done it without the foundation Wheaton gave me."
She credits many Wheaton professors for classes that shaped her as an individual and a thinker, including, Shawn Christian, Talitha Espiritu, Sam Coale, Charlotte Meehan, Jonathan Brumberg-Kraus, Sue Standing and Tom Dolack, with whom she participated in the Undergraduate Colloquium on Russian and Eurasian Studies at Harvard University as a senior.
"I could probably still name absolutely every class I took at Wheaton, it was an exciting education and it was all because of the professors," she said.
Wheaton helped Meytes develop the perseverance to pursue this current Fulbright, even though she didn't get one the first time she tried. "I spent a lot of time at the Kollett Center [now Filene Center]  pursuing my first Fulbright and a Watson when I was a student. I was a Watson finalist and at the end did not get it. But it was that drive, ambition and support from the people who worked with me and helped me in undergrad that made me fall in love with just the research and pitch of it all. They believed in me, so, I believed in myself," she said.
At NYU, she received a grant to research Russian emigre writers and literature in Prague, which contributed to her interest in applying for a Fulbright to Serbia.
"My research in Prague involved analyzing primary documents in an archive that was created by Russian emigres and refugees that fled the Russian Revolution in 1917," she said. "This not only led to my master's degree thesis but also my prolonged interest in Slavic studies. Serbia, always fascinated me as the juncture between East and West and a hybrid of the two, just like myself."
Teaching in Serbia will be a learning opportunity for her as well. "The Fulbright will allow me to deepen my skills and knowledge as an educator, scholar of Eastern European and memory studies and writer as I pursue a career in education," she said.