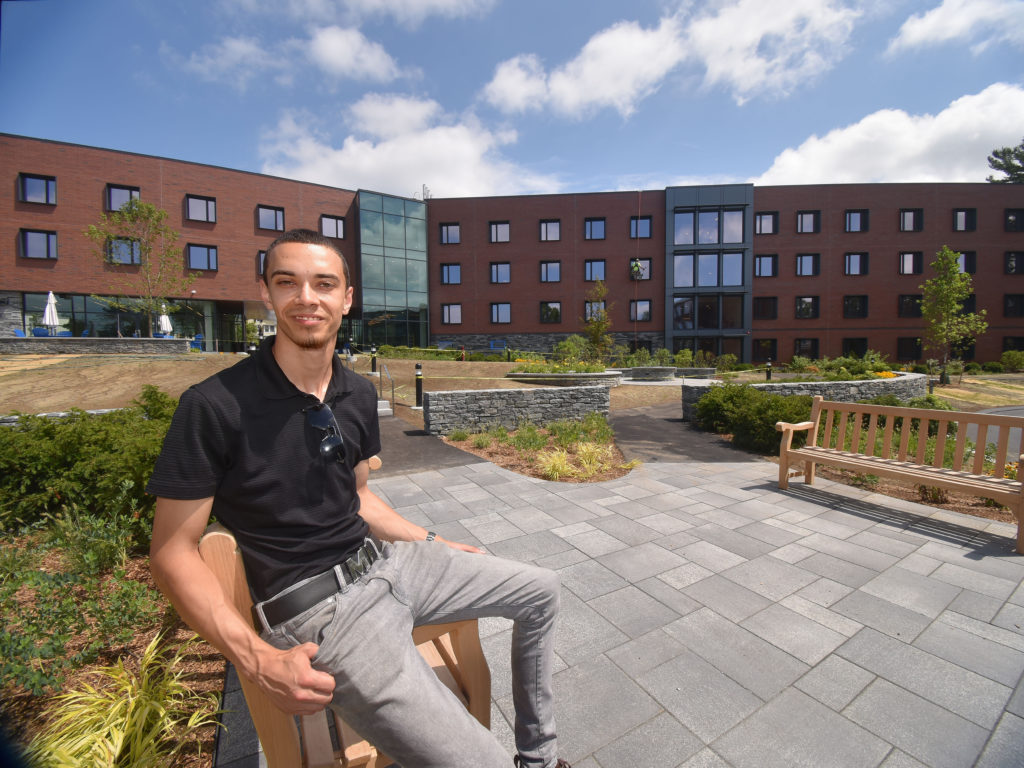 Experiential learning opportunity leads to full-time job
At Pine Hall, Timeo Sequeira '19 sat at a table one September afternoon, taking in the airy and bright common room dedicated to the late Nancy Pearlstine Conger '67 and her husband.
Unlike the casual observer, Sequeira knows every inch of this community gathering space, as well as all of the other spaces of Wheaton's newest residence hall. For more than a year while a student, he served as the project management intern for the company that constructed it, Commodore Builders.
As an intern, he helped manage all aspects of the dorm's construction. That work, in turn, has helped earn him a full-time position with the company. The alum is now a project engineer.
"At first, what I loved most about the internship was getting a chance to see all of the massive excavators and specialized construction equipment in action. I loved seeing the process of preparing a site for a building and then actually building it," he said. "Before I knew it, I started to pick up some new management and interpersonal skills and I started gaining responsibilities—and I never looked back."
A self-described big-picture-thinker, Sequeira is a mathematics and physics major. He first learned about the Commodore internship through the Filene Center for Academic Advising and Career Services. With the help of faculty, he secured the position in May 2018, just as Commodore began to clear the land to make way for the dorm.
The construction of the 45,000-square-foot building took more than one year and involved the intricate coordination of college officials, architects and site workers.
Among Sequeira's first jobs as an intern was putting together daily logs that tracked who was working where. He also took photos that documented the evolution of the construction. Both jobs gave him a high-level view of all of the moving pieces of the project.
"I liked understanding how things work and what was going on behind the scenes," he said.
The construction industry is not new to Sequeira. His father has been in the construction business his whole life, and Sequeira would occasionally help out on sites. (Unsurprisingly, his father was ecstatic about the news of his son's new position.)
Since a young age, Sequeira was drawn to science and math. As a student, he was active in Wheaton's physics and math clubs, and his favorite course was a math seminar his senior year.
"I loved this course because it focused on the bigger picture of math and what math actually is, almost philosophically," he said.
Professor of Mathematics Michael Kahn, who described Sequeira as responsible and grounded, noted that he worked particularly hard, as he was a commuter student who traveled 40 minutes each way, five days per week, to campus while juggling outside jobs.
"He did it all every day with zero complaints, with a smile on his face. He came to class with questions about the material, questions about 'what if' that went beyond the material, and an easygoing, laid-back nature that allowed him to get along with everybody," Kahn elaborated.
Clearly, Sequeira's friendly nature and willingness to engage with workers on the construction site helped him succeed at the internship, and open the door to full-time employment. His three supervisors—the superintendent, assistant project manager and senior project manager—all became mentors to him.
As Commodore's new project engineer, Sequeira's work entails site supervision (monitoring deliveries, overseeing workers) and facilitating communication between architects, designers and workers on a site. The company is assigning him to work on projects throughout Massachusetts, including a restaurant in Seaport Village in Boston and a popular grocery store.
"Every day is different in this position due to the progressive nature of construction projects. We investigate what's existing, we plan for what's next, we execute the plan and then we move right on to the next task," he said. "I love the fast-paced work environment and getting to look back and recall how much effort or coordination went into a particular detail of a structure."